Building National Food System Action Hub in China: A Review of the Pre-Summit Affiliated Session
Under the UN Food System Summit's global call for actions, focusing on the Summit's Action Track 2 (UNFSS-AT2) "Shifting to Sustainable Consumption Patterns", the Good Food Fund (China Biodiversity Conservation and Green Development Foundation) launched the UNFSS-AT2 China Action Hub (hereafter to be referred to as the China Action Hub or the Hub) earlier this year. Over the past six months, the food systems community has been mobilized like never before through ten Food Systems Summit China Independent Dialogues and the Food Systems Summit's SME and Youth related events, facilitated by the Hub.
The three-day Pre-Summit, held from July 26-28, laid a solid foundation for the upcoming Food Systems Summit in September. On July 27, at an Affiliated Session of the Pre-Summit organized by the China Action Hub, experts who were deeply involved in the Summit process discussed how to establish a long-term multi-stakeholder collaboration mechanism to achieve the goal of "healthy diets from sustainable food systems" and presented China's experiences to the world.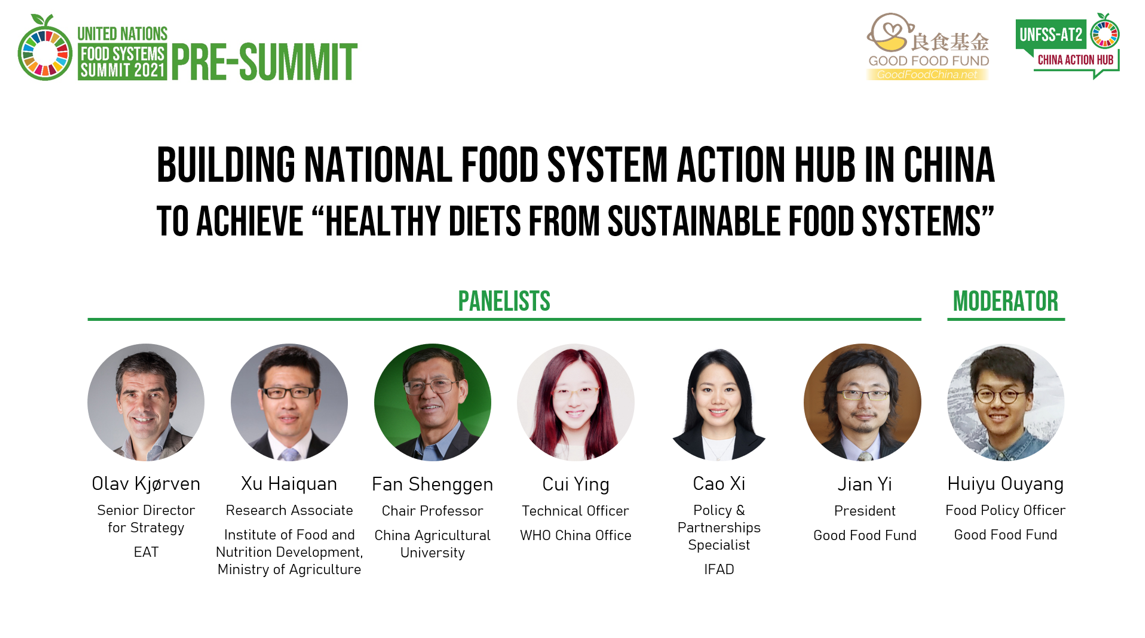 Current Challenges
Providing healthy diets from sustainable food systems for a growing world population
How to ensure everyone have "healthy diets from sustainable food systems" is a global issue - and all regions of the world have a long way to go to achieve healthy diets, especially to meet the recommended intake of vegetables, whole grains, legumes, nuts, and fruit. Globally, up to 11 million people die each year from unhealthy diets. Nature-positive and regenerative food production methods have yet to become the mainstreams in any of region globally.
Although China has eliminated absolute hunger, there are still about 300 million people suffering from hidden hunger (micronutrient deficiency). At the same time, the overweight and obesity rate among adults is over 50%, and the overweight and obesity rate among children and adolescents is increasing year by year. These dual nutritional pressures are taking a huge toll on the nation's public health and imposing a heavy social and economic burden. On the other hand, China's food system is both a victim of climate change and a contributor to greenhouse gas emissions – at least 10% of greenhouse gas emissions come from food production.
Historic Opportunity
Food is the single strongest lever to optimize human health and environmental sustainability on Earth
According to the Summary Report of the EAT-Lancet Commission, "Unhealthy diets now pose a greater risk to morbidity and mortality than unsafe sex, alcohol, drug and tobacco use combined." But at the same time, the report also shows the great potential of a radical transformation of the global food system to achieve a "win-win" for people and the planet.
The Report identifies three priority actions: 1) planetary health diet; 2) improved production practices; and 3) reduced food loss and waste. In this regard, Prof. Fan Shenggen, an EAT-Lancet Commissioner, pointed out that if Chinese people followed the recommendations of the 2016 edition of the National Dietary Guidelines or the planetary health diet recommended by the Report (or the Mediterranean diet model), they could prevent more than 1 million deaths per year from unhealthy diets and achieve at least a 20% reduction in food system emissions. A less meat diet would have the most significant impact on health, emissions reduction, and environmental protection. In terms of production, focusing on promoting circular and regenerative agriculture, using fewer chemical fertilizers and developing organic fertilizers, along with new technologies, we can achieve multi-win results in terms of yield, health, environmental protection, and combating climate change. Now, the Food Systems Summit creates an unprecedented opportunity to accelerate these positive changes. As Senior Director of Strategy at EAT, Olav Kjørven explained that, based on the Solution Clusters presented at the Pre-Summit, a number of action coalitions will be launched at the final Summit, and that the creation of Action Coalition to promote healthy and sustainable diets depends on further hard work and collaboration among all parties including member states and is worth waiting for.
Promote Nutritious and Healthy Diets
Make the concept of nutrition and health a primary consideration in all policy making processes
In terms of achieving healthy diets, several experts described the existing policy base and also looked at the blueprint for future action.
Dr. Xu Haiquan at the Food and Nutrition Development Institute, Ministry of Agriculture and Rural Affairs, China's member state representative at Action Track 1, "Ensuring Access to Safe and Nutritious Food for All", presented the experiences China shared with the world during the Summit process, such as China's nutrition improvement program for compulsory education students in rural areas, which served as a good reference for the Summit's work in the school meals initiative. The fourth edition of the "China's National Program for Food and Nutrition" is also under preparation and is expected to be released this year.
Dr. Xu also particularly emphasized the need to focus on the entire value chain of food systems, to consider nutrition factors at the production end from plant breeding to cultivation, and to promote the development of nutrition-oriented agriculture. To this end, the Ministry of Agriculture has set up an expert committee on nutrition standards for agricultural products to promote the improvement of the nutritional quality of agricultural products. In addition, we should pay attention to nutrition loss in the whole value chain from production to consumption and promote cross-sectoral cooperation between production and consumption, so that the production structure and industrial layout can be adjusted in real time according to the consumption demand, to ensure sustainable consumption patterns from the supply side.
Ms. Cui Ying introduced the many efforts of the World Health Organization to promote healthy diets, such as the Action Framework for Developing and Implementing Public Food Procurement and Service Policies for a Healthy Diet, released in January, and the Regional Action Framework on Protecting Children From the Harmful Impact of Food Marketing in the Western Pacific, both of which aim to call on national governments to develop and implement effective policies to create a supportive environment for healthy diets and help the public make healthier dietary choices – since population-level interventions are also cost-effective.
The establishment of healthy canteens and healthy restaurants, and the acceleration and improvements of nutrition labeling policies highlighted in the Healthy Diet Initiative section of the Healthy China Action Plan (2019-2030) are also aimed at promoting a healthier food environment.
Cross-Sectoral Collaboration and Governance
Explore multi-stakeholder collaboration mechanisms to act at multiple levels
All experts emphasized the importance of cross-sectoral collaboration to achieve the goal of "healthy diets from sustainable food systems".
Ms. Cui pointed out that the cross-sectoral collaboration mechanism has been reflected in national policy documents such as the "Health China Action Plan (2019-2030)", "Child and Adolescent Obesity Prevention and Control Implementation Plan" and "Nutrition and Healthy School Guidelines", while fully engaging all sectors is also crucial to promote public health and create a supportive environment for healthy diets.
Prof. Fan suggested that various government departments such as agriculture, food, health, nutrition, environment, climate change and finance should establish a "Food System Steering Group" to form a collaborative mechanism and focus on adjusting subsidy policies.
As Action Track 2 Lead for the cross-cutting Action Area "Governance" of the Food Systems Summit, Mr. Jian Yi suggested that cross-sectoral collaborative governance models should first be promoted and explored in cities that are more developed and better equipped with necessary conditions, thereby providing a reference for higher levels of government.
Smallholder farmers are the most fundamental, largest, and most vulnerable group in agricultural production, and increasing their resilience is critical to achieving a sustainable transformation of food systems. The International Fund for Agricultural Development (IFAD), the UN Anchor Agency for Action Track 4 "Advancing Equitable Livelihoods", contributes to poverty eradication by promoting full and productive employment and decent work for all actors in the food value chain, reducing risks for the world's poorest, including smallholder farmers, promoting smallholder entrepreneurship, and addressing inequitable distribution of rights and values of access to resources for smallholder farmers. In ensuring that no one is left behind in the food system, IFAD works with various stakeholders in the food and agricultural production chain, including member governments, to advance agricultural development projects that improve the livelihoods of smallholder farmers.
IFAD is working on transforming rural economies and food systems by making them more inclusive, productive, resilient and sustainable. They invest in the millions of people who are most at risk of being left behind: poor, small-scale food producers, women, young people and other vulnerable groups living in rural areas.
IFAD catalyses public and private investments, helps strengthen policies and promotes innovation, in order to achieve sustainable benefits for the poor at scale and support all countries to achieve lasting, systemic change. IFAD works with governments, the private sector, civil society and other development partners and use a range of instruments, tools and knowledge to respond to the challenges facing countries with the most critical needs.
Ms. Cao Xi shared IFAD's "Producer - Private - Public - Partnership" model, which emphasizes safeguarding the interests of smallholder farmers and guiding the private sector to make responsible investments.
The Role of Finance and Subsidies
Restructuring agricultural subsidy policies and investing responsibly in sustainable smallholder farmers
"Finance" is one of the four "levers of change" of the Food Systems Summit and plays a decisive role in achieving food system transformation. Currently, about $700 billion is spent annually on agricultural subsidies globally, and $200 billion is spent annually in China. According to Prof. Fan, the focus should be on changing agricultural subsidy policies from subsidizing fertilizers and other uses to supporting smallholder farmers in applying new technologies to achieve goals such as reducing emissions and supporting the development of industry value chains to achieve nutritional health goals. In particular, Prof. Fan points out that consumption subsidies should be provided to economically disadvantaged groups, such as issuing vegetable and fruit consumption vouchers to ensure their adequate intake of vegetables and fruits.
IFAD provides concessional loans and non-reimbursable grants to improve the food security and nutrition of smallholder farmers and increase their income and resilience. Ms. Cao noted that IFAD's agricultural development projects in China focus on environmental protection and green development, helping China achieve its carbon neutrality goals. For example, when investing in farming, IFAD focuses on small and medium-scale farming that is smallholder-friendly, looking at feed processing, manure management and other aspects to meet environmental standards. In its investment projects, IFAD also has requirements for various aspects such as nutrition and women's involvement to ensure they invests responsibly in sustainable agricultural development.
In reducing food loss and waste, IFAD focuses on financial innovation, serving the real economy, incubating suitable financial policies and products, promoting technological advances and innovative business models in the whole process of food production and marketing, using digital platforms and technologies to push forward the matching of information on supply and demand of agricultural products, and reducing circulation time and decision-making costs. The practice of establishing food banks effectively promotes tripartite cooperation among small farmers, food-consuming parties, and the government, and effectively protects the interests of small farmers.
Youth Participation
Creating enabling conditions to empower youth participation in agriculture and food system decision-making
In addition to the four "levers of change", youth empowerment was also at the forefront of the Summit's processes at all levels. Ouyang Huiyu, who moderated this affiliated session, is from the core team of the youth-led Act4Food Act4Change global campaign and is the Youth Chair of the China Action Hub. Together with his youth cohorts, he is driving the work of the Hub in various areas.
Currently, the Food and Nutrition Development Institute is conducting a joint consultation with UNICEF on the theme of "Food Systems Dialogue for Youth in China". Dr. Xu pointed out that in future policy development, the views of children and youth will be valued more and their perspectives will be considered regarding what direction the food system should be transformed towards.
Ms. Cao pointed out that the number of young people involved in agriculture is decreasing in China. The current policy environment of rural revitalization will create favorable opportunities for youth participation in agriculture. At the international level, IFAD has been calling for more youth-friendly investment policies and interventions for youth in various countries.
Mass Public Mobilization
Making everyone responsible for their own health
To achieve the goal of healthy diets, all parties should strive to create a good food environment and lead the public to develop a strong desire for healthy eating.
Since its establishment five years ago, the Good Food Fund has been working with governments, research institutions and business organizations to maximize public participation. Mr. Jian introduced some of the projects of the Good Food Fund, such as the project to empower companies to provide group meals in the workplace in line with the good food principles, the project to foster chef leadership, the "WET Market" project (WET stands for Well-being, Ecology, Transformation) to improve urban food environments, and the "Mama's Kitchen" project, which empowers every family. Across all the projects, the eight-dimension "Good Food Pledge" provides an easy-to-implement framework for healthy and sustainable diets.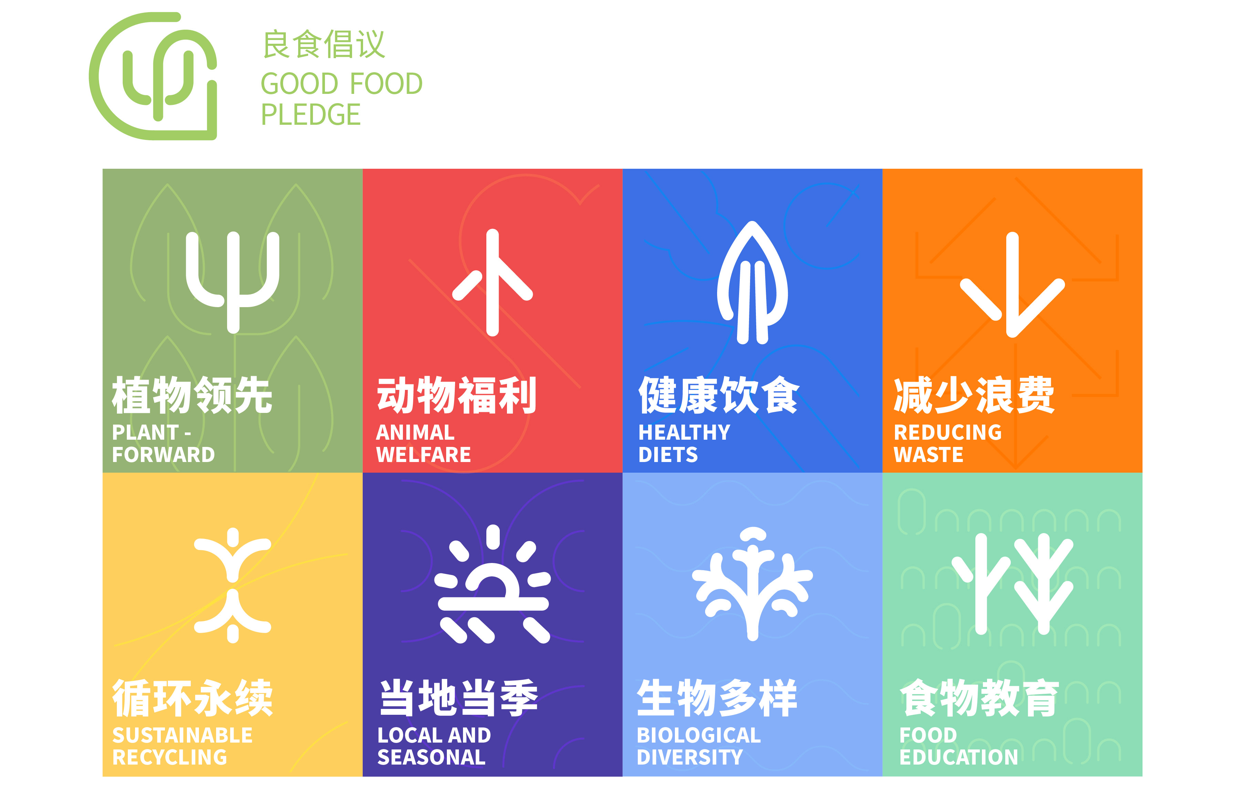 The Food Systems Summit is a "People's Summit". And the establishment of the China Action Hub is the initial exploration of the Good Food Fund's efforts to mobilize all sectors of society to demonstrate China's influence and leadership on the international stage.
The China Action Hub has incubated a Sustainable Food Education Action Network that brings together Chinese actors in the field of food education to promote public awareness and behavioral change towards healthy and sustainable eating, especially among youth.
In September, the UN Food System Summit will launch bold new actions to unlock the enormous potential of the food system to achieve the 2030 Agenda for Sustainable Development in less than a decade. In the lead up to the Summit and beyond, the China Action Hub will continue to convene dialogues, uncover good practices, co-create solutions, and facilitate ground-breaking pilots. The 5th Good Food Summit, to be held on September 10-12, will present the outcomes of all levels of engagement through the Hub, and further explore the long-term mechanism to follow up on actions identified by the Summit process.