We present to you a video you may enjoy this video presented by the Good Food team. In the Year of the Rooster, let's start with a chicken. What is the similarity between a chicken and a person?
The Year of the Rooster - What's for Dinner Series 1: Chicken and Freshwater
Three meals a day. The choices we make for each meal have enormous impacts on animals, our planet, and our own health. Thus, the Good Food team must embark on a journey to destroy the wall that the modern food industry has created between food and us. A food education workshop may truly influence some of us to discover the real cost of food. It may be an arduous and time-consuming method, but someone must do it!
On April 13, 2017, Ms. Yi Wen, Cecilia, and I (Jie Li) gathered at the Shanghai Hongqiao Station to take the high-speed train to Beijing so as to prepare for the start of the first tour. Guess what the Good Food Demolition Team ate on the railway? Vegetarian lunch box served on the train? That's definitely not Good Food's style!
Good Food Lunch Box made by Ms. Yi Wen:
Burdock carrot stew,
black rice crackers with Italian almond basil dip,
and lots of different kinds of organic snacks, all without additives!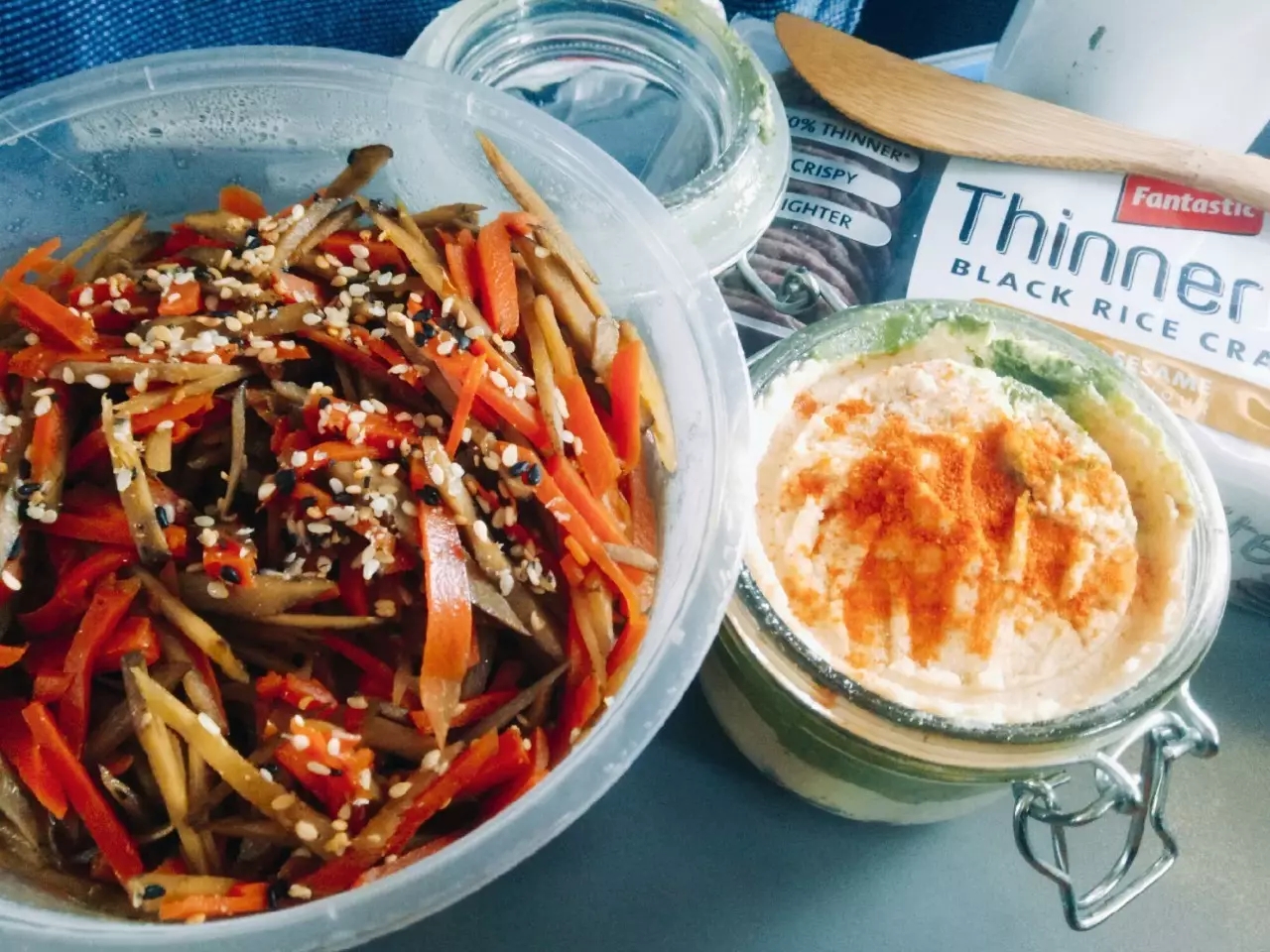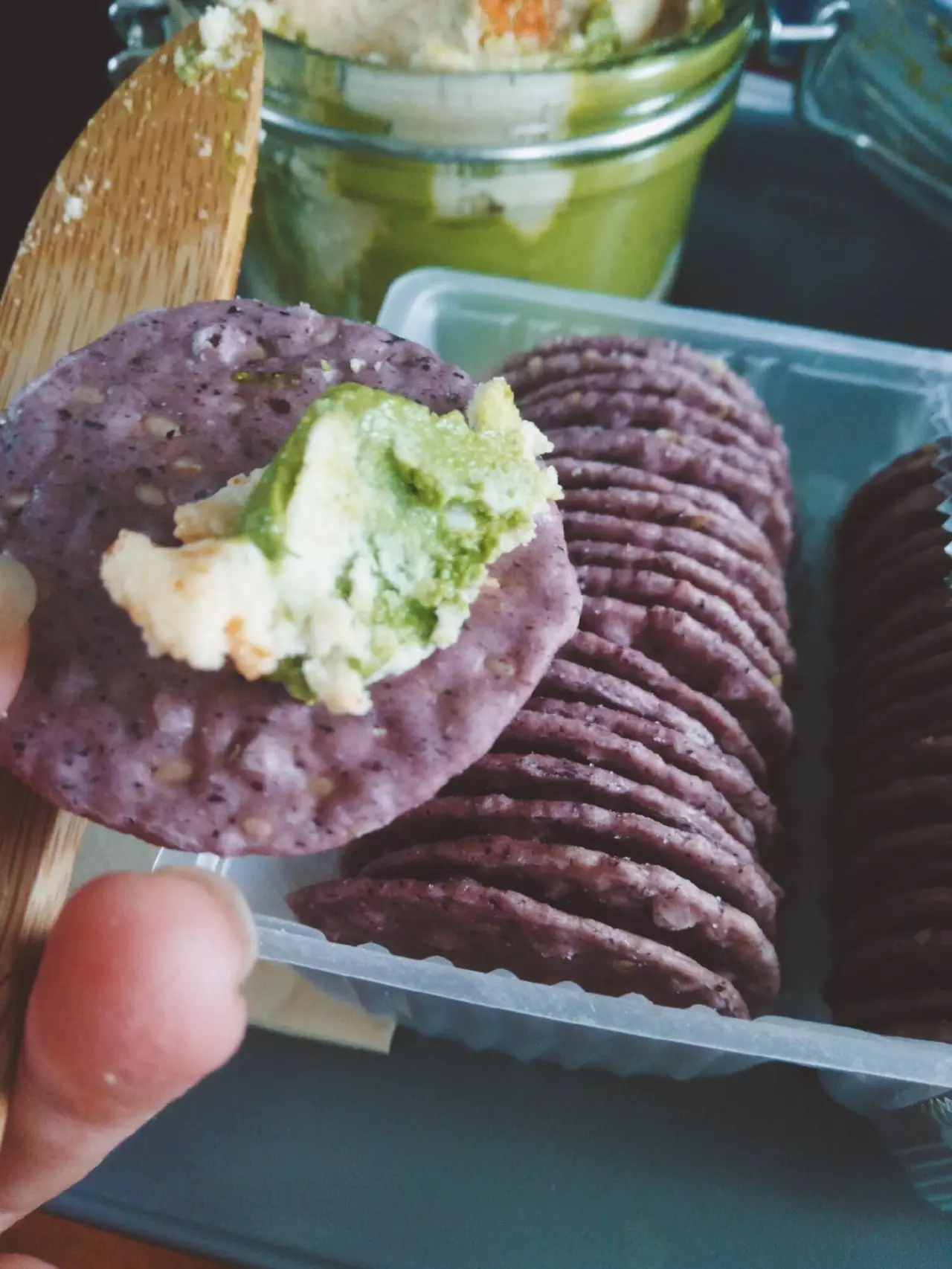 Our Vegan Chef
As soon as we got off the high-speed rail, I saw the catkins fluttering in the capital city. We took the subway and brought our heavy luggage to the family apartment that had been booked in advance (it was wonderful to have a kitchen where we could make breakfasts). We were excited to greet our special guest from the United States, Vegan Chef Karley.
We meet with our Vegan Chef
in the warm sunlight and immediately began
building our friendship, starting with breakfast.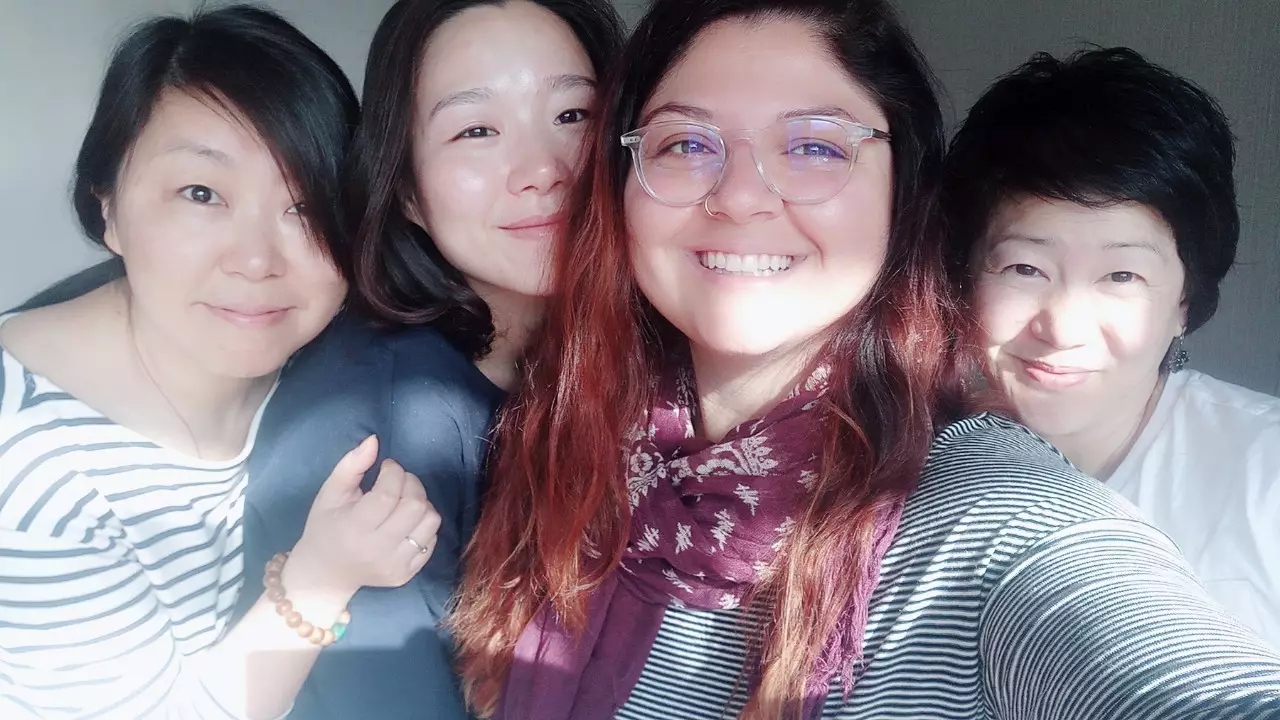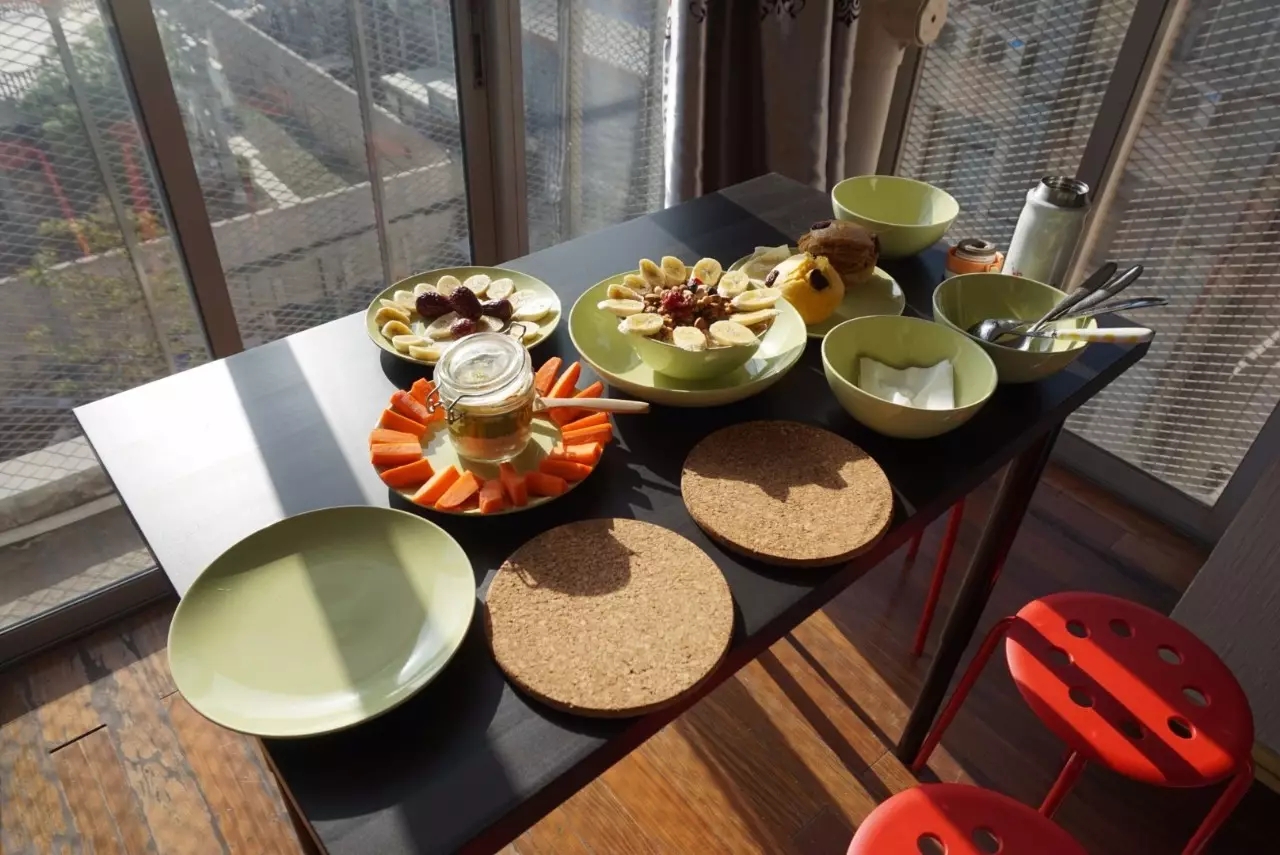 This was Karley's first visit to China.
So where was our first stop?
Chongwenmen Grocery Market…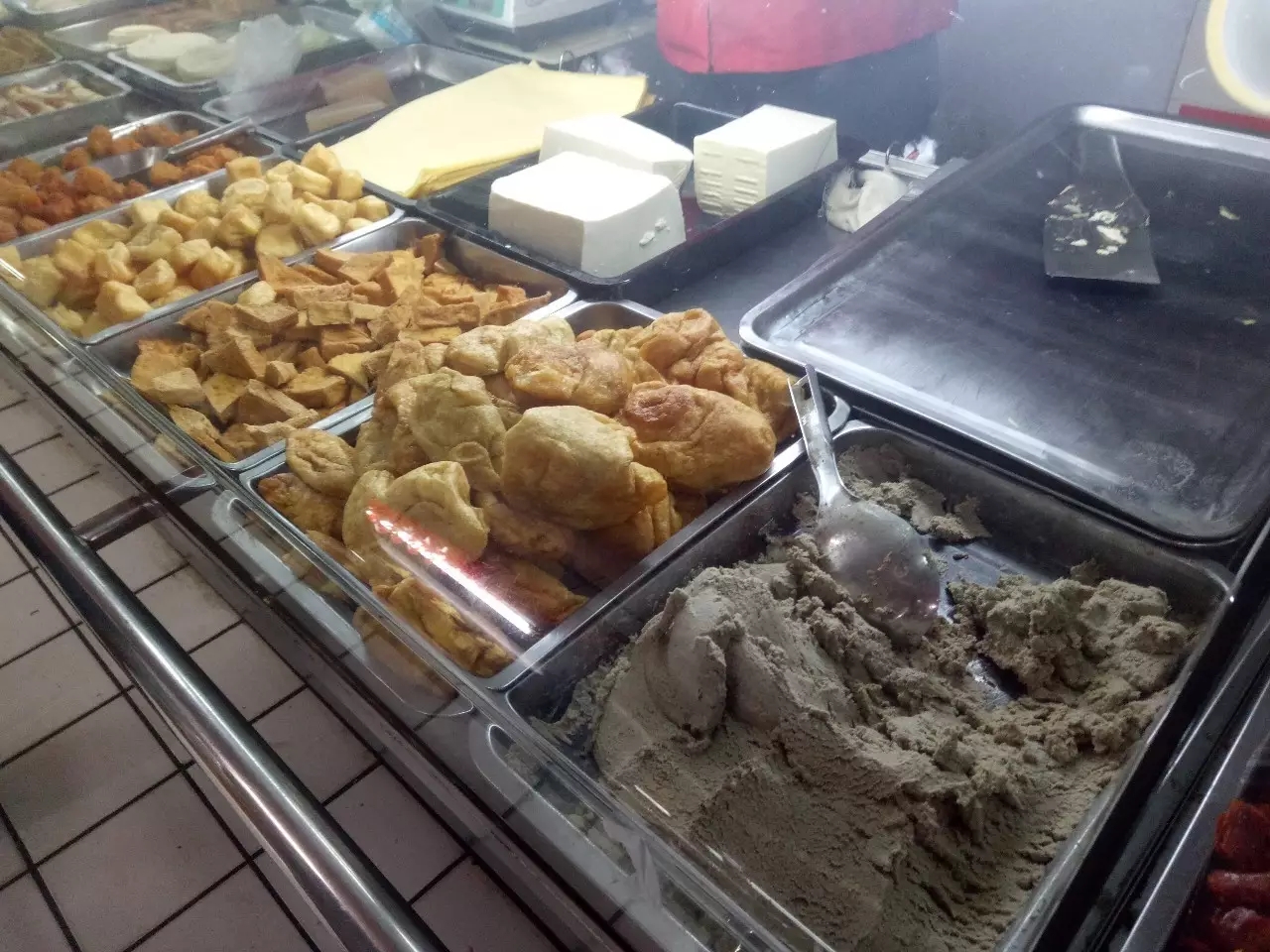 A little girl selling soy products couldn't help
showing off her homemade vegetarian lamb to Karley.
In short,
a bunch of sugar gourds and a bite of spring pie
laid a solid foundation for friendship.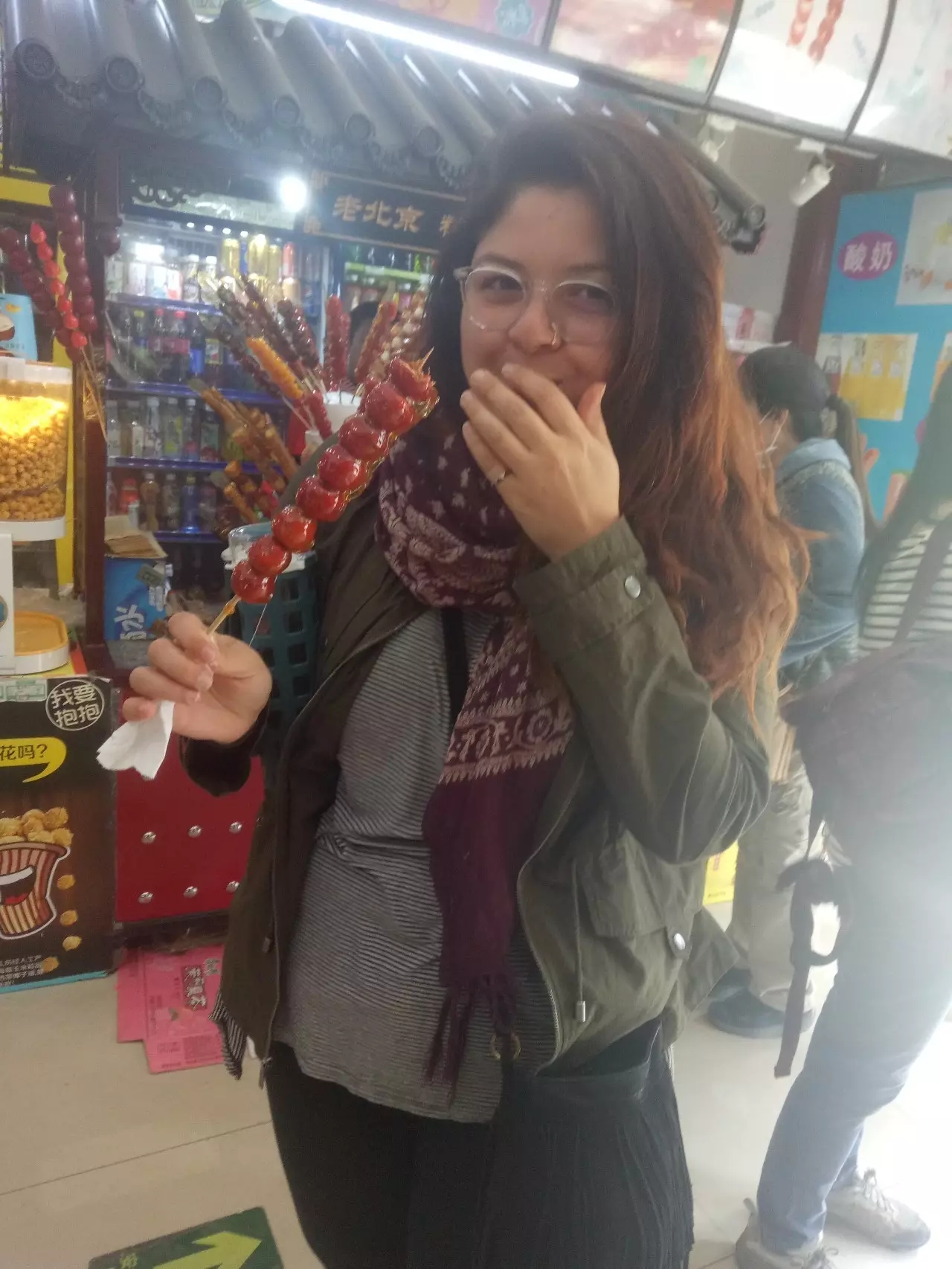 After eating sugar gourds, we started to work. Let's read the in-depth graphic report by the invited media "Veg Radar," so we can have a glimpse of the wonderful Good Food Roadshow.
April 15, 2017
The Good Food Roadshow
connected with
From farm to the neighbors Farmers' Market
in Veganhut Restaurant and has officially launched.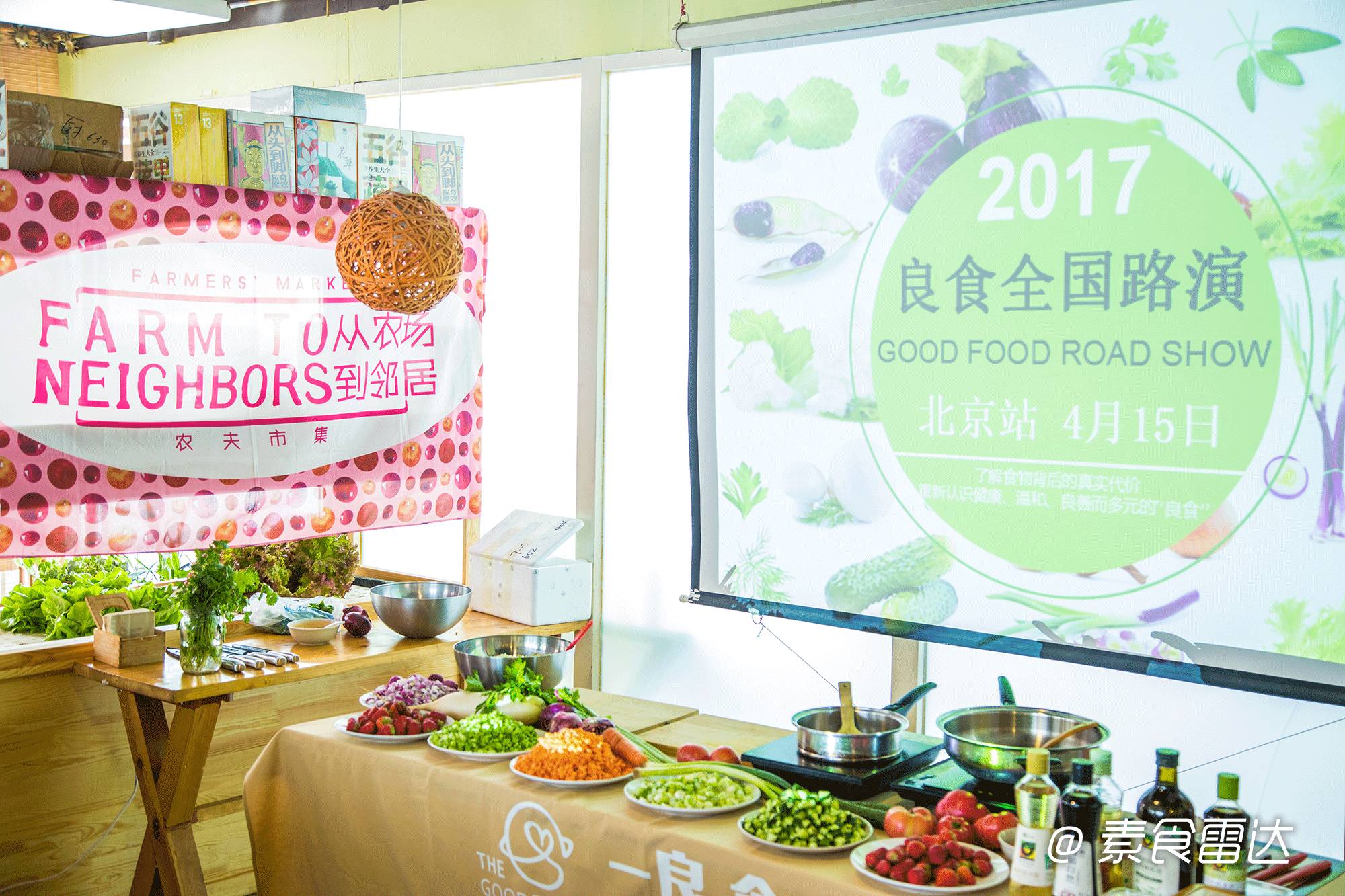 2014
"What's for dinner"- Meet everyone on a public platform
right now
Good Food Fund hopes to create a bridge between you and me and the food.
This is a public welfare tour to understand the real cost behind food
and rediscover healthy, good, and diverse Good Food.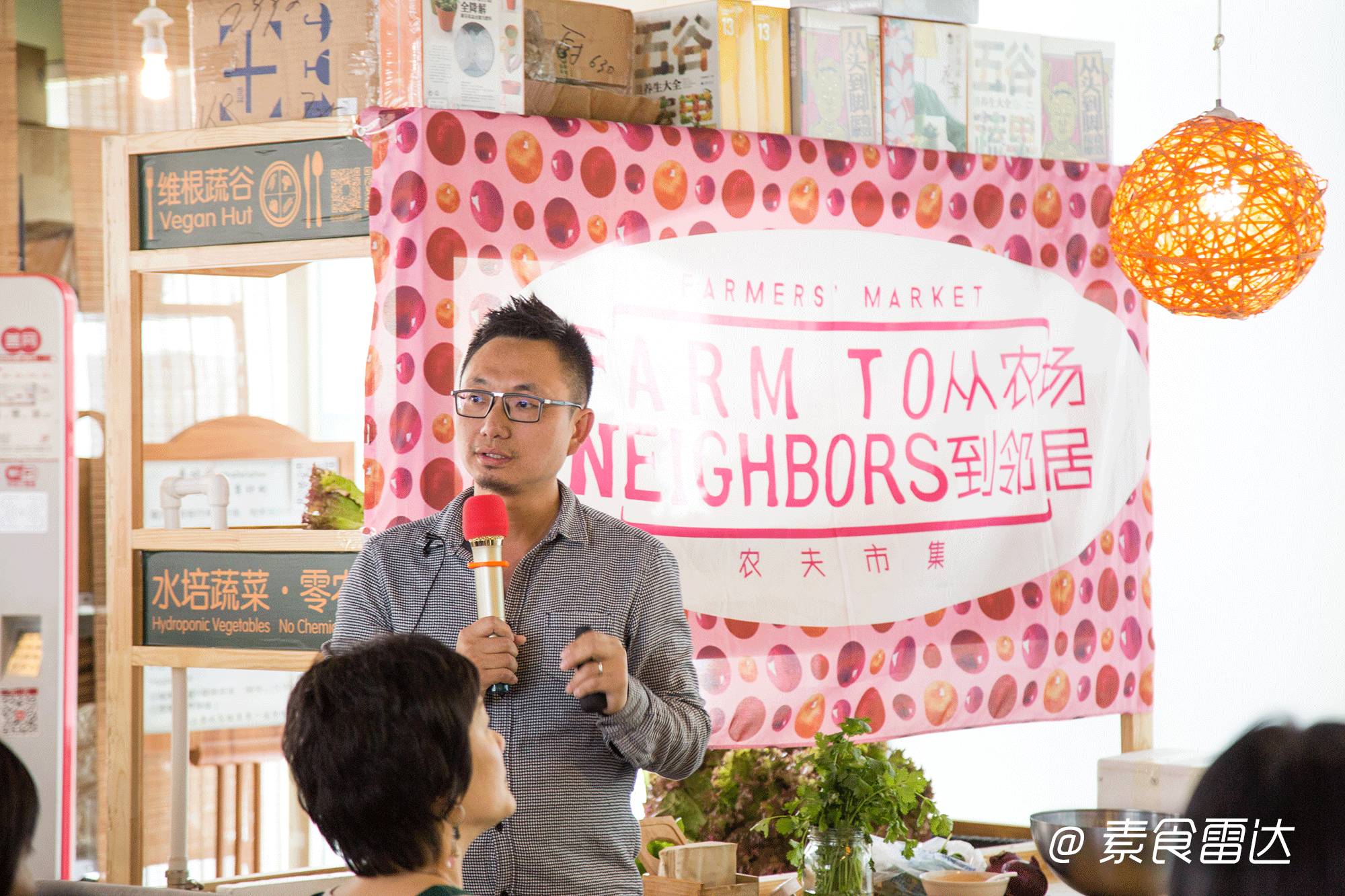 Jian Yi-Director of "What's for Dinner"
Independent Filmmaker, Good Food initiator, Cultural Actor & Founder of IFChina Original Studio
"What's for Dinner"
"What's for Dinner" is the first documentary produced by a Chinese director that aims to reveal the true cost of animal products and food. By depicting people from different levels of Chinese society, the documentary shows that China's food and agricultural environment is undergoing rapid changes. It reveals the impact of food on public health, sustainable development, environment, climate change, and animal welfare. Since 2014, the film has toured throughout the country, and a WeChat public account, as well as a Good Food team connected to the documentary project, were created to continue to introduce animal food issues to the public.
Original Aspiration of Good Food
When my wife was pregnant, we encountered many problems. In the search for answers, I found it difficult to find effective information on China's domestic network. The lack of information forced me to rely on foreign websites to find the answers for a series of questions about babies and food.
During this period, I also found that there were a number of great public accounts on WeChat in China. The model of WeChat has fragmentized knowledge, making it difficult to access. I wondered if I could systematically spread the knowledge about food in domestic Chinese networks. Hence, Good Food was born.
Good Food Academy – Goal: To be the most professional food education platform in China
We hope that the information we convey is reliable. Good Food University is an online platform. Good Food Roadshow is an offline event. With the combination of both, we are able to explore a better food education model. While discovering the beauty of good food, the public gets to understand the relationship between food, health and environment; we let international Good Food educators connect with fellows across the country to explore Good Food together; and we support Good Food producers and help them to access local consumers.
Good Food Roadshow - 4 people, 4 months, 40 cities
Since mid-April 2017, the core team of Good Food Roadshow Projects travelled to twenty provinces in four months to launch dozens of unprecedented food education workshops. The team went to different schools, restaurants, temples, enterprises, institutions, and communities to share stories about food with various people. We hope that these interesting methods, such as powerful speeches, moving stories of friendly local farmers, and incredible vegetable cooking demonstrations, will affect hundreds of families and help them discover true Good Food, thus changing the relationship between people and food.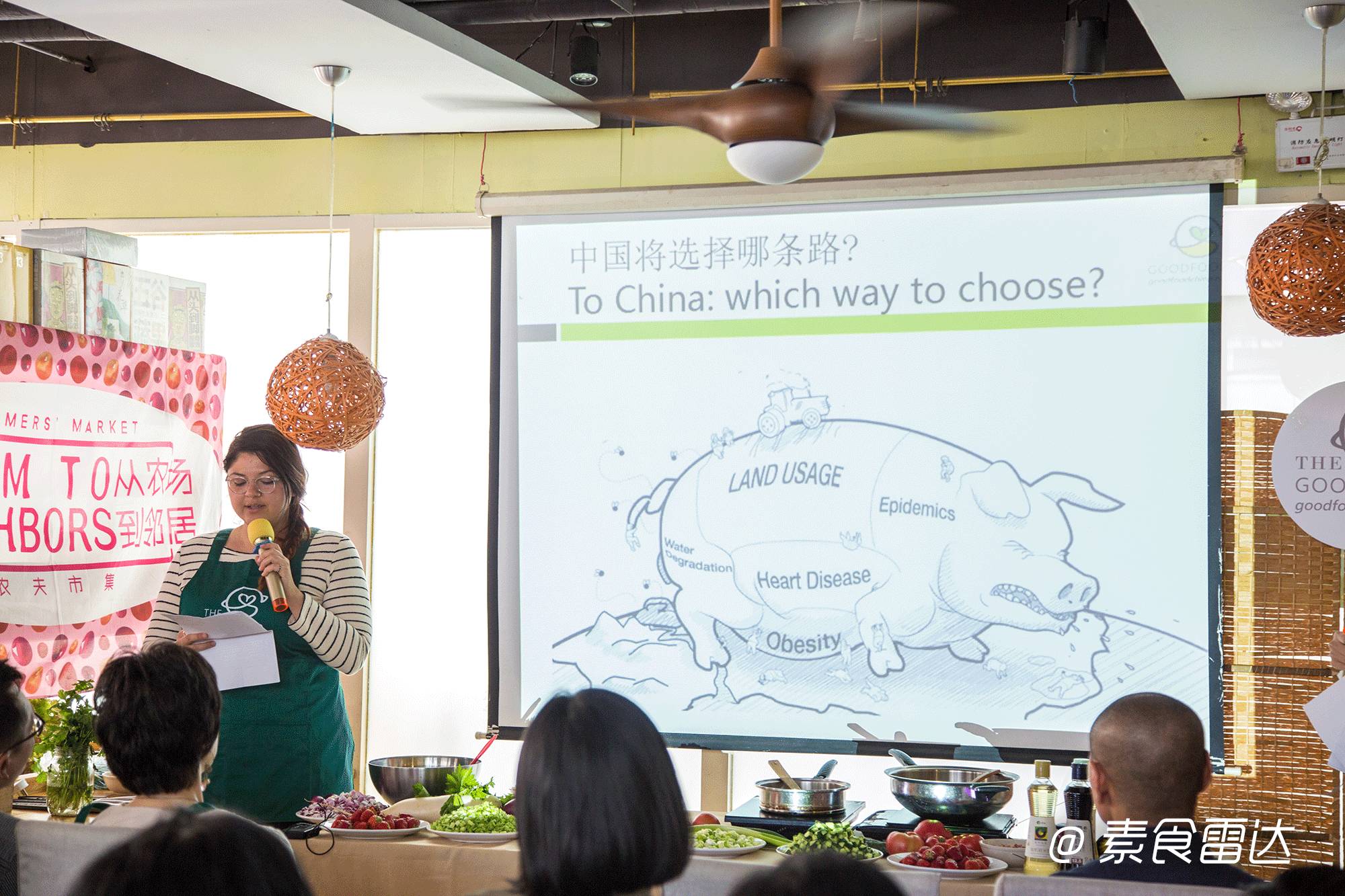 Karley Ray-International Vegan Chef
Karley is a New Englander from the United States. She travels and shares the art of cooking. Her enthusiasm for healing, vegan food began when she started to transition from the traditional American diet to a plant-based lifestyle while studying at Johnson & Wales University. This huge change inspired her to work on an organic farm and participate in "Nature Gourmet," a professional chef-training program. As a result, she honed her cooking skills and learned about vegan food, raw food, Ayurveda and longevity diets. She has strengthened her skills through continuous practice and learning, as well as recent courses in the Thai Vegetarian School and with Matthew Kenney's cooking project.
Karley creates 100% vegan art dishes. She believes that vegan food not only heals and nourishes a person physically and mentally, but also can be both tasty and aesthetically pleasing. She believes that cooking is based on the energy and balance of food, so she constantly seeks the raw ingredients that are in season, local, eco-friendly cultivated, and whole plant-based.
Just a few years ago, I ate very few vegetables. Instead, I ate lots of meat, dairy products, oil, sugar, salt, and processed foods, just like many Americans. Knowing little about industrial farming allowed me to overlook the link between food choices and diseases. I had never seen a farm, nor did I know how the animals on the farm were treated. I did not realize how much the American food system damaged the environment . Later, I began to think about where the food came from, and what effects it had on me. What does overconsumption of food mean in the United States?
In the American industrialized food system, food prices are very low, and thus consumers do not know the true cost of food. These costs include climate change, water and air pollution, soil degradation, disregard for animal welfare, widespread use of pesticides, the crisis of public health, poverty in rural areas, and the concentration and expansion of power of large agricultural and food companies. In the past, 90% of Americans lived on small-scale agriculture and family farms. As our nation has grown, we have switched from using manpower to using chemical fuel and large-scale equipment to operate. Together with monoculture and the overuse of synthetic fertilizers and pesticides, industrialized agriculture does nothing but harm the environment. Furthermore, many Americans leave the country and enter the cities. Thus, their connection with land, farms, animals, and food is cut off.
In 2015, Americans consumed 9.2 billion animals. Obesity, diabetes, and heart disease have placed a huge burden on Americans' health. The American Diabetes Association estimates that the annual cost of diabetes treatment is as high as $17.6 billion. Once I understood these costs, I knew I could not support such a dietary system. So I went to work on small farms so I could experience the process of food production and the responsibilities that come with it. I think that working on a small farm can help us treat animals, the earth, and society better.
These experiences led me to China, a beautiful country with a profound food culture. I have studied cooking all over the world and met people from many cultural backgrounds hailing from various countries, which have benefited me a lot.
I heard that China would launch a Good Food workshop, and I felt that I must participate. Although the current per capita consumption of meat in China is only half of the United States, the demand for meat and dairy products is growing rapidly. I notice that the Chinese food system is gradually becoming similar to the American-style industrialized food system. But this does not mean that China has to follow the path that the US has already taken. Every consumer in China can reject over-industrialization of food and over-consumption of animal products through his or her own choice. We can support local farmers and choose a healthier grain-based diet. I hope all consumers from around the world can learn about their food and make their own choices.
Jie Li-Good Food
Analysis of the status of Chinese food
The School of Public Health of Fudan University in Shanghai has published a report on children's widespread exposure to a variety of antibiotics in Jiangsu, Zhejiang and Shanghai. Of the 1,000 children in the study, ranging from ages 8 to 11, at least one antibiotic was detected in 58% of the children and two or more antibiotics were detected in 25% of the children. In some children, there were six antibiotics detected.
How are people exposed to antibiotics?
Antibiotics are used in industrial breeding plants, mainly in order to prevent the animal diseases, since the animals are raised in situations of intense captivity. The annual production of raw materials to create antibiotics in China is 210,000 tons--half of which are eaten by animals and half by people. Most of the antibiotics detected in the children were created originally for animals.
Impact of industrial farming
China's pork production and consumption account for half of the world. China often faces shortage of water resources. Yet the water pollution caused by industrial farming is far more than other industries.
China raises 9 billion chickens for meat and 2.7 billion laying hens each year, which is equivalent to eating one egg per person per day. The annual fresh water consumption of 9 billion chickens in a year is enough to provide 1 million people with water for a year based on Beijing's standard of living. Moreover, the huge demand for farming feed in China means that China's soybean consumption relies heavily on imports. Furthermore, the use of cheap, genetically modified soybeans has been a devastating blow for domestic soybean farmers.
Seeing all this data, we should think: what can we each do for our planet and our families?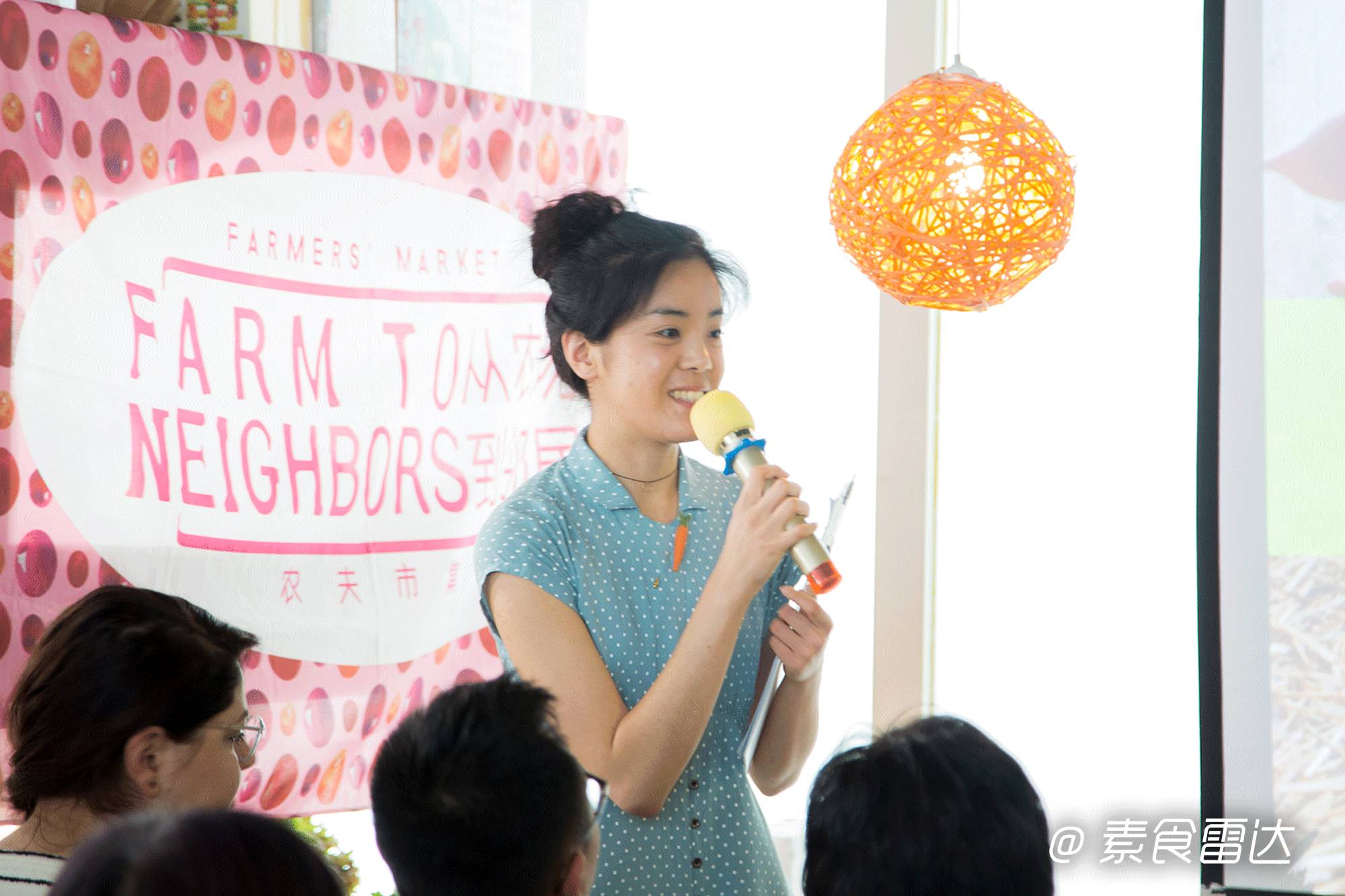 Erica Huang- Farm to Neighbors, Founder
I grew up on the same American diet as Karley. I consumed a lot of sugar for breakfast, so much so that I was almost addicted to it. Eating habits like this made me feel physically uncomfortable when I came to Beijing, especially when I found out that my nutritional intake was insufficient. "Farm to Neighbors" Farmers Market was part of my journey to find Good Food. I wanted to find hand-made ingredients that were not processed and food sources without pesticides or chemical fertilizers.
Most of the farmers at the farmers' market are family producers. They have no way to sell their amazing products, so it's always good to coordinate with them so more people can access these quality products. Thus, an eco-market "From farm to neighbors" in the Grand was founded. We buy what we produce. We are responsible for what we produce. A connection between producers and consumers is therefore built.
A British celebrity chef once said: eat the rainbow. And, in fact, when we choose to eat plant-based, we are facing a vast variety of colorful options.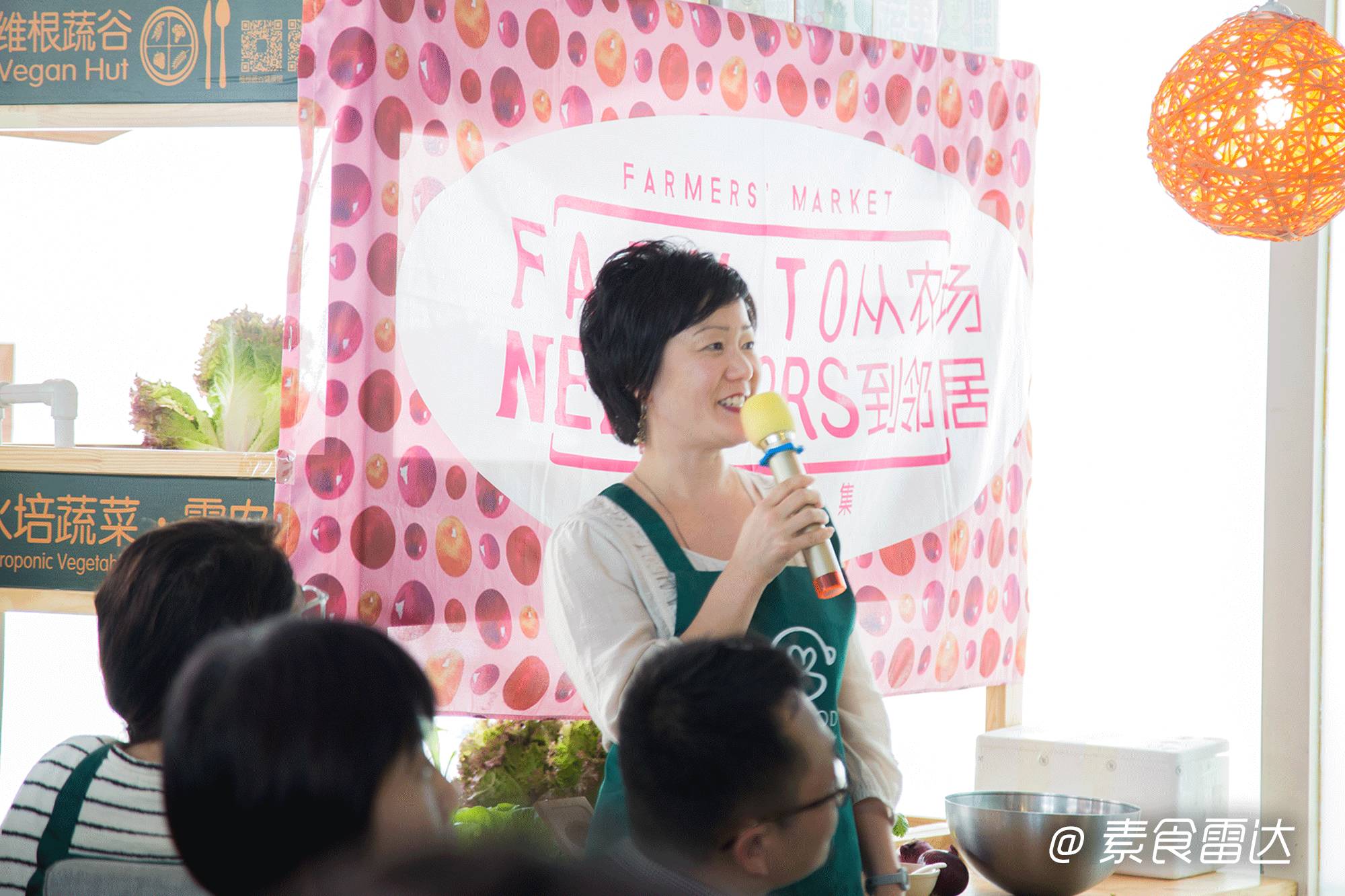 Li Yi Wen-Whole Food Plant-based Therapy Tutor
Yi Wen is an earthling. After working for fashion marketing in New York and Shanghai for 17 years, she discovered her passion for food therapy and discovered the healing art of cooking. She completed her holistic health coaching study at the New York Comprehensive Nutrition Education Institute and completed a longevity diet study at the Natural Healing Kushi Academy in the United States. She believes and practices the use of plant-based ingredients to make nutritious food. Now she is a whole food, plant-based therapy tutor and a co-teacher for the China Good Food Roadshow project. She is passionate about carefully selecting the most natural, healthy, fresh, and organic raw ingredients and abandoning refined artificial foods with added chemicals. She wants all people to benefit from her whole food, plant-based therapy.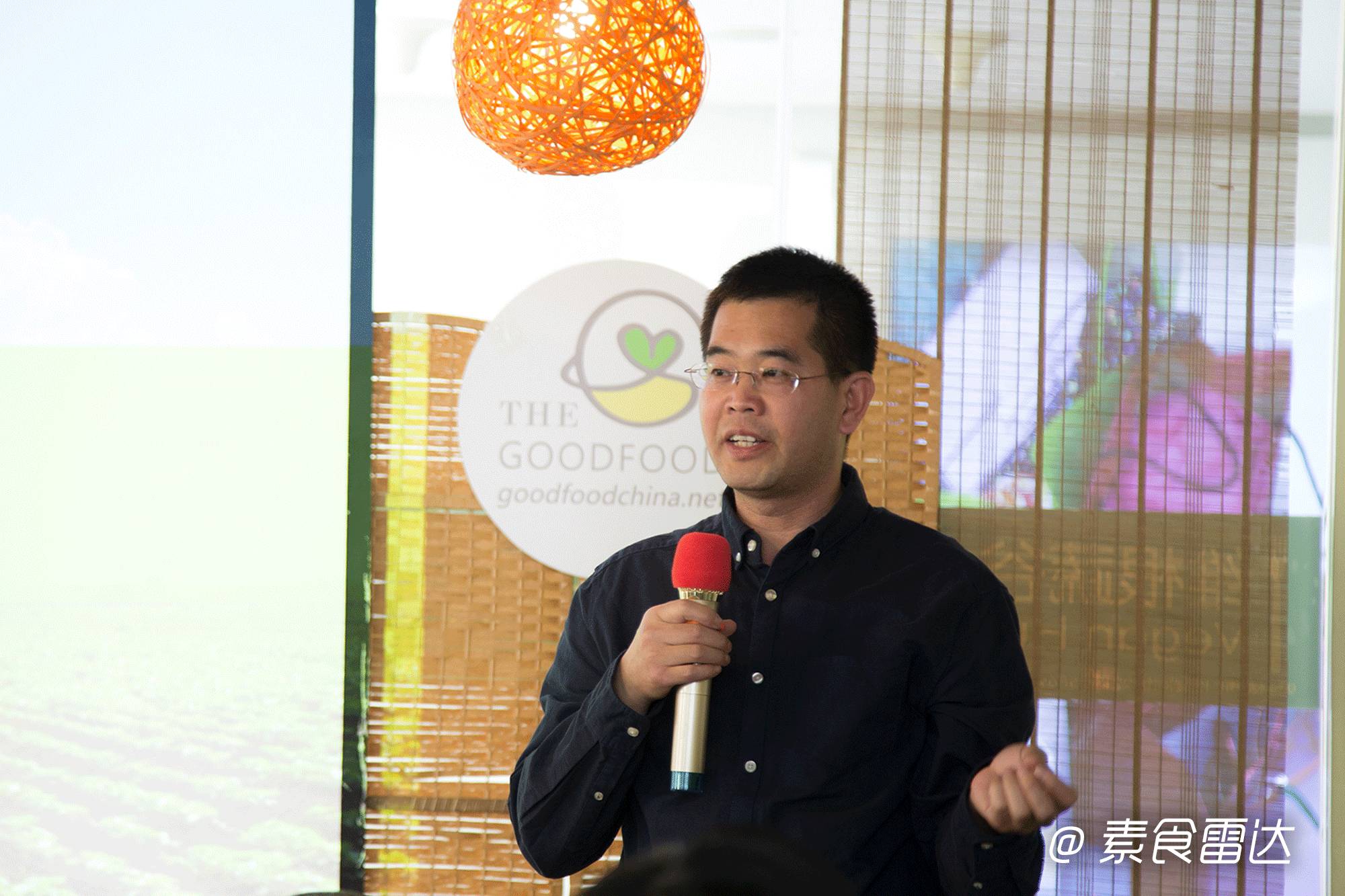 Xiao Jian- Liang zhi Yuepin Farm
Xiao Jian is a graduate of the horticulture department concentrating on organic agriculture. He has grown fruits and vegetables, bred seeds, and worked on food safety. Because his organic vegetables are so well grown and tasty, he is talented at helping people distinguish different vegetables by their scents. Since the beginning of the organic agriculture movement in 2003, it has been widely understood that humans must achieve a balance between obtaining food and caring for nature. With Liang zhi Yuepin organic produce, Xiao advocates for production that focuses on "balance and respect" as well as the ecological concept of reasonable biological capacity. Liang zhi Yuepin organic produce focuses on being "close to wild, more natural, and as fresh as possible." Xiao thinks that most people in China have lots of nutrients, yet lack some trace elements. He believes that true organic agricultural products can make everyone achieve nutritional balance, health, and happiness!
Li Yiwen:
How did you get into organic farming in the first place?
Xiao Jian:
I was studying gardening when I graduated from college in 1992. I had grown vegetables and learned about chemicals, fertilizers, and additives. I learned that many farmers are reluctant to engage in agricultural production that produces unsafe food. The reason why I pursued organic agriculture was to reduce agricultural pollution and provide consumers with safe food.
Li Yiwen:
Can you share some of your views on local seasonal food?
Xiao Jian:
Besides taste, food is meant to help the body grow and create a balanced metabolism. Why is local seasonal food relatively better? First of all, it is fresh. Second, the fields where plants are grown have lots of nutrients with therapeutic properties. Third, local seasonal food is environmentally friendly and sequesters carbon. All food should be natural. Locally grown, natural foods meet local water, soil, and climate conditions.
Li Yiwen:
Speaking of which, many people like to buy imported ingredients. What they are not aware of is that many imported ingredients are actually radiant after being transported and packaged.
Li Yiwen:
How can organic farms build consumer trust?
Xiao Jian:
It is a long process. Patience is key. Organic farms must give consumers enough time to accept the ingredients of the farm and decide whether or not they feel our ingredients are good.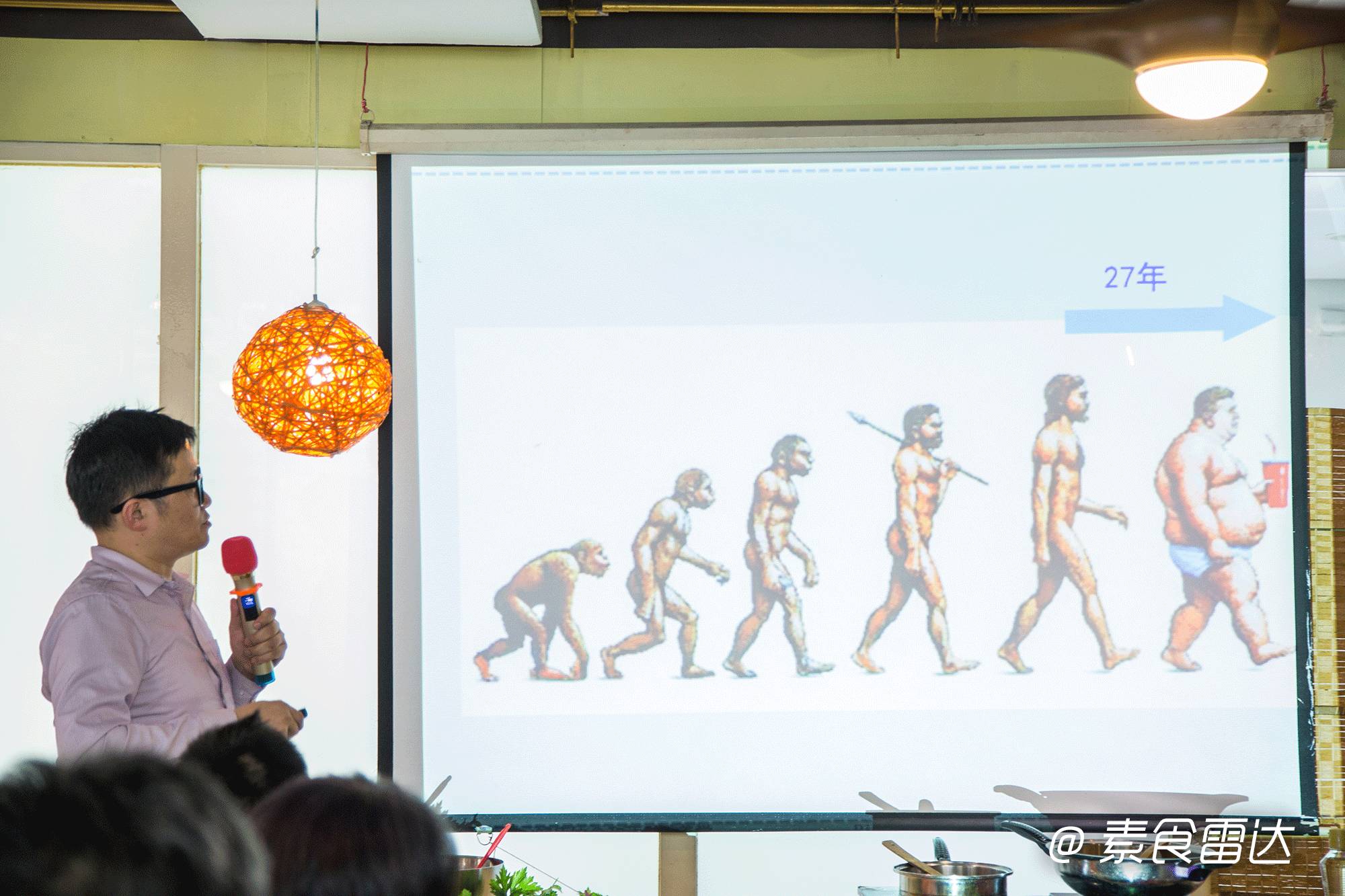 Dr. Yu Li-Founder of Veganhut
Dr. Yu Li is the founder of Veganhut, the first healthy vegan food restaurant in China. He is a national public nutritionist with twenty-seven years of experience in healthy vegan food. He is also the initiator of the "World Peaceful Diet" project, is a national tour promoter, and was one of the Top Ten Chinese Vegetarians in 2013. He was the first lecturer on health and nutrition at the Chinese Society of Responsible Physicians (PCRM) , the first Chinese participant in Cornell University and the Campbell Foundation's Vegetable and Food Nutrition Course, and the creator of the Chinese words for "vegan" and "plant-based foods." He is also committed to promoting whole food, plant-based nutrition in China and to making the vegetarian industry part of the larger health industry.
In today's industrial society (where the division of labor is highly socialized) , today's food is oftentimes beyond our control. At the moment, science serves as the most authoritative, collective consciousness that we have as a society. The number one science that influences food is nutritional science. Today's guests, despite their different professions, are working on the same thing due to their focus on plant-based food. Recently, we discovered a "plant-based" hospital in Changsha, which represents a positive trend in the industry.
It took us millions of years to evolve as a species, yet it only took 27 years for us to develop obesity. 80 years ago, we merely wanted to get rid of hunger. After 80 years, we aren't starving, but we get diabetes from eating "well." For diabetes, there's no cure. In general, we must shift from a system that remedies the disease to one that prevents the disease in the first place. The traditional food nutrition education provided in textbooks focuses on hunger and malnutrition, but there is still no treatment for modern diseases like diabetes. Studies have proven that the combination of meat and vegetables recommended in nutrition textbooks is a result of insufficient research. Textbooks label animal protein as a high-quality protein. The US government provides large subsidies to producers of meat and dairy products, resulting in large-scale industrial farming.
In fact, our understanding of food is far from complete. Plants can easily provide enough protein. For instance, research has shown that the protein content of spirulina is much higher than we thought. Furthermore, no matter what you eat, you can still be malnourished. This has nothing to do with eating plant-based or not. Looking at all the "anti-cancer" foods listed by the United States governments, we will find that they are all plant-based foods and whole grains. Thus, we understand that we need to promote whole, plant-based foods.
Plant-based, whole food nutrition is not a solution to the problem of malnutrition. But, perhaps more importantly, it improves our immunity to diseases. What we are going to face in the future is a dietary revolution. In the future, nutritional science will gradually focus on plant-based food, and organic, plant-based food will be the mainstream diet in the long run.
Good Food Roadshow Highlight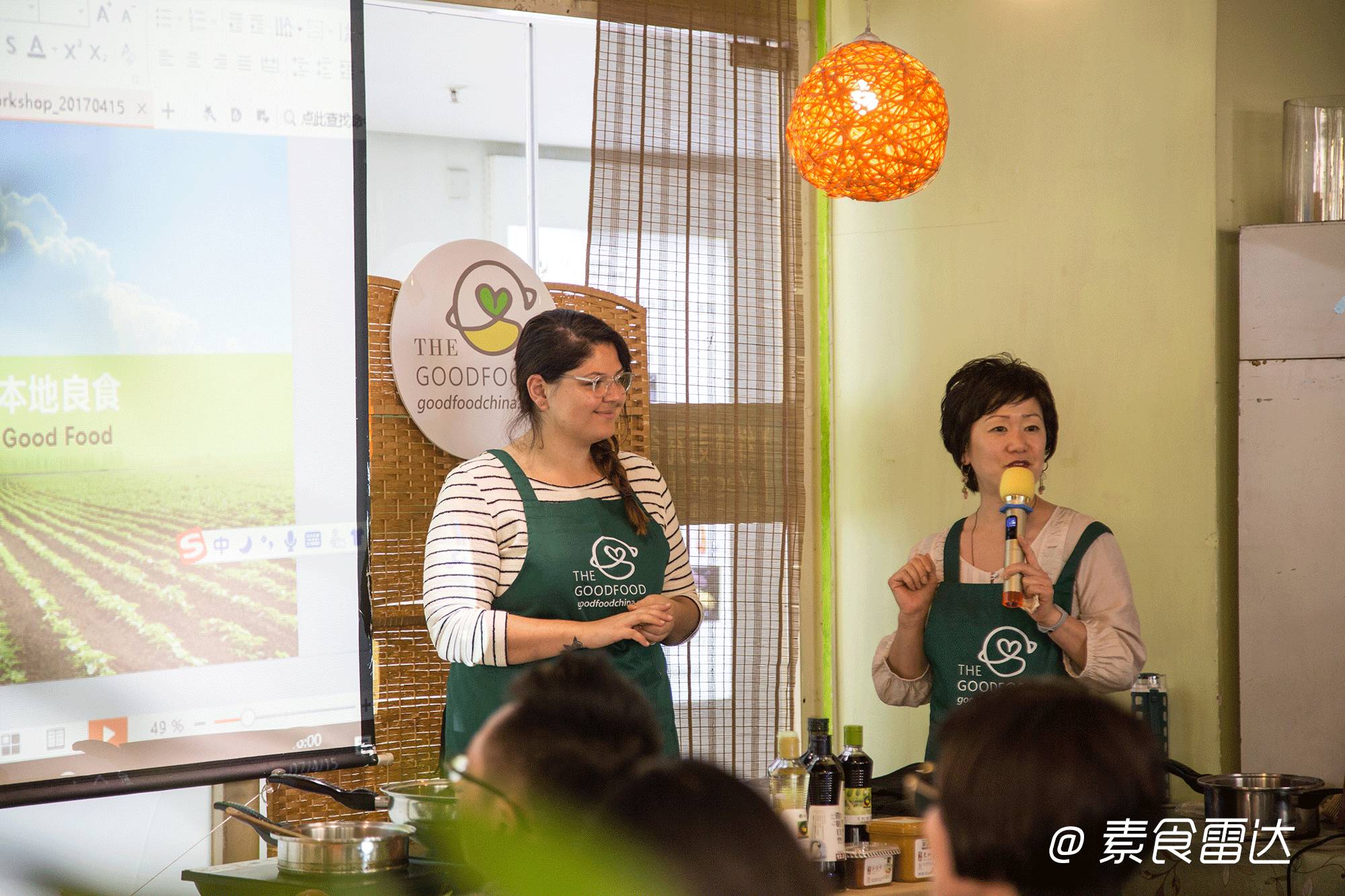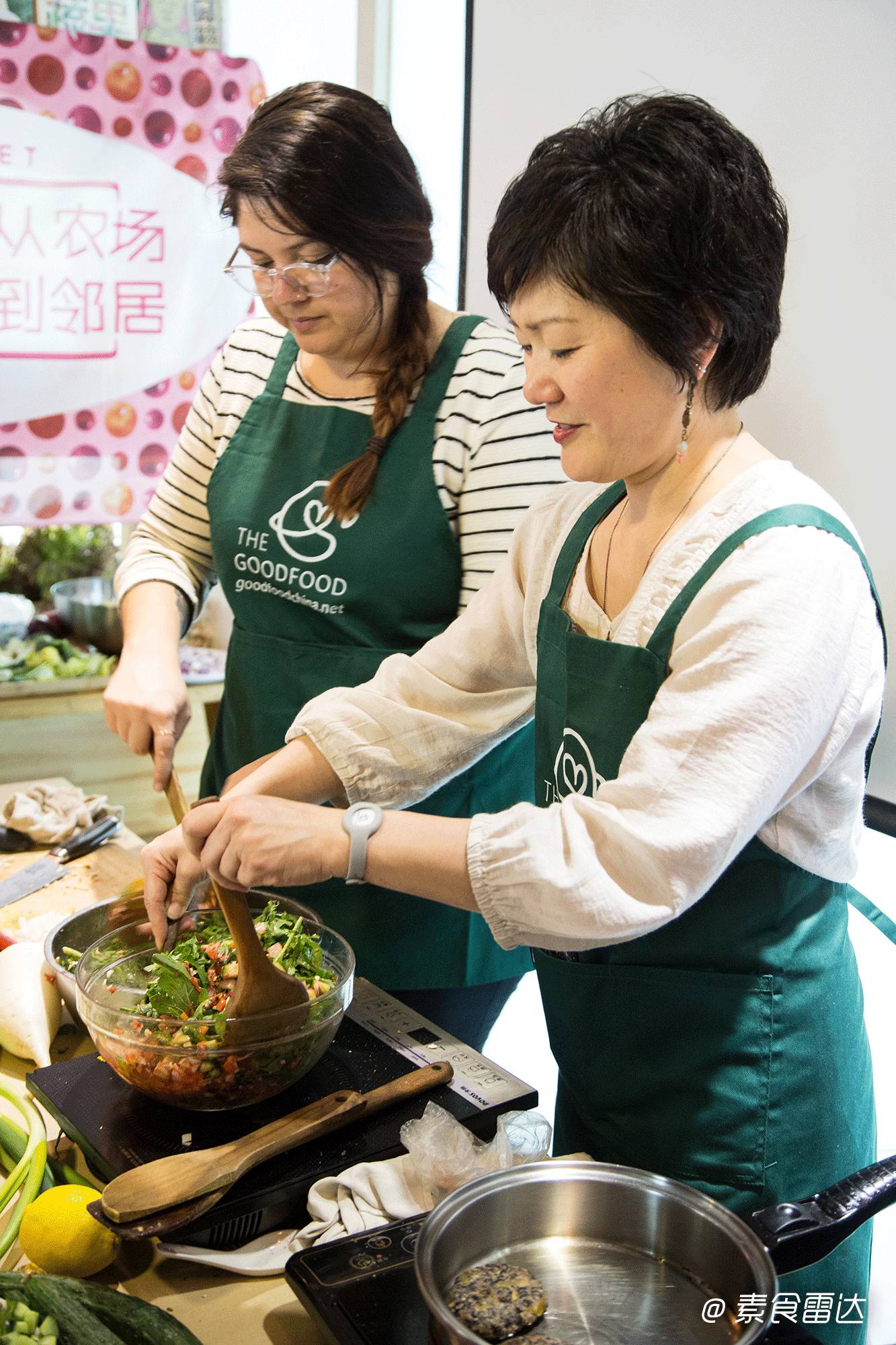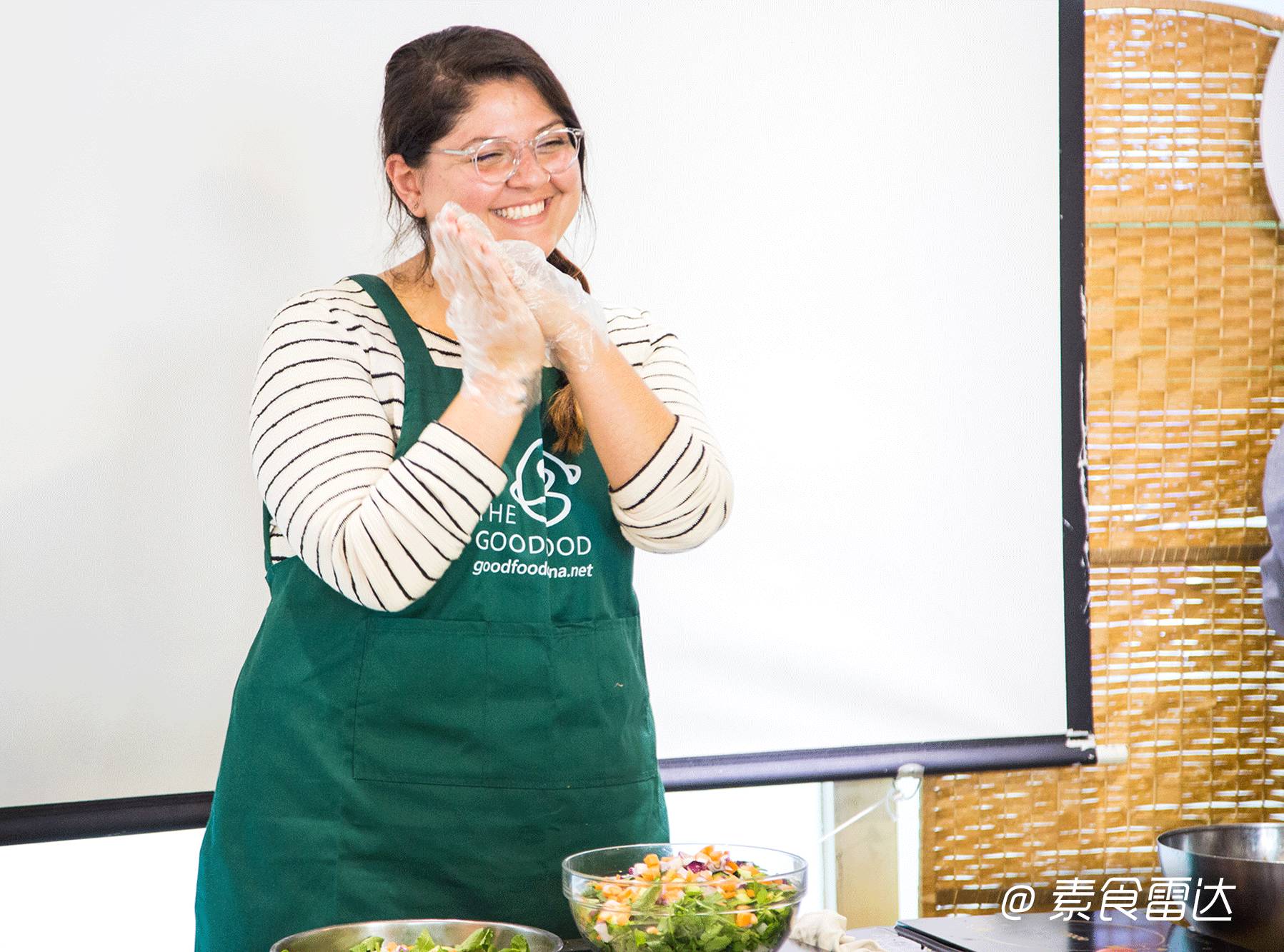 International Vegan Chef Karley and Whole Plant-based Food Therapy Tutor Yiwen
gave a live presentation on
how to make pure, plant-based organic ingredients taste the greatest.
With joy and seriousness,
Karley cooked for everyone.
All the ingredients she used were given a new vitality and meaning.
She enjoys cooking with vegetables
because it creates the most intimate moments with food.
All the ingredients were mixed and presented in turn.
Multicolored ingredients were highly satisfying,
and the aroma of food filled the room.
Staring at the food but not being able to eat it,
however, is real torture!
When Karley finished cooking,
we could finally try her creation.
FunThe style of the food is exotic and Karley let every ingredient shine.
The dish tasted very refreshing,
as if we were standing on the field,
singing a song in the breeze.
Indeed, the most important part of vegan food is enjoying it!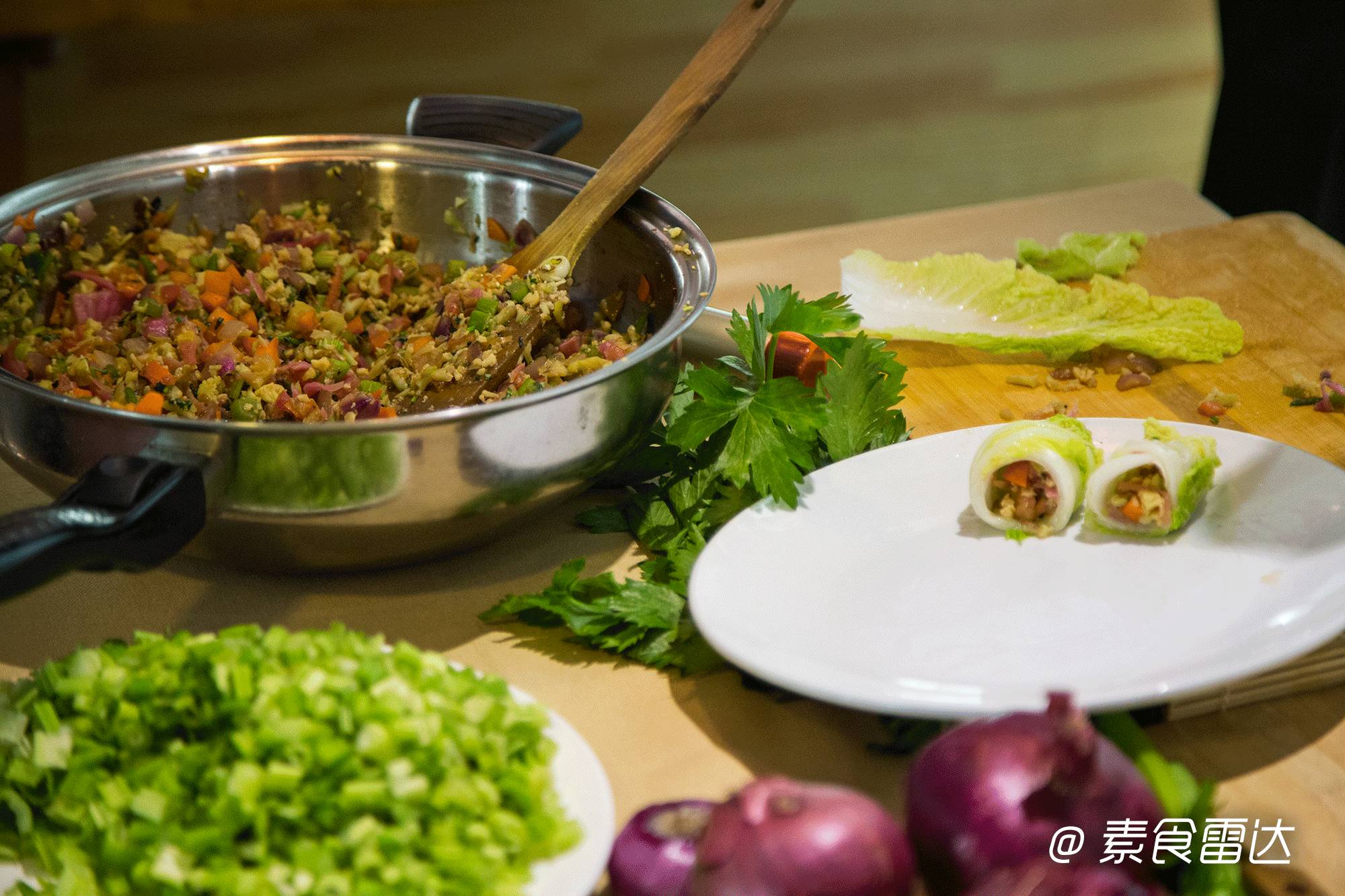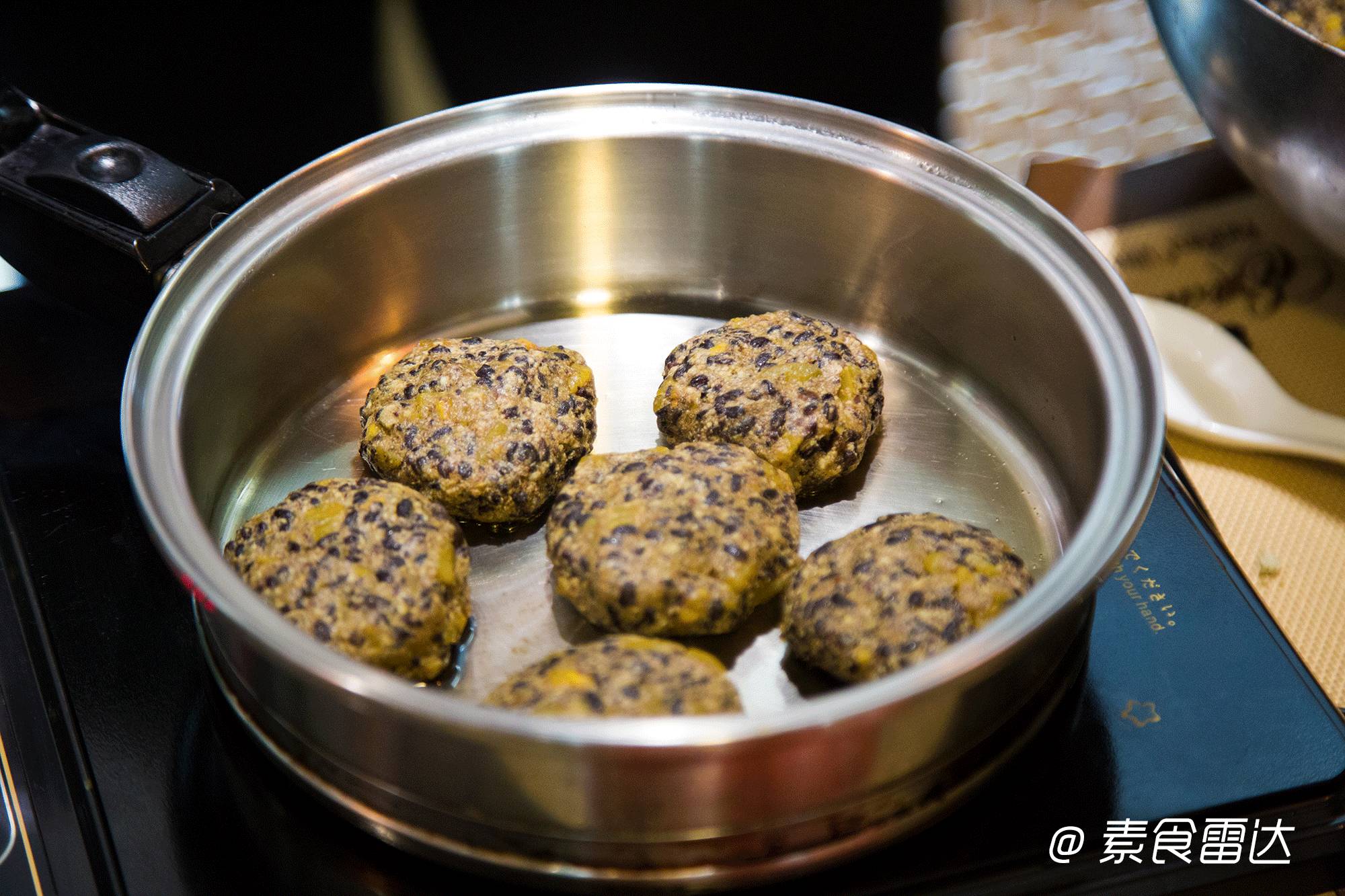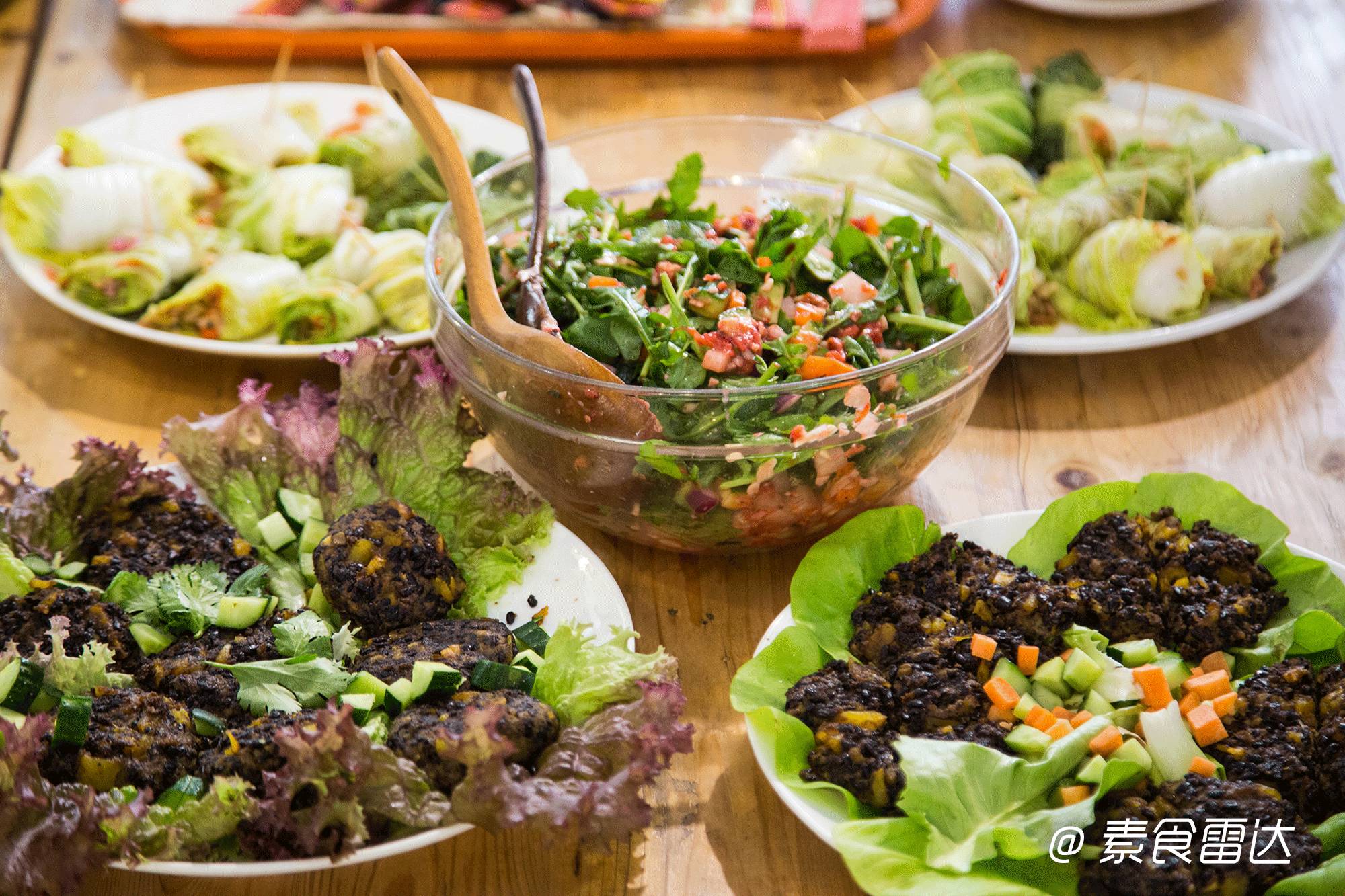 I still remember that Erica, the founder of Farm to Neighbors, checked with us over and over again about arranging volunteer positions, especially since we had a limited amount of time. As the end of the event, a volunteer who was very dedicated to her job and remaindered us that there was one more slide to show. It is true that there is still lots of room for growth after the first event. Still, we really appreciate the charitable support from our partners. We are grateful that we were able to meet lots of good people through this event. ❤️
Time for tips: After the workshop, we found that there were still plenty of pre-cut organic vegetables and whole grains that had not been used up. We wondered: what should we do with them? We cherish good food, and we are reluctant to throw it away. The next morning, Teacher Yiwen boiled the remaining ingredients into grain porridge, supplemented with a little remaining arugula and yam. And we were able to enjoy a healing breakfast :)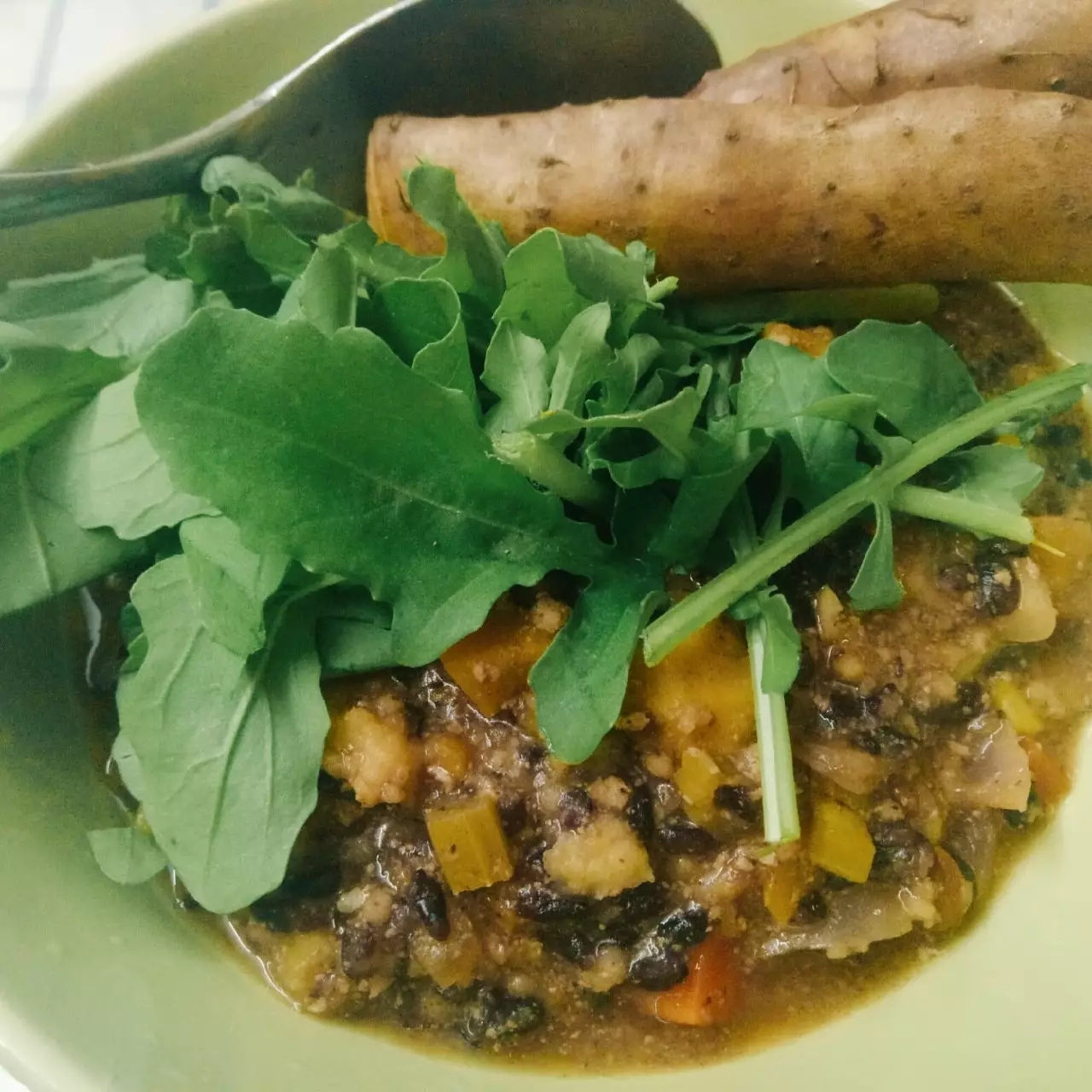 Article: Jie Li, Yu Yan
Editor: Jie Li
All pictures are from Good Food team and Veg Radar