The Good Food Fund, established in 2017, is a special fund of the China Biodiversity Conservation and Green Development Foundation. Our focus is promoting transformation towards healthy and sustainable food system in China. In each issue of the Good Food Newsletter, we share what the Good Food Fund has been up to over the prior three months, original content we have published, and the action plan for the following few months.
The past three months have been the busiest of the year for the Good Food Fund. Key projects included holding a round table, titled "Youth Promoting Sustainable Food Consumption and Production," at the Nanjing Peace Forum; intensive preparation for the Meatless Monday 2022 New Year's Eve Dinner Global Live Relay; publishing a series of original articles on ThePaper.cn and "food unscrambled" podcast; and completing the research project "The Practice Application of 'Farm Animal Welfare' in China: Insights on History and Concepts." Good Food Fund founder Jian Yi was also invited to attend a series of international conferences during the past three months.
By the end of 2021, Jian Yi had been studying for a full semester for a Mid-Career Master of Public Administration degree from Harvard Kennedy School. This newsletter will share some of the work he has participated in and outside of Harvard. In November, Democrat Party candidate Eric Adams was elected as mayor of New York City. Mr. Adams has always been very passionate about promoting healthy and sustainable food systems. Last year, he participated through video at the 4th edition of the Good Food Summit. We congratulate Mayor Adams on his election and look forward to seeing New York City spearhead food system transformation under his leadership.
The Good Food Fund's partners have also been busy planning and discussing projects for 2022. The Good Food Fund looks forward to moving ahead in 2022 by contributing more value to industries and breaking out of familiar circles to drive greater, broader-reaching, change.
---
Good Food Progress
2022 Good Food Global New Year's Eve Dinner Relay

2021 was a special year. China redoubled its efforts to meet its carbon reduction targets and to establish an "ecological civilization." The first UN Food System Summit and the 15th UN Conference of the Parties (COP15) of the Convention on Biological Diversity (CBD) were also successfully held in 2021. Influenced by the global pandemic, people have become more closely connected and more concerned about the health of the planet. Food was a common thread that ran through all the topics that dominated 2021—from climate change and sustainability to low-carbon diets and public health, to food security and farmers' livelihoods, food was a key issue that could not be avoided.

Last year, the Good Food Fund's online event, "Farewell to 2020: Mama's Kitchen Global New Year's Eve Dinner Relay," was a smashing success. For the transition from 2021 to 2022, the Good Food Fund decided to continue the tradition and hold the "2022 Good Food Global New Year's Eve Dinner Relay." Designed as an "online carnival" of sustainable New Year's Eve celebrations, the Relay invited more than 50 influential people from more than 20 countries and time zones around the world to share more than 720 minutes of recorded and live-streamed content, from delicious sustainable food and health to fashion and low-carbon living. This global relay online event is setting a new trend in low-carbon and healthy eating, and it is a compelling, new way to connect China with the world, to promote the sharing of ideas and values, and to co-compose the sustainable development story of China and the world.
The event received support from China.com.cn, China Biodiversity Conservation and Green Development Foundation media channels, QTshe, Baidu Food, Real image, and many other platforms. As of January 10, 2022, two of the event's hashtags had become trending topics, with hashtag views exceeding 24 million on Weibo and 9 million on Toutiao. The livestream of the event received over 8 million views, and the event's short films on TikTok and Kuaishou reached over 12 million views. In addition, event posts were reposted by China Daily, China Plus, Ynet, Jiemian News, People Online, and more than 40 other media platforms and WeChat official accounts. In total, the event made over 36 million impressions.
Scan the QR code to watch the event
First half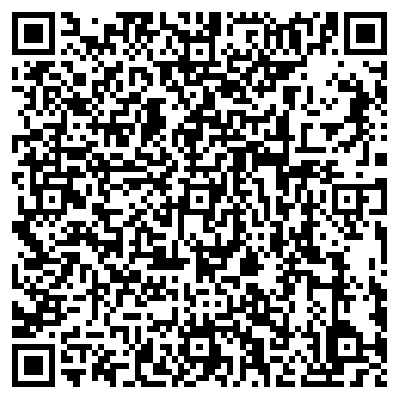 Second half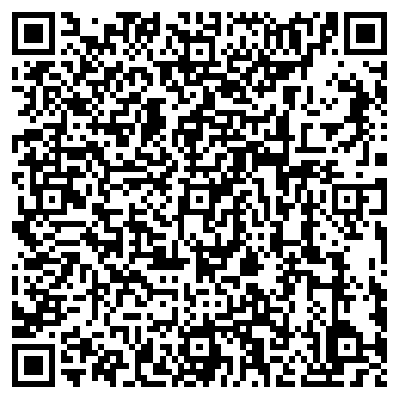 Seeking the New Year's Plant-Based Master Chefs to Join the Global Live Relay

Our ancestors lived in close connection to the natural environment. They relied on traditional wisdom to cultivate fertile soil, which allowed all kinds of plants to grow freely. Such local seasonal food is the best-tasting and most nutritious. Fruits, seeds, stems, leaves, roots, seaweeds...foods from plants that are cultivated using natural methods can nourish the body and mind. Red, yellow, orange, purple, green and white—the rainbow on your plate shows the love and richness of the earth.

This coincides with the Good Food Fund's intensive preparations for the Meatless Monday New Year's Eve Dinner Earth Relay. We selected three plant-based "Master Chefs" from mainland China to participate and share healthy plant-based recipes in our New Year's Eve Dinner Earth Relay broadcast event in an effort to help spread health and happiness to more people!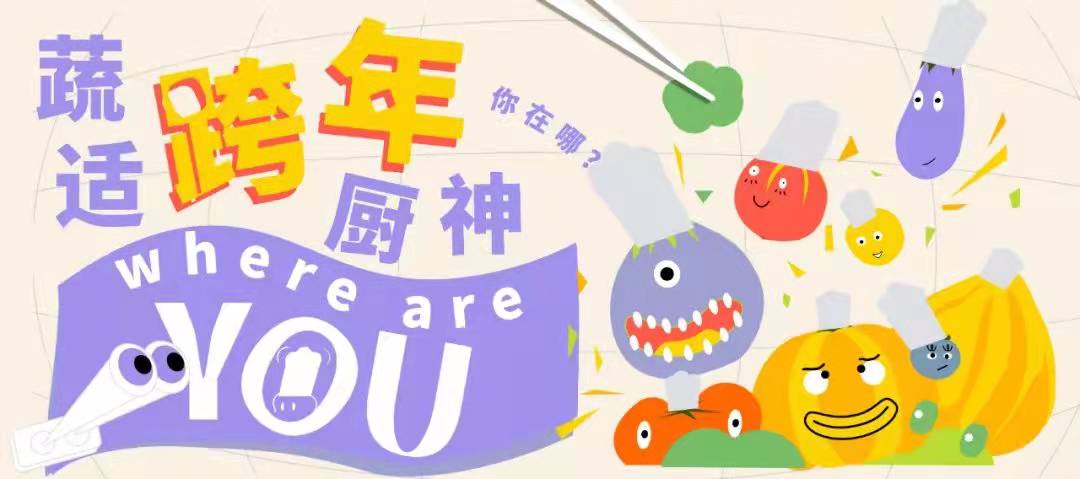 Tremendous success of the Meatless Monday New's Year Eve Dinner Earth Relay

12 hours of live streaming, 6 platforms joint dissemination, 823,000 people watched the livestream, 1.15 million total views on the whole network (as of Jan. 12), 345.08 million Total number of topic reads and discussion on the whole network, 480,000 views of the volunteer recruitment posters.
Through the New Year's Eve Dinner Relay, we hope to let more people in China know about the popular Meatless Monday Campaign and the healthy and sustainable plant-based diet and lifestyle around the world, we also hope that people around the world will take this opportunity to see how people in China are adopting and practicing these new trends. Through this event, we connected friends from different regions, time zones, and cultural backgrounds, allowing China and the world to understand, inspire, encourage each other, and jointly promote the Meatless Monday campaign.
In this event, the invited guests followed the concept of low-carbon, healthy, sustainable, good food and waste reduction, and shared how to cook with local plant-based ingredients to show the richness and diversity of plant-based food to the world, thus inspiring people in China and around the world to think and act on the relationship between sustainable diet and our future.
The event is supported and promoted by China.com, China Biodiversity Conservation and Green Development Foundation's media channels, Baidu App, Baidu Food, and more than 40 domestic and international partners that focus on sustainable development and low-carbon healthy lifestyle. As a result, the event reached an astonishing number of online views, there has been over 36 million views and impressions including different formats such as short videos, articles, and posters. This has hugely exceeded our expectation and set a new and incredible record for any types of events hosted by the Good Food Fund.
By the end of the live broadcast of the New Year's Eve Relay on January 1, 2022, more than 823,000 people had watched the event livestream worldwide. As of January 11, on Toutiao, 73 self-publishers jointly disseminated the New Year event, and the New Year event headline topic received 9.68 million reads; on Weibo, 20 KOLs and 88 KOCs jointly disseminated the New Year event, and the New Year event topic received 24.41 million reads and 729 discussions; the short video of the New Year event received 1.15 million broadcasts on Kuaishou and TikTok China.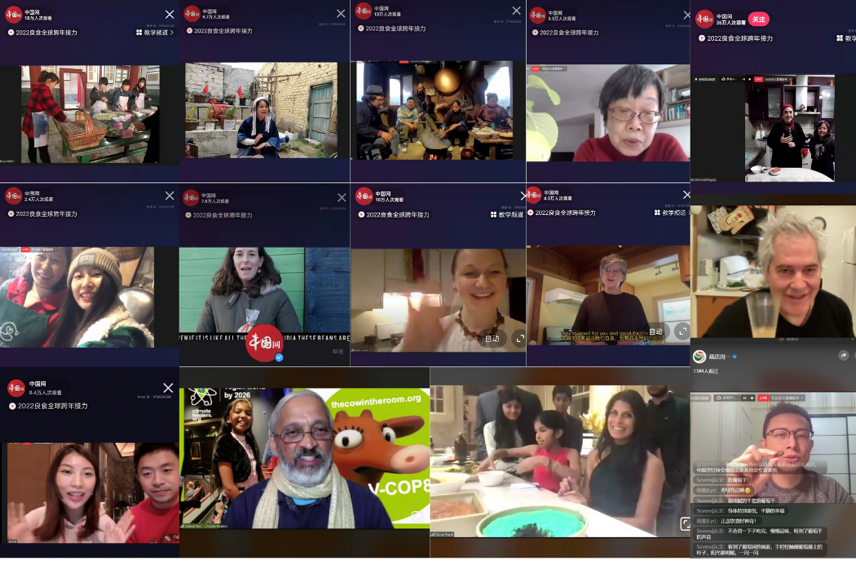 Green Monday and Meatless Monday signed a strategic cooperation MOU to co-create a healthy and low-carbon lifestyle
In the final 10 years of action to achieve the UN 2030 Sustainable Development Goals, advocating a healthy and sustainable diet, promoting food system transformation, achieving carbon neutrality, addressing climate change, establishing an ecological civilization, and securing a sustainable future for humankind will become common goals of everyone in society. Individuals, businesses, and social organizations must work together to effectively advance towards sustainability.
In order to better respond to this goal and effectively promote healthy and sustainable living, on November 9, 2021, the Good Food Fund's Meatless Monday project signed a strategic cooperation MOU with Green Monday, a Hong Kong-based social enterprise dedicated to shifting the public towards sustainable living. Over the next two years, the two organizations will cooperate in various ways, including organizing plant-based pop-ups and tastings, promotional events, trainings, and more. Between Green Monday's plant-based meal solutions and the advocacy experience and culinary resources which the Good Food Fund has accumulated over the years, this complementary partnership promises to bring more resources, advantages, and outreach channels to both sides, enhancing both organizations' capacity to serve the public and popularize plant-forward and plant-based diets.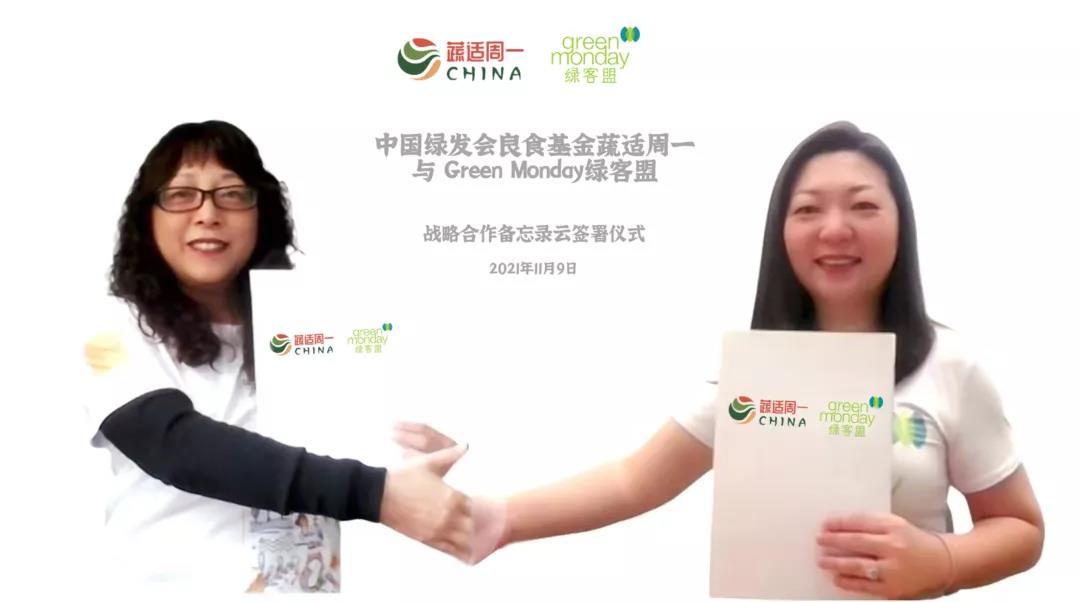 Completion of the research project "The Practical Application of 'Farm Animal Welfare' in China: insights on history and concepts"
With the adoption of Western-style industrialized livestock husbandry techniques and scaled animal husbandry models in China, China is now facing many of the problems that faced this industry in the West. Meanwhile, mainstream Western animal welfare concepts has also been introduced. However, while Chinese culture is not without corresponding traditional concepts of "animal welfare", there is a lack of understanding about improving the living conditions of farm animals and its necessity. There are even some misconceptions that say animals must be given better conditions than humans. The concept of "welfare" that we are discussing here is one that ensures the most basic survival needs of these animals.
Over the millennia of Chinese history, many theories, policies, cultural ideas, and laws have conveyed the spirit of "animal welfare". The foundations and expression of this spirit have resulted in a set of values and production methods that are different from the West. This makes it necessary to explore the meaning of "animal welfare" within the context of the Chinese language. We must understand its source and re-create a uniquely Chinese concept of "animal welfare", which can better guide government and society in protecting the welfare of animals. The purpose of this paper is to examine concepts of animals in traditional Chinese culture and reflect on the health and environmental dangers that industrialized animal husbandry can create for human beings. We have also proposed a series of policy recommendations to reduce industrial animal husbandry, improve farm animals' living conditions, and ensure the sustainable development of both humans and nature.
Continuing to promote youth empowerment in depth and deliver fresh blood for food systems transformation

At the UN Food Systems Summit and subsequent World Food Forum, global youth have demonstrated their passion and commitment to engage in food systems transformation. Huiyu Ouyang and Yuhua Zong at the Good Food Fund led the Act4Food Act4Change global youth campaign with youth leaders from around the world and carried out a series of localized events in China, such as the "Food Literacy" contest, community building, interdisciplinary dialogues, and media promotion.
In August, the UNFSS-AT2 China Action Hub (an initiative of the Good Food Fund) and WePractice launched the "Food Literacy" contest for college students in China. As of the end of October, about 100,000 people participated in the contest, signed the Act4Food pledge, and voted for the Actions4Change.
Sophie Healy-Thow, the global coordinator of Act4Food Act4Change, also brought the demands of young people from China to the Nobel Peace Prize Forum on the theme of "The Food Effect".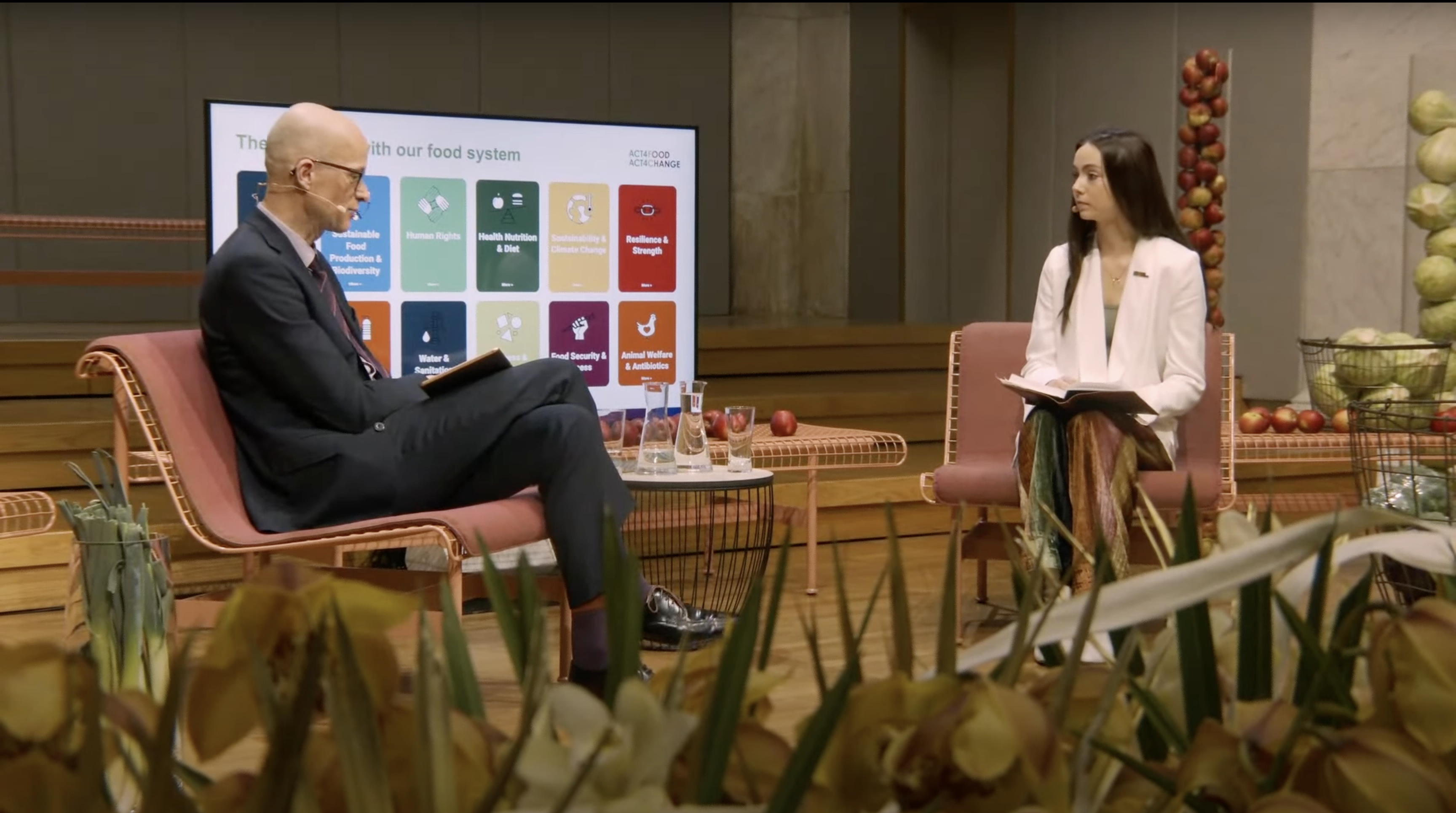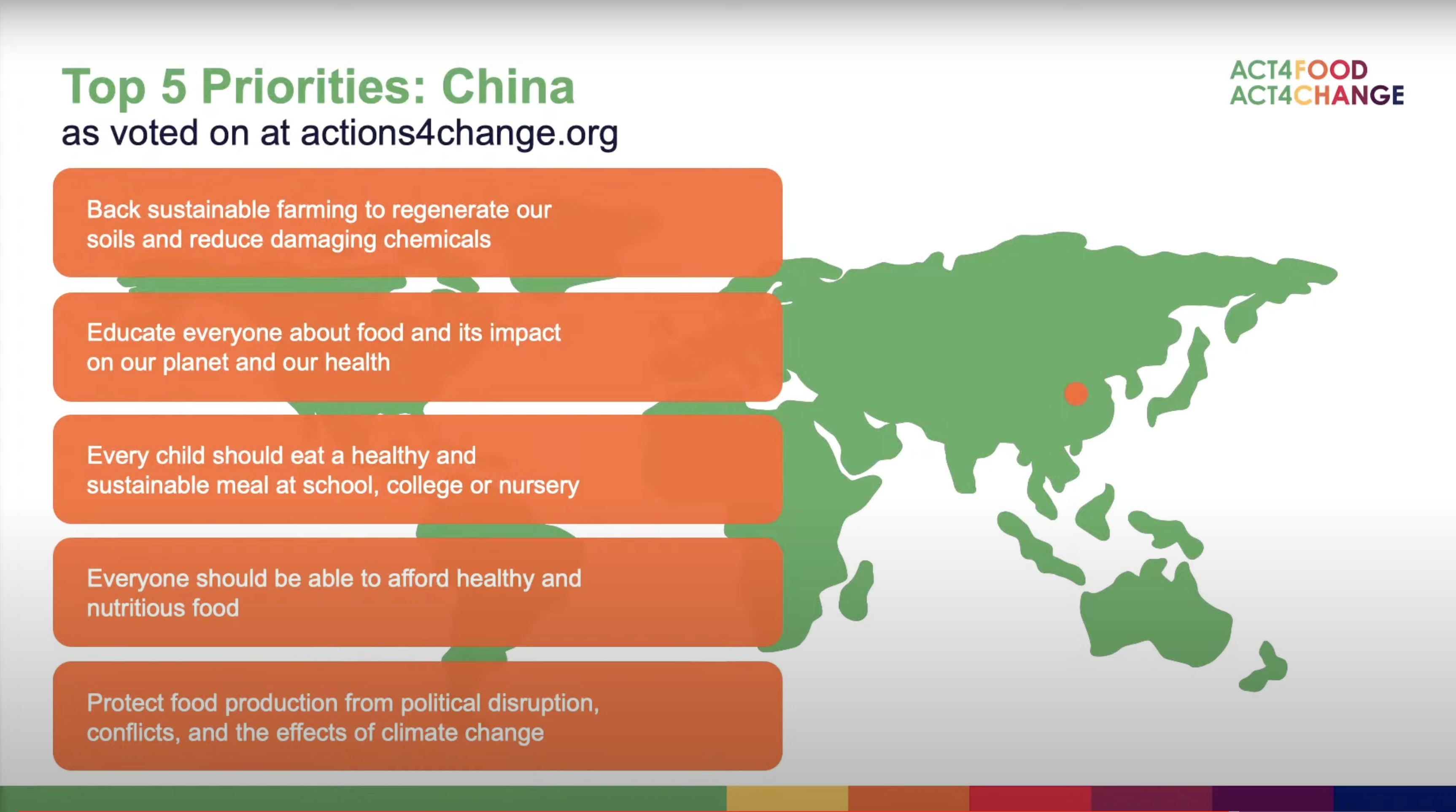 Sophie Healy-Thow presents the top five Actions4Change voted by Chinese youth at the Nobel Peace Prize Forum


Top 10 Actions4Change voted by Chinese Youth
Amplifying Chinese youth voice in global governance processes

The UN Food Systems Summit has launched bold new actions to transform the way the world produces and consumes food. Beyond the Summit, we are making sustained efforts to bring political attention to food systems, alongside key global conventions on climate, biodiversity, nutrition, and related issues within the 2030 Agenda.
Food Change, Climate Change

ActNowFilm! A COP26 Youth Voices Project features over 140 young people from around the world talking about their lived experiences of climate change, their hopes and fears, their climate pledges, and their demands of the COP Negotiators.
The film was produced by the University of Bath Institute for Policy Research (IPR) and Cambridge Zero, as part of the COP26 Universities Network, and supported by the Global Alliance of Universities on Climate (GAUC).
The Good Food Fund was asked by the Institute for Climate Change and Sustainable Development (ICCSD, chaired by Xie Zhenhua, China's Special Envoy on Climate) at Tsinghua University (the convenor of GAUC) to help promote the project. With the 44 submitted short videos from our Good Food Youth network, we produced and presented this video to Prof. Li Zheng, the Executive Vice President of ICCSD and Secretary-General of GAUC. Huiyu Ouyang, Food Policy Officer of the Good Food Fund was invited to speak at the premiere of the ActNowFilm.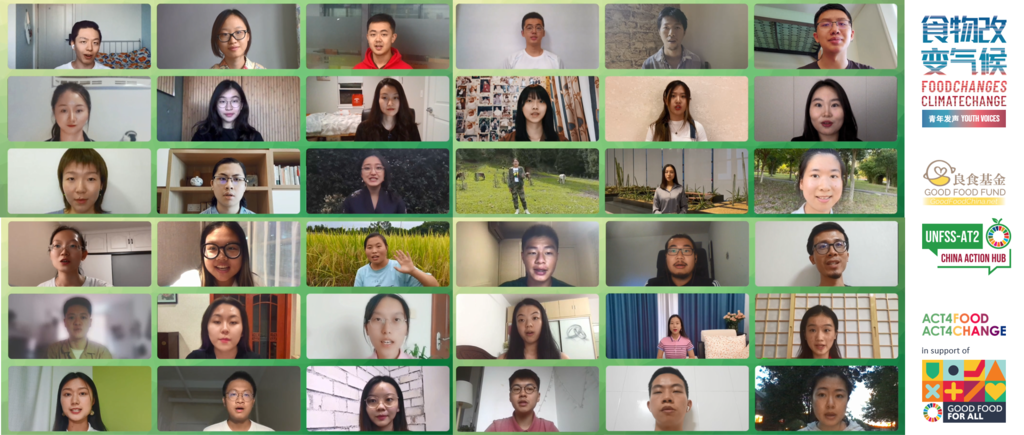 Food systems contribute to one-third of the global GHG emissions but are always being given too little consideration in climate policies. This video of youth voices engaged China's policymakers to better understand the ambitions, challenges and needs to make food systems an integral part of climate change policymaking.
Promoting healthy diets in the context of climate change and biodiversity loss
The United Nations Conference on Biodiversity held in Kunming opened a new era of building a Shared Future for All Life on Earth. And the topic of food systems and biodiversity is increasingly appearing on the agenda of various conferences.
Yuhua Zong was invited to speak at the Roundtable on "Shaping Diverse Food Environments for Healthy Diets" in the 2nd International Agrobiodiversity Congress where Yuhua exchanged experiences with project leaders from around the world, sharing difficulties and challenges and exploring the way forward.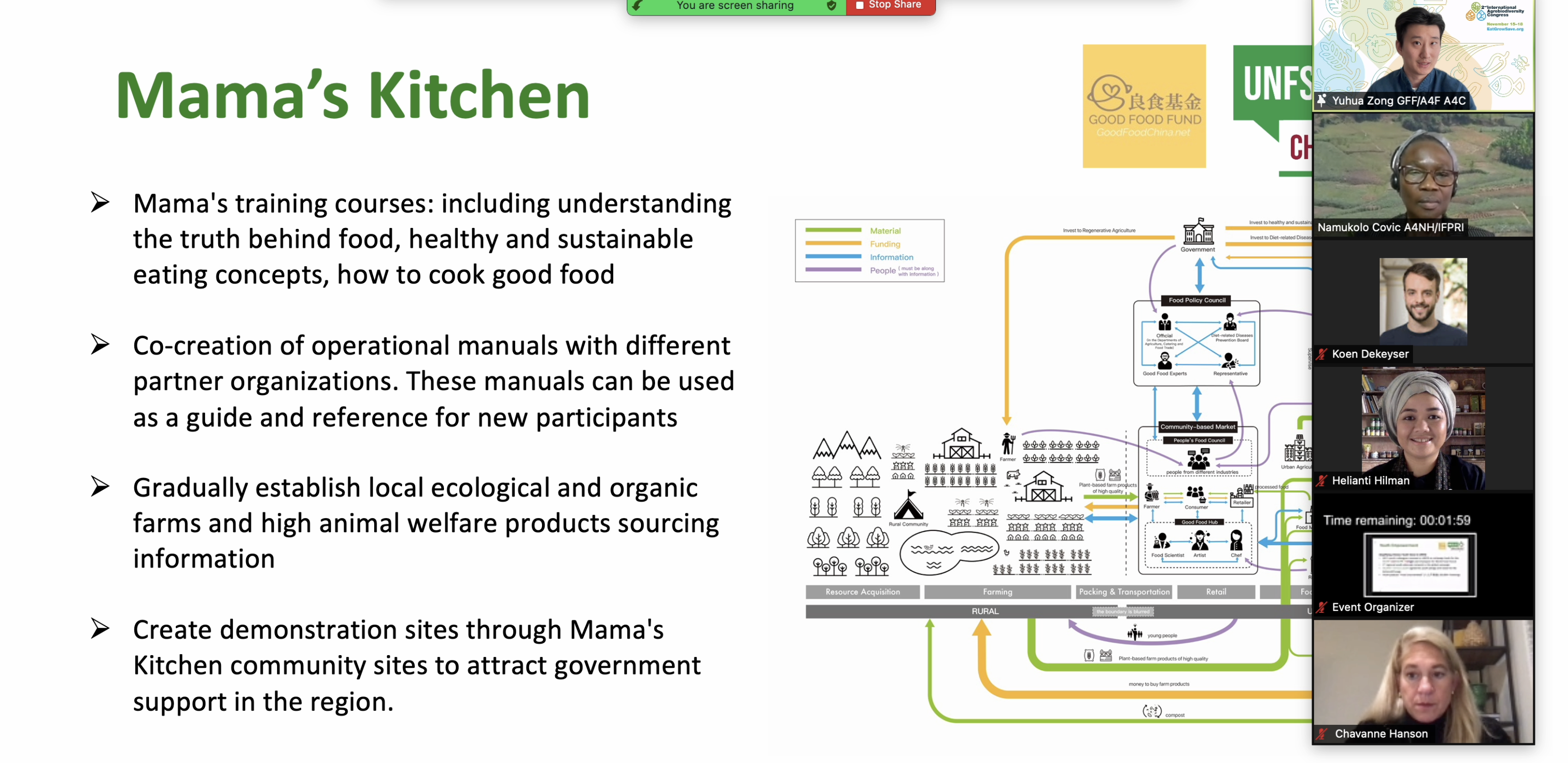 Yuhua introduceald the Mama's Kitchen project of the Good Food Fund t,o the guests and audience
Huiyu Ouyang was invited to moderate a side event of the Nutrition4Growth Summit organized by the Food and Nutrition Division of FAO to discuss "Preventing malnutrition among the most vulnerable communities in the context of climate change and biodiversity loss" with experts from several international organizations.

Huiyu was also invited to speak at a webinar on "Food security and its national and global drivers" organized by China-SCO technology transfer center, FAO, ICARDA and Samarkand State University, where he talked about the "Healthy Diets from Sustainable Food Systems" coalition launched at the UNFSS, and the best practice awards program and youth empowerment program of UNFSS-AT2 China Action Hub.
Huiyu Ouyang and Nina Ma (member of the UNFSS-AT2 China Action Hub's youth advocate network) were invited to record video clips for the recently launched Lancet research series on adolescent nutrition and health. Watch the promotion video here.
A Good Food Declaration was launched at the 2021 Nanjing Peace Forum to unleash the power of youth for food systems transformation
On Oct 25, the Good Food Fund and Slow Food Great China co-convened a roundtable on "Youth Leading Sustainable Food Production and Consumption" at the 2021 Nanjing Peace Forum. The roundtable brought together more than 30 participants including youth champions in China who are exploring best practices, organizations that are willing to provide support to foster youth, experts from various industries and representatives from Nanjing government departments. The participants discussed about key action areas including food education and school meals, sustainable consumption action and advocacy, youth participating in agriculture and food entrepreneurship, and youth participating in urban food governance. At the end of the roundtable, the participants signed a Nanjing Good Food Declaration, which expressed the key messages of this 3-hour meeting.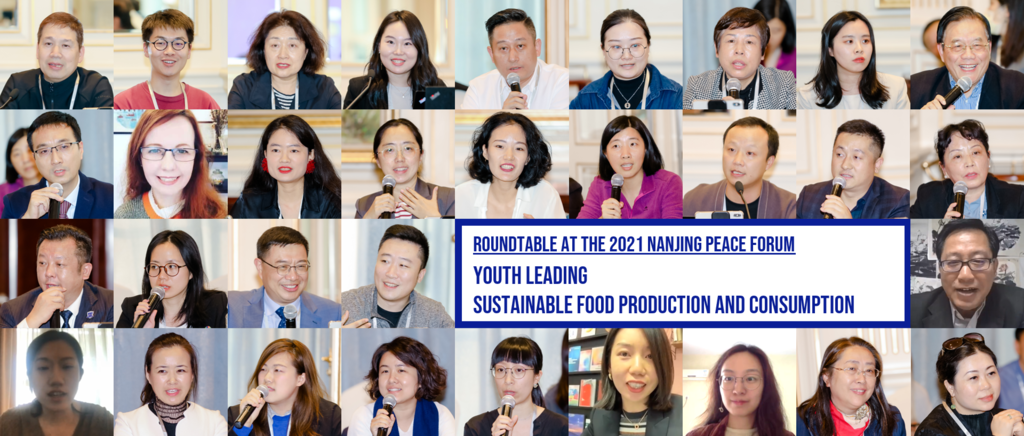 The 2021 Nanjing Peace Forum was organized by the NESCO Beijing Office, the Chinese National Commission for UNESCO, the Information Office of Jiangsu Provincial Government, and the Nanjing Municipal Government on the theme of "Living in Harmony with Nature for Peace". This roundtable is a big step forward in promoting the global youth-led campaign Act4Food Act4Change at the local level. All the participants shared their sentiments that this was the beginning of an era of multi-sectoral and multi-stakeholder collaborations and partnerships to explore further joint actions for youth empowerment and food systems transformation. Some of the main messages of the roundtable was incorporated into the 2021 Nanjing Peace Consensus, a city-level commitment which was released in the closing ceremony of the Forum.

From capacity building to real-world opportunities, youth development program will be launched soon
Based on the spirit of the Nanjing Good Food Declaration, the Good Food Fund is preparing and will launch a food system youth development program in early 2022. The program will train young people who are passionate in transforming food systems and help them to improve their knowledge and professional skills, and link them to organizations that are deeply involved in the front line of food systems transformation. The program will serve as a platform from education and training to actions, creating a community of food system changemakers and nourish more young talents for food systems transformation. Stay tuned!
On November 18, Good Food Fund Chief Executive Melinda Hou was invited to attend the opening ceremony of Oatly's first Chinese factory.
By now, most people have heard of Oatly, a global market-leading oat milk brand founded in Sweden. From the very beginning, Oatly's mission has been clear: give consumers both joy and good health without recklessly taxing the planet's resources in the process. After entering the Chinese market, Oatly partnered with a number of boutique coffee chain brands. Starting with oat milk lattes, Oatly singlehandedly set off China's oat milk craze and gave Chinese consumers a whole new concept of plant milk as a healthy and trendy product. In contrast, industrial dairy production forces cows to be constantly pregnant and nursing and separates calves from their mothers at birth—a traumatic experience for both mothers and calves. Such production methods are cruel to animals. The emergence of oat milk provides a more ethical and sustainable alternative for human "dairy" consumption. For its pioneering and exemplary role in promoting health and sustainability, Oatly won the Good Food Fund's 2021 Best Practice Award.
In November, 2021, Oatly opened its first Chinese factory in Anhui and invited Good Food Fund Chief Executive Melinda Hou to attend the opening ceremony and participate as a panel speaker in the Future Food Forum. We hope that in the future China will be home to many more enterprises like Oatly, providing consumers with healthy, ethical, and sustainable food and creating an environment where it is easy for consumers to make choices that are good for their health, for animals, and for the planet. The Good Food Fund is enthusiastic to help these game-changing enterprises succeed in the Chinese market.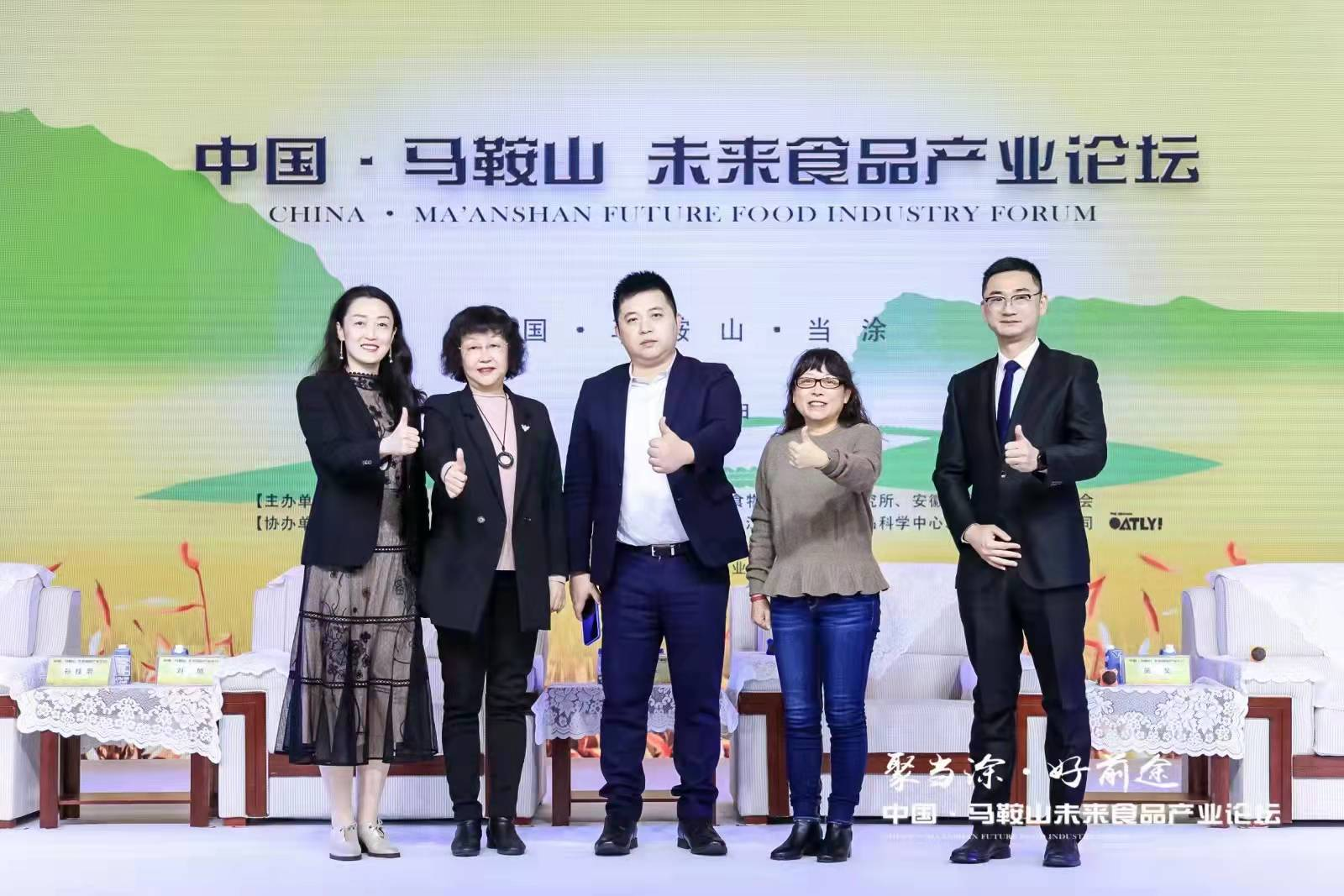 From October to December, Good Food Fund founder Jian Yi was invited to attend several events:
Met with the Menus of Change University Research Collaborative (MCURC) organizer, the Culinary Institute of America, and the Stanford University food service executive to discuss collaborations on promoting healthy and sustainable dining in colleges and universities. This collaborative network includes more than 60 universities globally. The network promotes cross-departmental and cross-school cooperation between university researchers and catering departments to promote healthy and sustainable food on campus.
· Participated in the "Food X Films" global food film festival.
· Accepted an invitation to speak at an online conference on food systems held by the UN Environment Programme.
· Performed an interview with researchers at the Global Alliance for the Future of Food (GA) to introduce the Good Food Fund's work. The purpose of the interview was to provide Chinese experiences and contexts for the Food Systems Assessment Framework.
· Participated in a meeting with the University of Notre Dame Sustainability Department, led by the university's Beijing Center, to learn about the university's experience in promoting sustainable campus operations.

· Joined the Harvard Behavioral Insights Student Group (BISG) and received an annual grant from the Harvard Office of Sustainability to plan and hold a Nudge-a-Thon to promote plant-based diets in cafeterias on campus.

Photo from the official website of the Harvard Kennedy School
· On October 18, Jian Yi teamed up with family to participate in Harvard's first Nudge-A-Thon design competition with teams from Harvard and MIT. Using the Harvard Kennedy School's cafeteria as its case study, the team submitted a design to improve the canteen's epidemic prevention safety measures. Jian Yi's team won "Best Physical/Digital Sinage Award"! (See photo below)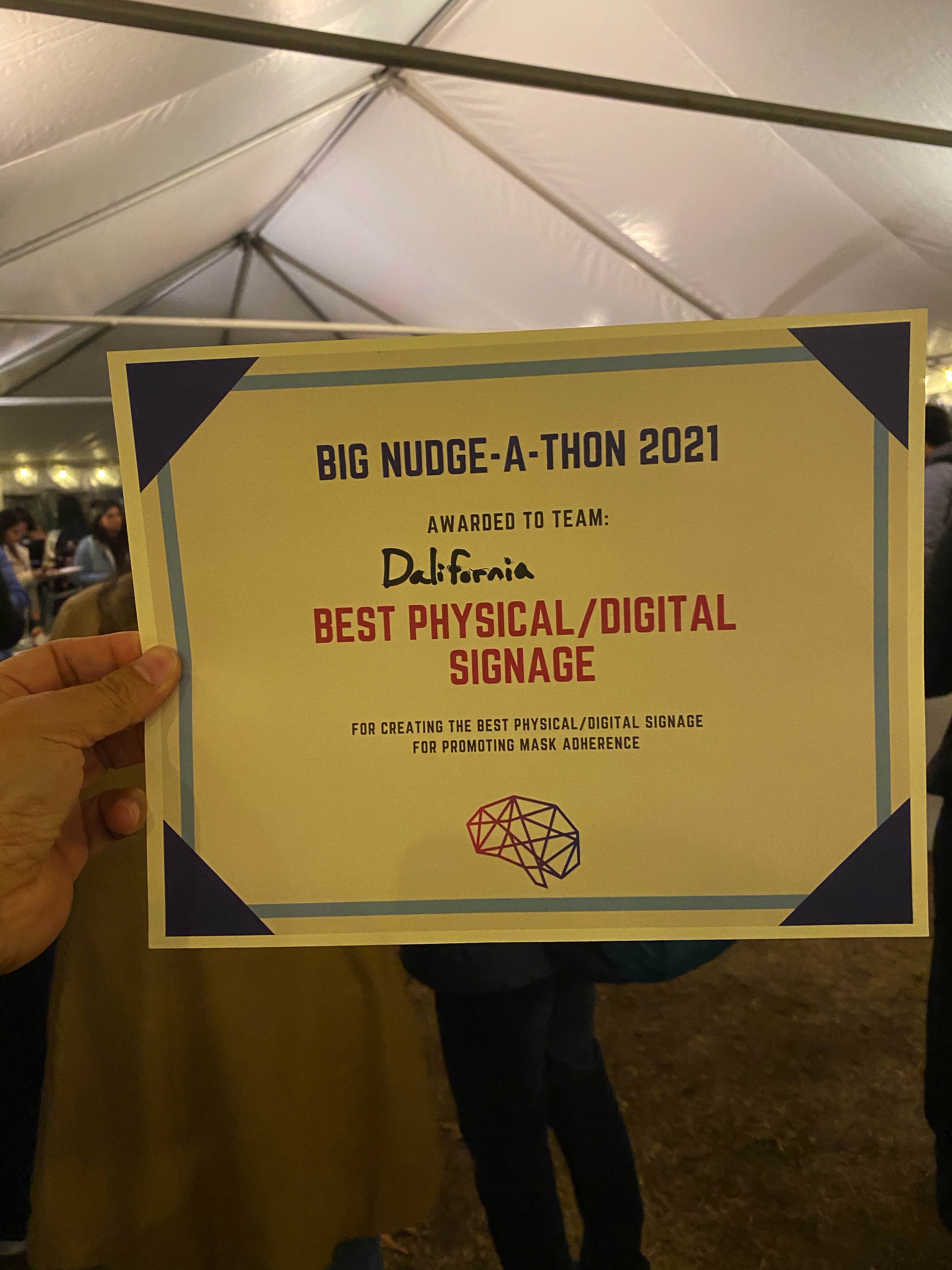 · On October 29, Jian Yi attended the final meeting of the United Nations Food System Summit Action Track 2 Core Leadership Team. Participants reviewed the work of Track 2 and the Food Systems Summit and explored the future of food systems. After the review meeting was concluded, the Action Track 2 core leadership team officially ceased to operate.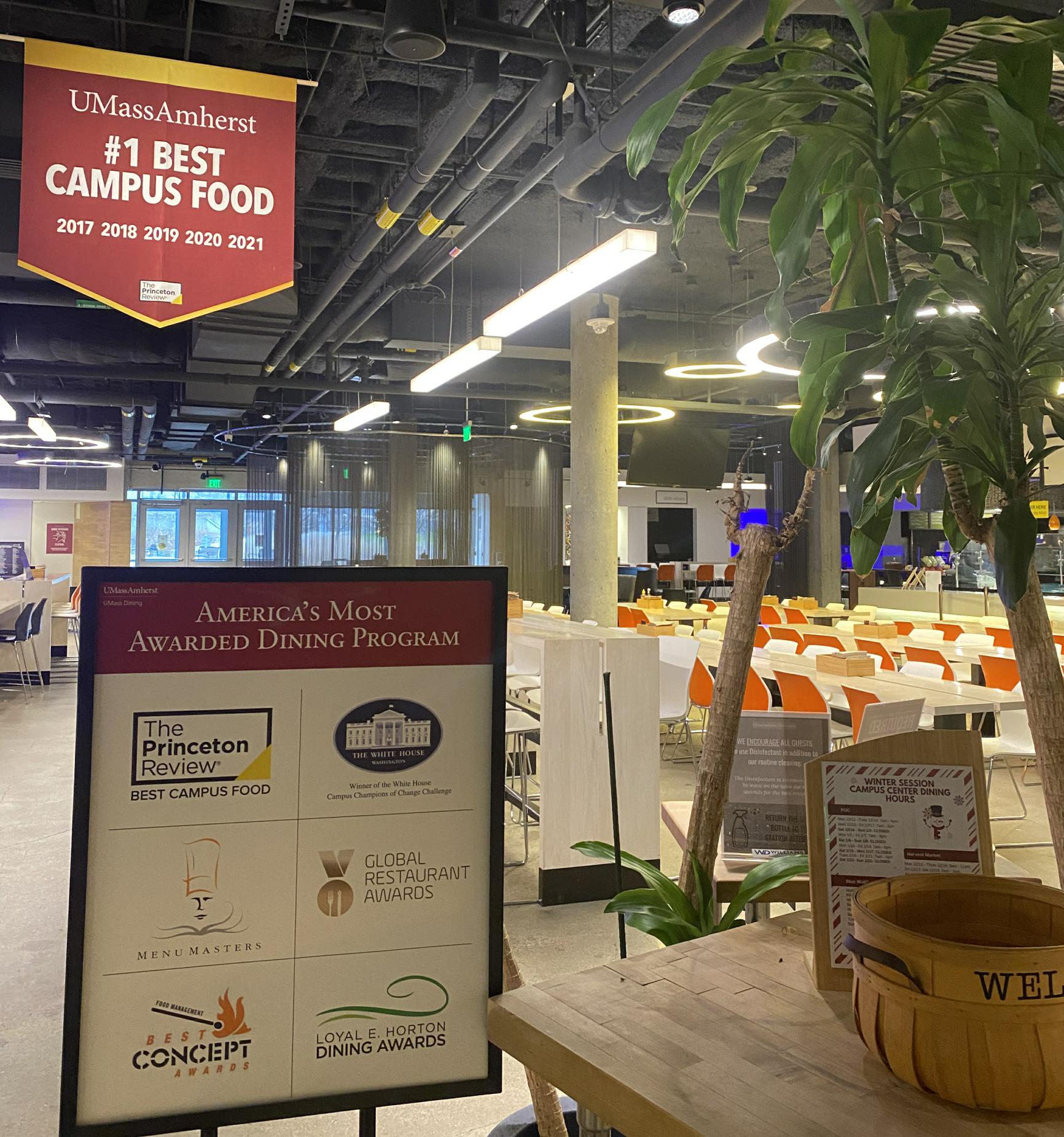 University of Massachusetts at Amherst Student Canteen

· From November to December, Jian Yi visited Yale University and the University of Massachusetts at Amherst, both of which are known for their outstanding campus food services. In 2016, Yale's student canteen won the International Food Manufacturer Association's Gold Plate Award for food management, while UMass Amherst won top place in the Princeton Review's award for Best Campus Food for five consecutive years. During the visits, Jian Yi interviewed Mr. Rafi Taherian, Associate Vice President of Yale Hospitality, and Ken Toong, Executive Director of UMass Auxiliary Enterprises.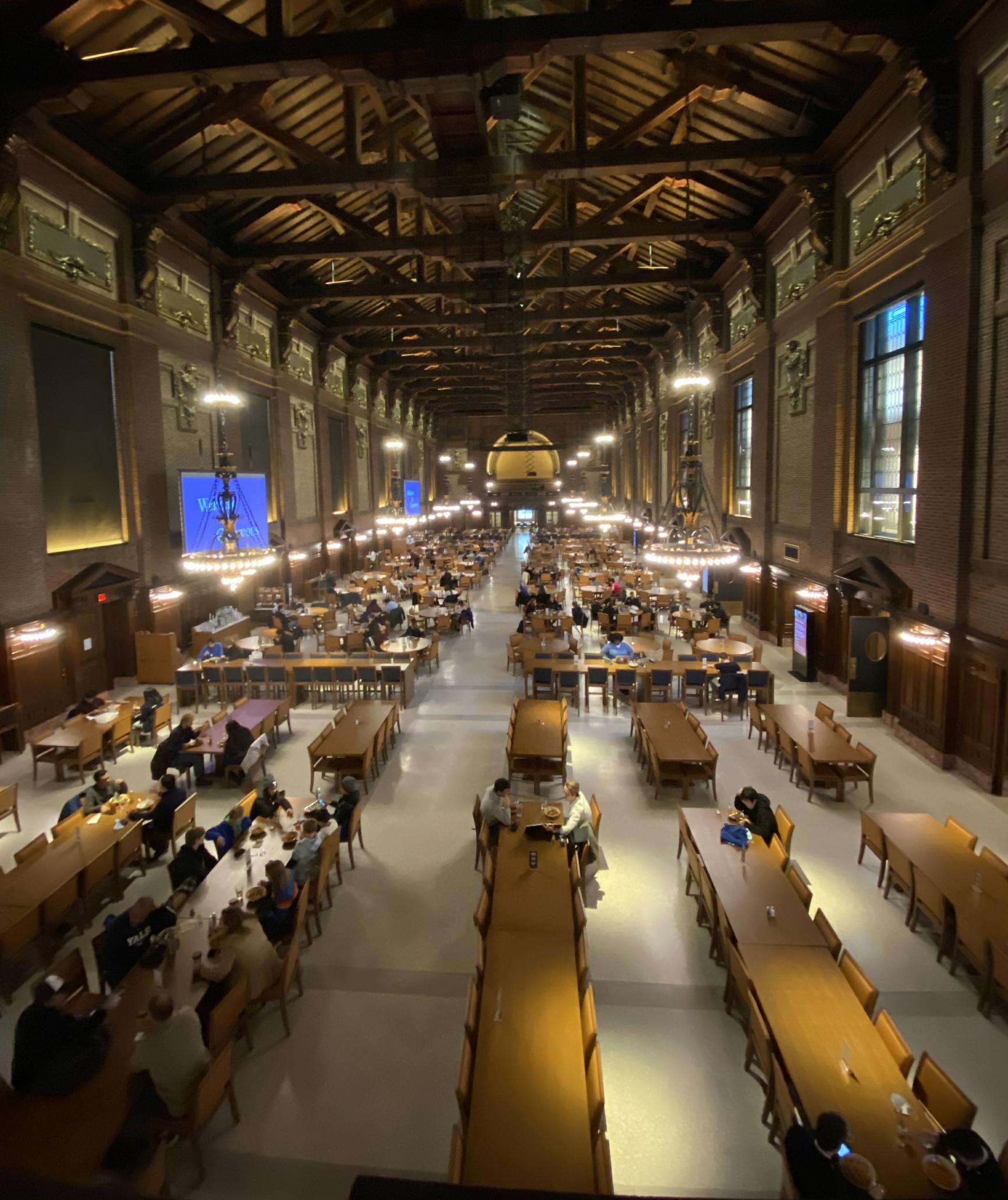 Yale campus canteen (Commons)
· On November 23, Jian Yi presented the Good Food Pledge at the Family Food and Education Public Welfare Lecture Hall.

· On November 8, Jian Yi participated in the UN COP26 SDG7 Pavilion food session via video. During the session, which was organized by Food Tank and the Rockefeller Foundation, Jian Yi introduced the Good Food Fund's efforts to promote sustainable food systems.
· On November 9, Jian Yi gave a lecture introducing the work of the Good Food Fund to Harvard undergraduates in a course on animals and food.
---
Good Food Updates
Promoting and launching online chef training courses

The Good Food Fund is committed to empowering chefs to lead the transformation towards healthy and sustainable food systems. With chef-focused projects like the 2021 Good Food Fund X Meatless Monday Roadshow, the 2020 Good Food Designer Competition, the 2019 New Year's Feast World Tour, and the Mama's Kitchen project, we hope that more chefs with a concern for sustainable development—like Chef A-Jun—will use their culinary creations to send a strong message about sustainable food and take action to drive change.
In the first quarter of 2022, we will promote and launch our online chef training course. The course will cover food systems, healthy diets, and chef leadership in a range of aspects. By establishing a theoretical and practical foundation for sustainable food advocacy, we will help chefs from different backgrounds to become "eco-chefs" driving sustainable transformation. If you want to receive updates or participate in this project, please follow our WeChat official account.
---
Media coverage
A chef who loves to poke fun at guests. A kitchen that produces almost no garbage. A menu that's not vegan but only lists one or two meat dishes, both of which aren't available on Monday...What kind of restaurant is this?

You're in Bistro & Bowl, China's first Good Food Restaurant! Located in laid-back Dali, Yunnan, Bistro & Bowl is a farm-to-table slow-food restaurant launched by Good Food Chef Lee Yan. Chef Lee and his team adhere to the principles of the Good Food Pledge, sourcing ingredients that are local and seasonal as much as possible. Although the restaurant serves meat, Chef Lee seeks meat from sources that provide high welfare standards to animals. Recipes and dishes are designed to highlight the natural flavors and textures of each ingredient, and everything is made from scratch. Chef Lee serves each dish with an explanation of where the ingredients came from and how they were prepared, giving diners a deeper connection to their food while also increasing their enjoyment of each precious bite.
Chef Lee believes that in the next 20 to 30 years, people will gradually move towards plant-based diets that are more environmentally sustainable. He calls Bistro & Bowl a "transitional restaurant"—not vegan or vegetarian, but "plant-forward," using 85% plant-based ingredients. At Bistro & Bowl you can order hamburgers made from free-range local beef or you can choose tacos made from stewed mushroom "pork." If you order the cauliflower fritters, you may not even realize that the aioli is made from cashews. Chef Lee's approach focuses on optimizing what is possible in the present and in the future, which is why the Good Food Fund named it a "Restaurant of the Future."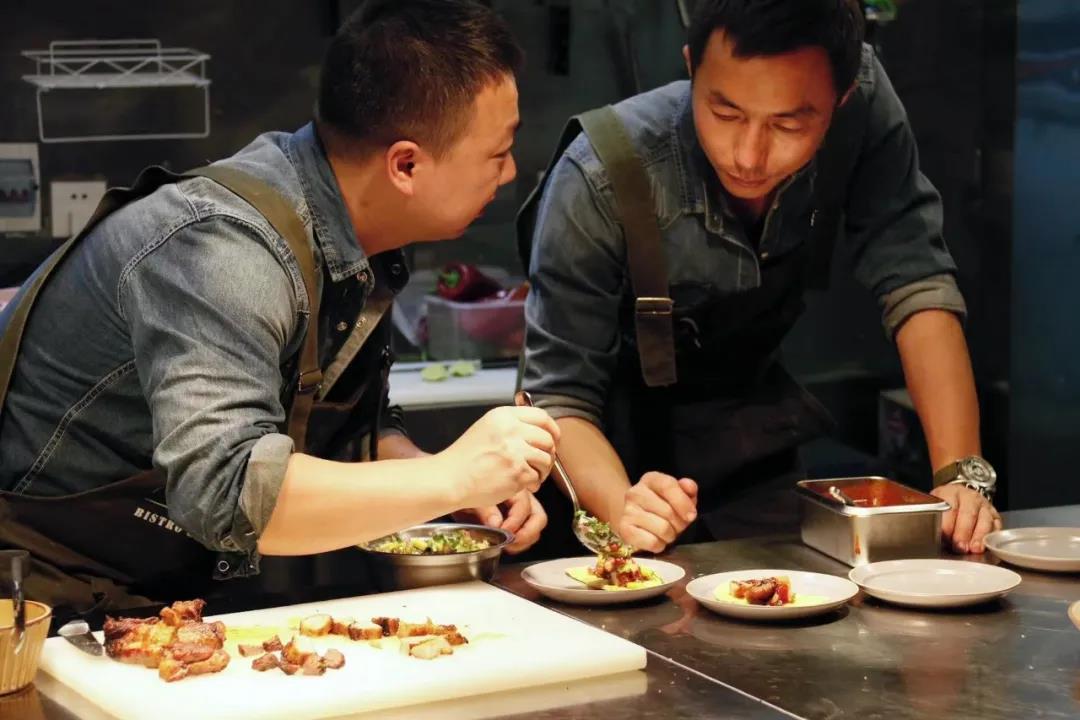 ---
Good Food Original Publications
Can you eat meat and care about the earth at the same time?

In recent years, vegetarianism and veganism have become a growing trend in China. Unlike followers of traditional Chinese vegetarian and vegan diets, who are motivated by Buddhist religious beliefs, supporters of this new plant-based trend choose vegetarianism and veganism out of concern for the consequences of industrial animal farming, which is associated with animal suffering, environmental pollution, and massive consumption of resources. Since 2019, many plant-based brands have emerged in China, declaring a mission to introduce plant-based products that give consumers more environmentally-friendly alternatives to their favorite animal-based foods.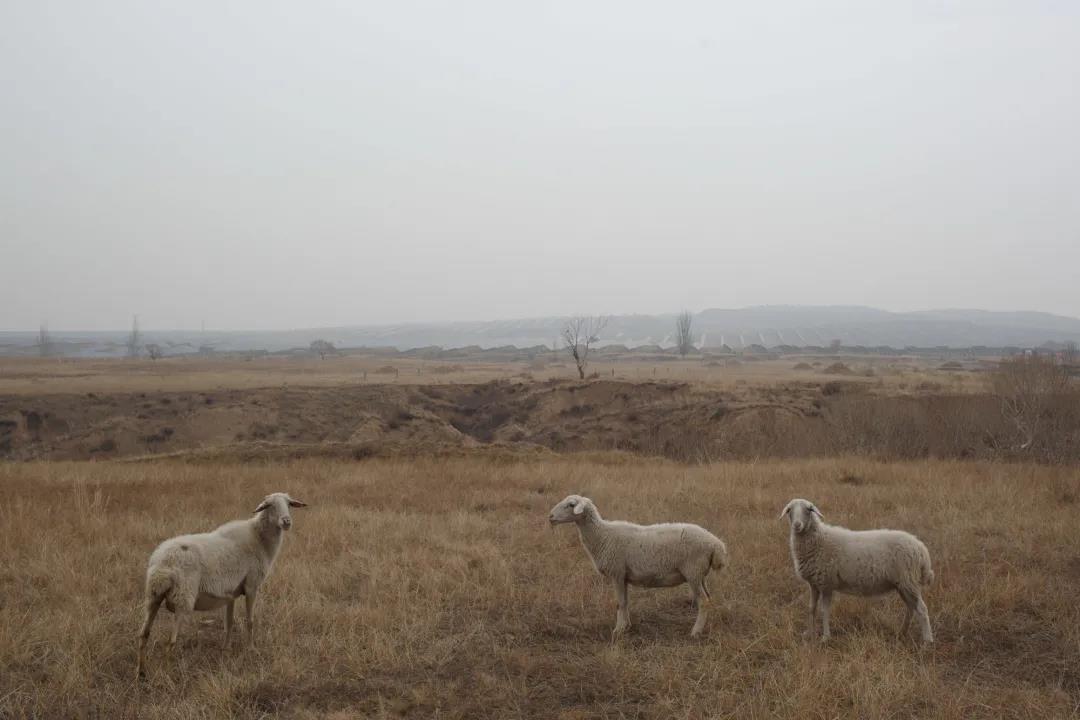 How is World Food Day 2021 different from previous years?

World Food Day 2021 is a very important day for the Good Food Youth. The first Food Systems Summit, the recently-launched Global Youth Action Network World Food Forum, and the "Nanjing Good Food Pledge" which will soon be released at the Nanjing Peace Forum... From global agendas to on-the-ground action, youth are driving profound change.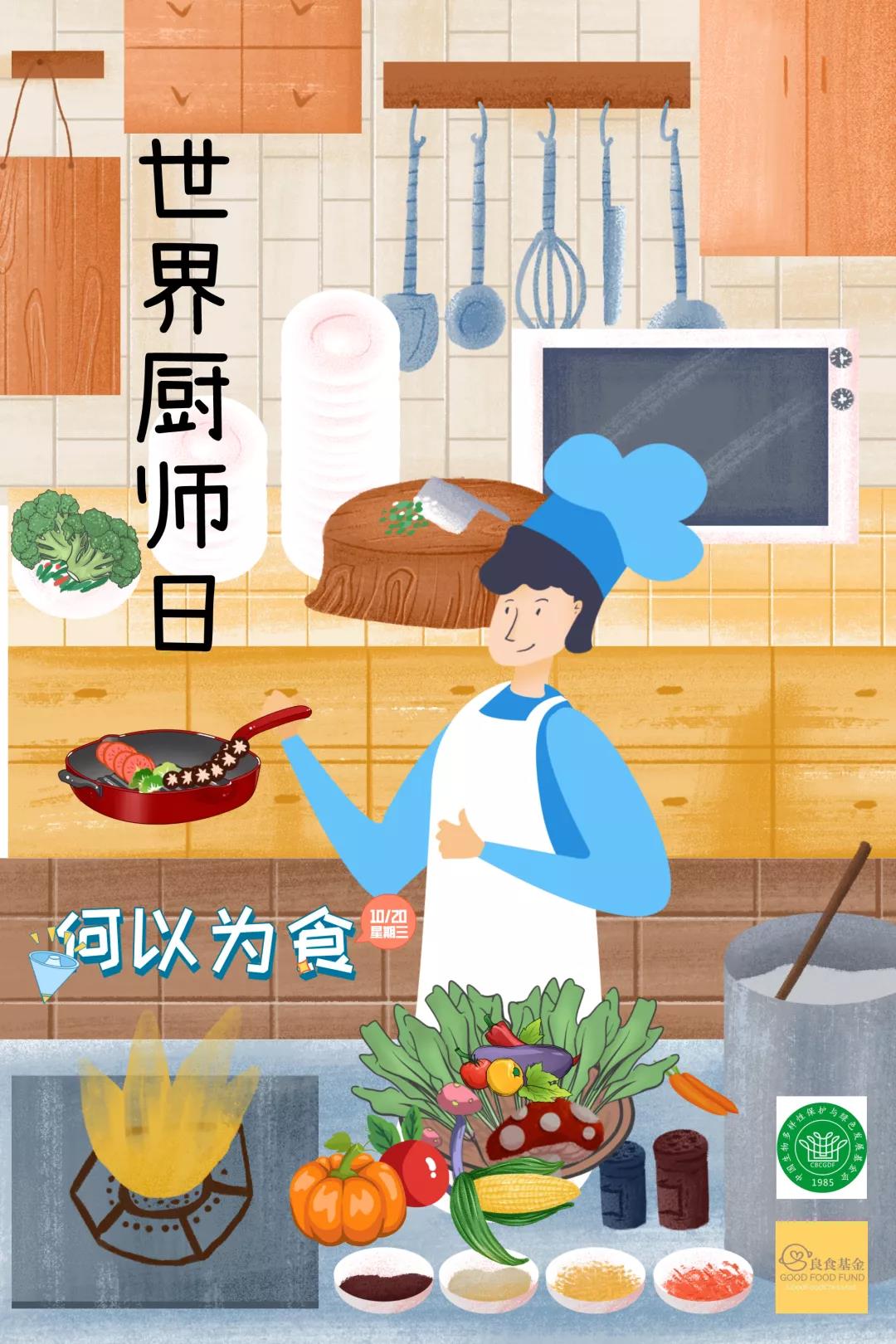 The world's largest commercial rooftop farm, the result of a few New Yorkers' decade of hard work
In 2009, a group of New Yorkers came together with the idea to build a rooftop farm. Over the next 10 years, they built and launched the Brooklyn Grange, a 43,000 square foot rooftop farm built on a 12-story high-rise in Brooklyn, setting a record for the world's largest commercial rooftop farm. Even proud New Yorkers who thought they had seen everything called the idea "crazy." From this rooftop in the middle of one of the world's busiest cities, the Brooklyn Grange team grew tomatoes, arugula, and fresh herbs to supply to New York residents and restaurants. They even raised chickens and bees. The Brooklyn Grange team now operates several urban farms and provides designing, building, and consulting services for urban farming projects. Their achievement shows the social and financial potential of urban farming as a food system innovation.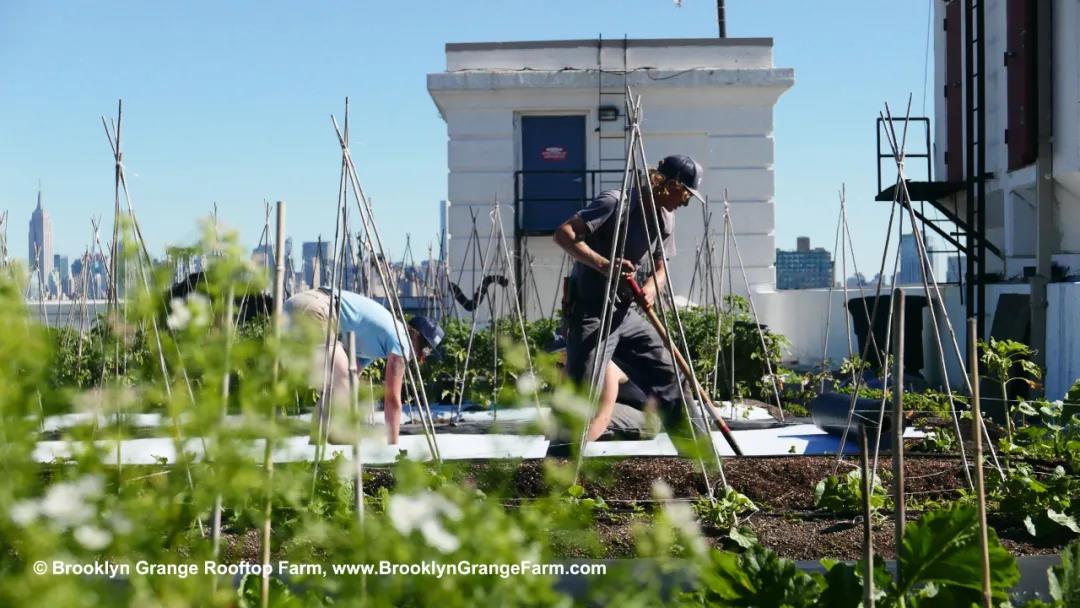 Eco-chef: The story of A-Jun
Recently, Good Food Chef and A-Jun Light Veggie Catering founder Chef A-Jun was invited by Harper's Bazaar to serve as a catering consultant for the Luoyang event dinner. In the historic Tianjie landmark, A-Jun and his team presented a healthy, eco-friendly feast for a roster of stars from the film, television, and fashion industries. How does a chef who sweats over a cutting board all day take the lead in a fashion trend? The Good Food Fund editors interviewed A-Jun to learn more.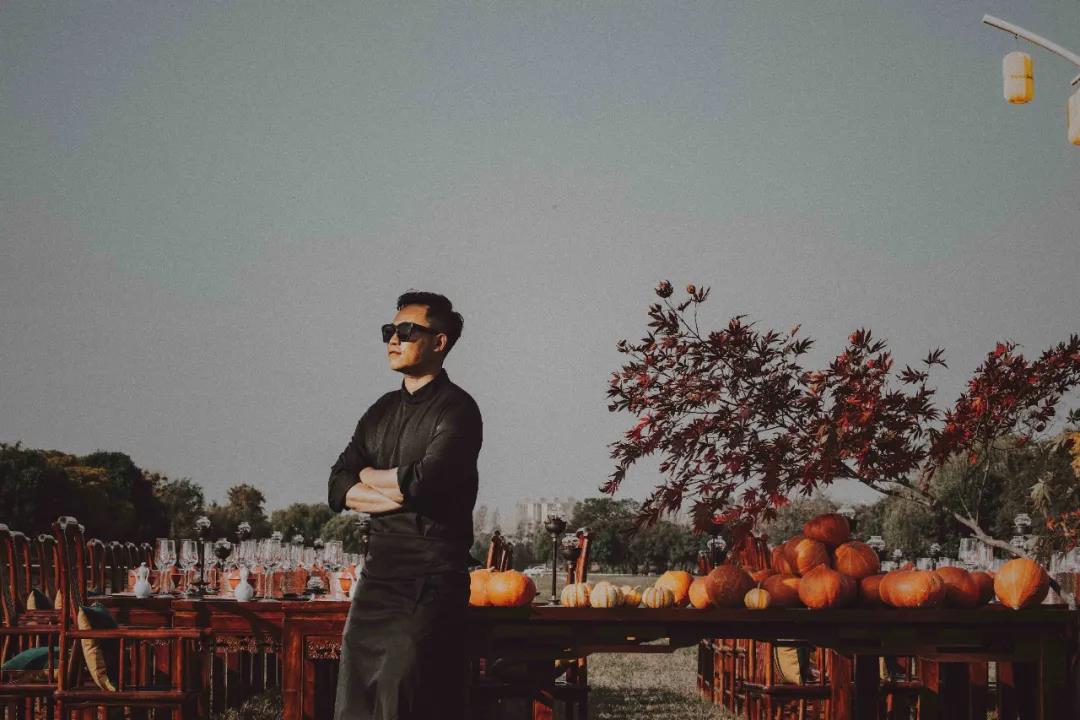 Seeking Long-Term Content Contributors
The Good Food Fund invites writers and subject experts to submit high-quality content related to food system transformation for publication on our channels. We are also recruiting long-term part-time writers who are passionate about food and sustainability to contribute regularly on a recurring payment schedule. We hope that the collaborative efforts of the Good Food Fund and our partners make it possible for food system transformation stories to reach more people, for case studies to inspire more change, for more information to be circulated, and for more ideas to emerge.
The Good Food Fund focuses on food issues and sustainable development, covering domestic and foreign industry research, insights on trends, case studies, in-depth interviews, and personal or institutional stories related to sustainable diets, food environments, chef leadership, youth leadership, green food policy, group meals, nutrition, food technology, plant protein, traditional farmers markets, animal welfare, food education, food waste, biodiversity, climate change, sustainable design, and so ofrth. Content can include domestic and international industry research, insights on trends, case analyses, in-depth interviews, and personal or institutional stories. More information is included below:
· In-depth articles between 2000 and 4000 words. Articles exceeding 5000 words can be divided into multiple shorter articles.
· Payment is between RMB 200-400 per thousand words depending on the level of depth and quality of research. If the Good Food Fund accepts more than three of your articles, you can become a designated "Good Food Writer" and receive priority publishing and set payment level.
· Call for contributions from December 2021 to December 2022
· Send articles or pitches to media@goodfoodchina.net (please include your name and indicate whether the article is a first-time original or has already been published elsewhere).
We look forward to reading your contributions!