Welcome to issue 006 of the Good Food Newsletter. The Good Food Fund (GFF) is a special fund under the China Biodiversity Conservation and Green Development Foundation. It was established in 2017 to focus on building a healthy and sustainable food system in China. In each issue of the Good Food Newsletter, we share the GFF's activities and content publications over the past three months, as well as the action plan for the coming three months.
In the third quarter of 2021, we successfully held the first Good Food Youth Leaders Summit to plant the seeds of food system reform among the young generation. We also held the fifth annual Good Food Summit, where we debuted our Good Food Awards rewarding local sustainable food reformers in China. Their stories and case studies were gathered into a case collection which will be published for more people to learn from. The Good Food Disaster Relief Kitchen rushed to the front line to reinforce rescue materials at the first opportunity after the flood in Zhengzhou. UNFSS-AT2 China Action Hub is also engaged the UN Food Systems Summit held in late September through various activities.
This October, we hope all valuable efforts can reap fruitful results!
Good Food Progress
2021 Fifth Good Food Summit successfully held online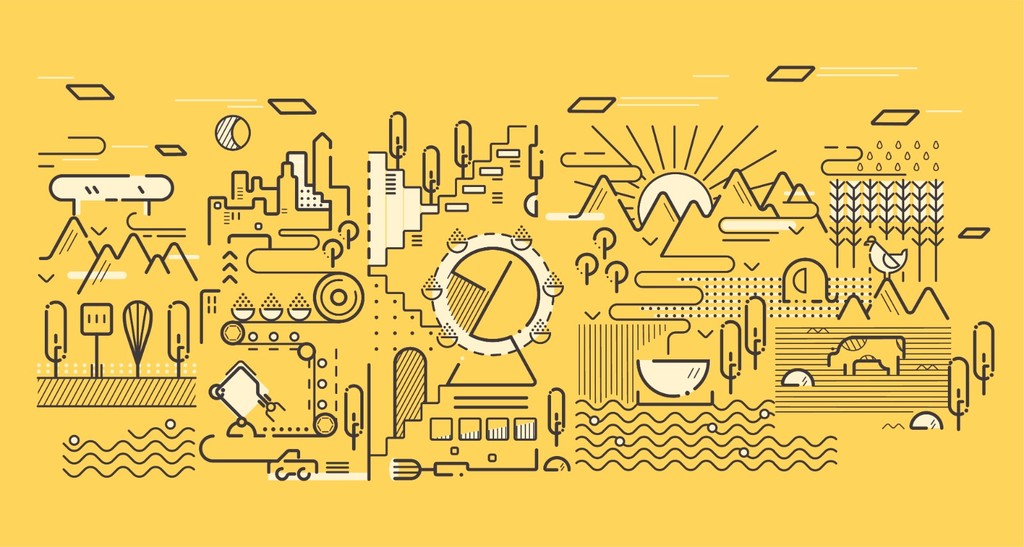 The Fifth annual Good Food Summit was conducted successfully from September 10 to 12, 2021. The Summit was supported by the UN Food Systems Summit, well-known domestic and foreign institutions, industry partners, research institutions, media platforms, outstanding enterprises, public welfare organizations, youth groups, and other forces. The Summit was attended by 63 scholars, entrepreneurs, public welfare people, youth representatives and media professionals from nine countries around the world, including China, the United States, the United Kingdom, Sweden, Australia, Indonesia, Norway, Germany, and Italy. Participants delivered keynote speeches and participated in round table discussions.
Echoing the first UN Food Systems Summit, the Fifth Good Food Summit set up four sub-forums with the theme of "Shifting to Sustainable Food Consumption Patterns: China's Solution, Global Impact ". Forum topics included "Healthy Sustainable Food - Animal Welfare", "Healthy Urban Food Environment", "Eco Chef 2030", and "Food Education".
The "Healthy Sustainable Food - Animal Welfare" Forum examined the animal protection concepts and corresponding dietary practices from Chinese history, sought a Chinese foundation for the concept of "animal welfare", and discussed how to improve consumers' awareness of animal welfare and willingness to buy high-welfare animal products.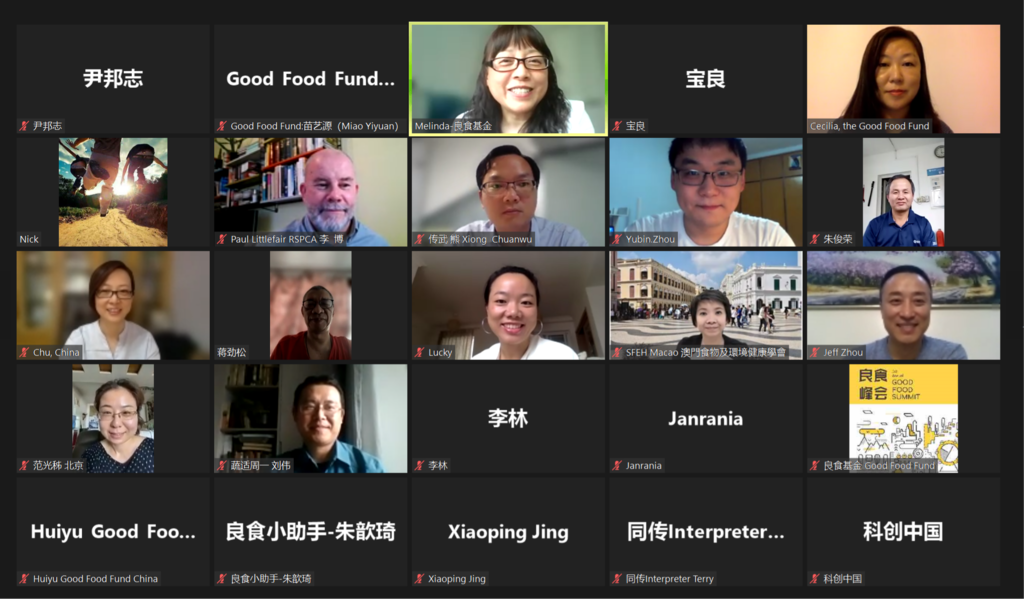 The Eco Chef 2030 Forum combined the advocacy of "more plants and less meat" proposed in the 2016 China Dietary Guidelines (the GFF calls this "plant-forward", which means plants make up at least 85% of the diet) with the "reasonable diet action" initiative of the Healthy China Plan (2019-2030), focusing on how to help chefs promote the plant-forward and animal welfare philosophies in the catering industry. Participants also discussed the impact of the animal welfare and healthy diet movements on industry and investment trends in the next 10-20 years.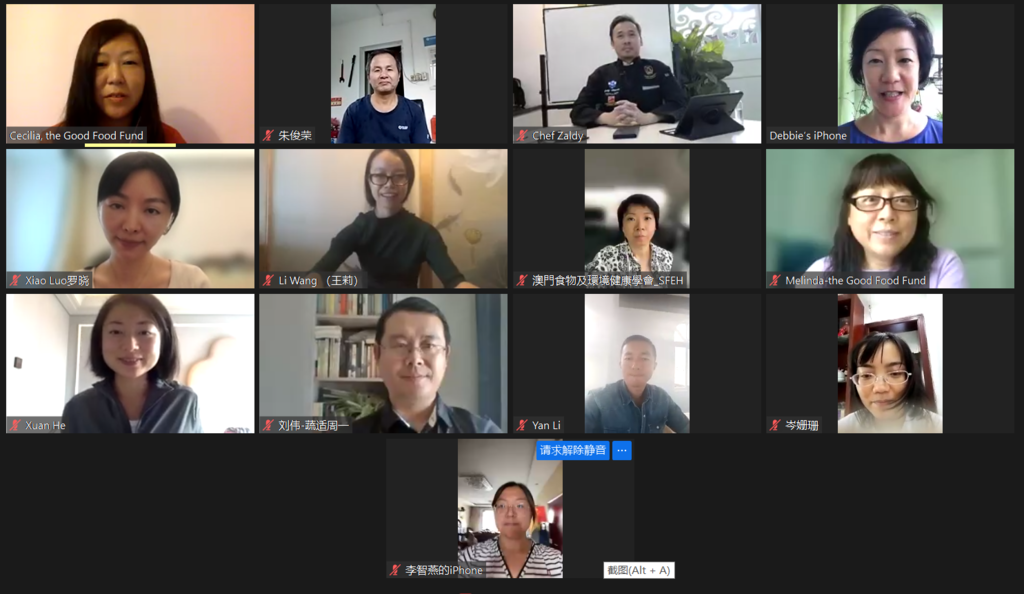 The Healthy Urban Food Environment Forum discussed how the urban food environment—composed of food markets, supermarkets, restaurants, canteens, takeout platforms, media information, dietary traditions, and ingredient suppliers—can become a support for the public to choose healthy diets.
The Food Education Forum invited domestic front-line practitioners in the field of food education to share how food education contributes to sustainable food system reform.
The Good Food Summit's contents were broadcast and published on China.com, Technology Workers' Home, CBCGDF media, Giant Wave online video, Weibo, Kuaishou, TikTok, WeChat Video, Baidu, B station, YouTube and other platforms. The cumulative online audience surpassed 500,000, while related videos surpassed 510,000 views, and articles about the Forum were read more than 730,000 times. The Summit was also included in the China Association for Science and Technology's guide to 2021 important academic conferences, and has become a conference with extensive influence and public engagement.
In addition to the discussion on topics closely related to food system sustainability, a highlight of the Summit was the GFF's debut of the Good Food Awards presented to local sustainable food reformers in China. At the beginning of this year, UNFSS-AT2 China Action Platform and the Good Food Fund jointly launched a collection of best practice cases in the field of sustainable food transformation. After six months, under the strict screening and evaluation of top domestic and international experts, 24 institutions were selected from 36 submissions to be included into the 2021 Sustainable Food Best Practice Case Collection. Click here to download the document.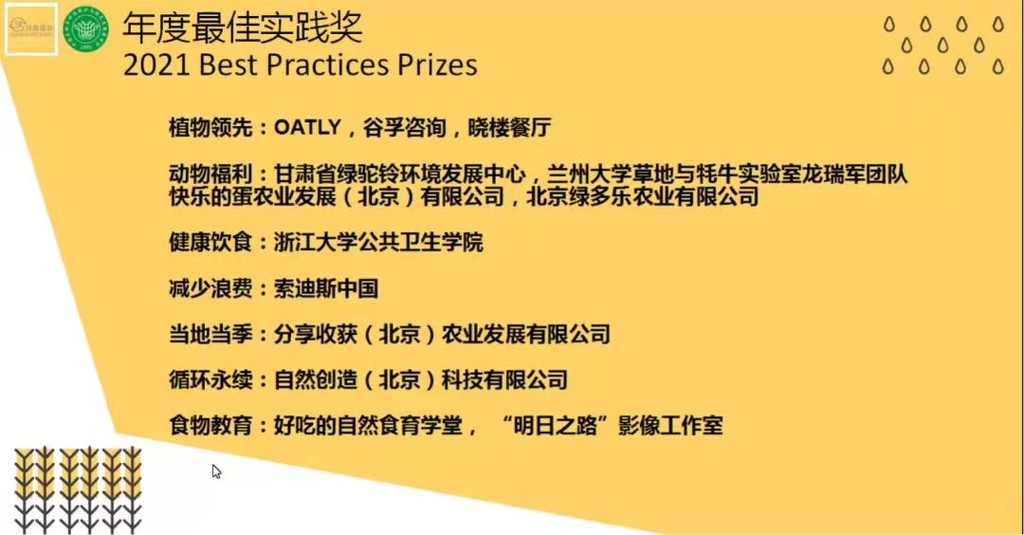 At the Fifth Good Food Summit, the GFF presented three award classes to the 24 selected institutions according to experts' evaluations: "2021 Best Practices Prizes", "2021 Food Vision Prizes" and "2021 Food System Friendly Prizes".
2021 Best Practices Prizes recognizes institutions with outstanding exploration and practice in the eight areas of the Good Food Pledge. Their practice creates a model for China's sustainable food transformation.
2021 Food Vision Prizes recognizes institutions that propose an inspiring vision of the future, as well as an action plan to achieve it. Their work lets the world see a broader vision and have hope that such a vision can be achieved.
Among the winners are public welfare organizations dedicated to helping yak herders to raise their livestock sustainably, prevent grassland degradation, develop new business streams, and increase herdsmen's incomes; catering managers who use artificial intelligence systems in school canteens to provide nutritional guidance and reduce food waste; and media artists who raise public awareness about sustainable food through images, sounds, and words. These agents of action have unique attributes and perspectives, but they all provide new models for the transformation of the food system. Their diversity also reflects the complexity and inclusiveness of the of food system reform—almost every industry can make its own contribution on the road of sustainable development!
UNFSS Action Track II working group expert Mia MacDonald paid special tribute to the two Chinese enterprises shortlisted in the UN's "Top 50 Global Food Small and Medium-Sized Enterprises" and GFF's Good Food Best Practice Awards, saying "This is a country that has a long history, profound heritage, and abundant vitality. It shows the country's soft power and global influence, and demonstrates how China should play an important role in the field of sustainable food. All parts of the world need to understand and learn from China's practices. Humanity needs to strengthen cooperation, because this will help to reshape the food systems of China and the world. "
The fifth Good Food Summit gathered China's most cutting-edge research results and action cases in the field of sustainable food. It is hoped that at this transitional period in human history, the case collection will provide well-founded and detailed reference and guidance for policy development, academic research, business innovation, and other fields. As stated in the EAT Lancet report, "Food is the strongest lever to improve human health and the sustainability of the earth's environment". Let's work together for the future of humanity!
The First Good Food Youth Leadership Summit Successfully Held
From August 7 to 11, the first Good Food Youth Leadership Summit jointly organized by GFF and Youzhu Ecology was successfully held online and was attended by 69 youth, including six high school students, 27 college students, four overseas students, five graduate students, six public welfare organization practitioners, one educator, seven enterprise employees, nine social innovation organization practitioners, and four practitioners from other industries.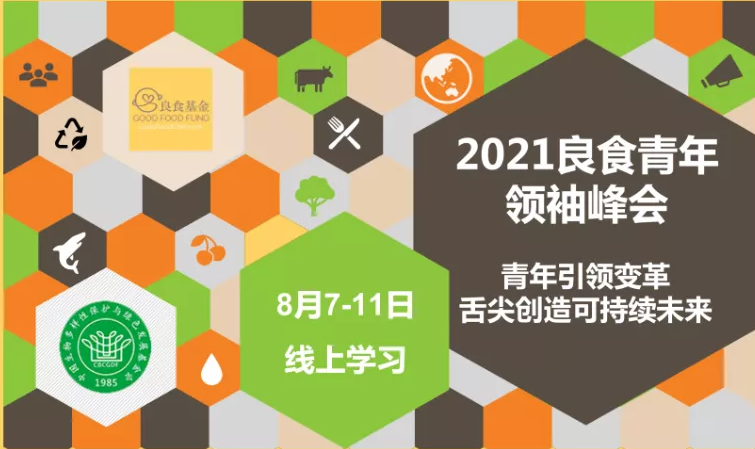 During the nearly one-week program, 69 participants heard a variety of food system stories and seminars: how young food designers used a paper clip to let people know the life of cattle raised for food; animal care in Chinese traditional culture; the food transformation vision of the GFF's founder; the youth empowerment vision of the UNFSS China Action Platform; and examining the animal welfare problems in today's food system.
After learning the background of the animal welfare concept, participants brainstormed and designed public welfare projects in the through group discussions around the five topics given by the GFF facilitators. Finally, 26 participants submitted project proposals and created nine projects covering four topics.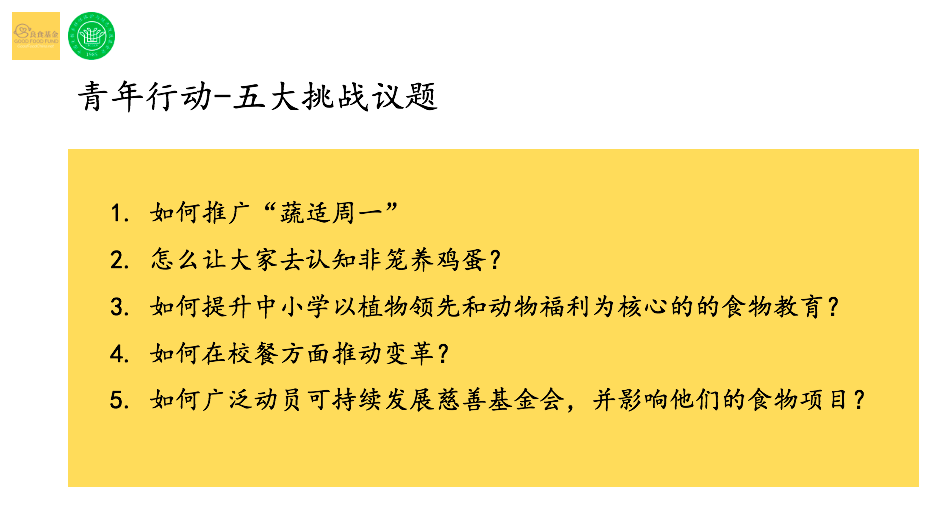 This is the GFF's first attempt to deliver a youth leadership training course on food reform. We hope that the 69 participants can use the knowledge and ability gained in the course to carry out more food system changes in the future.
Ms. Zhou Jing, GFF Chief Project Officer, Participated in the Building Better Business Workshop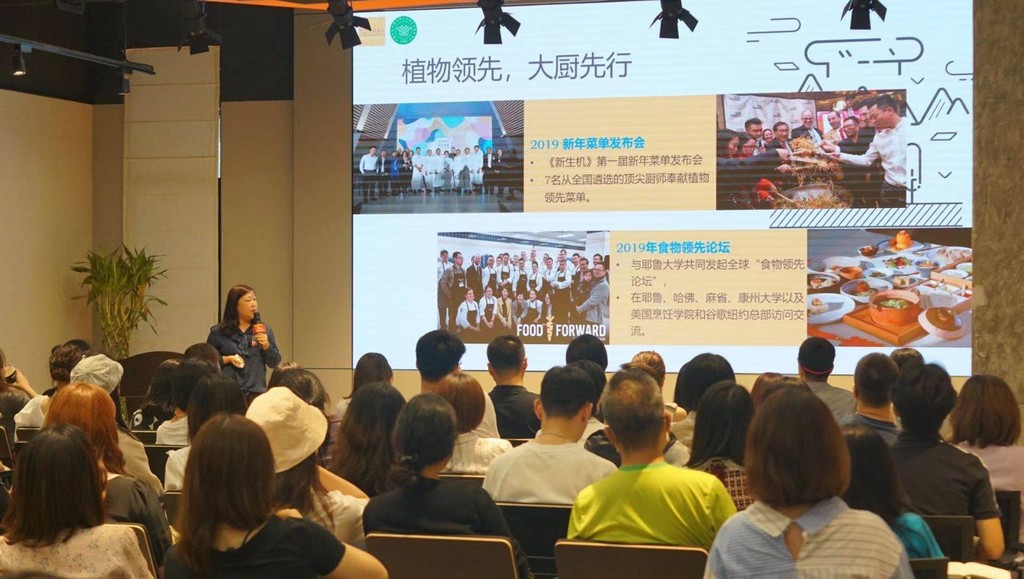 On July 24, the Building Better Business workshop organized by B-Corps China was successfully held in Shanghai with the theme of "sustainable food and beverage". The meeting invited domestic and foreign social enterprises and businesses with relevant expertise and best practices to explore challenges, opportunities and sustainable practice paths facing the food and beverage industry.
Ms. Zhou Jing, Chief Project Officer at GFF, was invited to introduce the GFF's work. In her speech, she cited the health boundary defined by the "planet-healthy diet" in the EAT-Lancet report and pointed out that the current global average dietary structure includes excessive quantities of red meat, tubers, and eggs, and insufficient quantities of whole grains, vegetables, and fruits. Based on the characteristics of the food and beverage industry, Ms. Zhou gave suggestions for action and introduced the GFF's "plant-forward" concept, with staff meals and chef projects as real-life case studies.
Dalian · Good Food Good Life Development Forum Successfully Concluded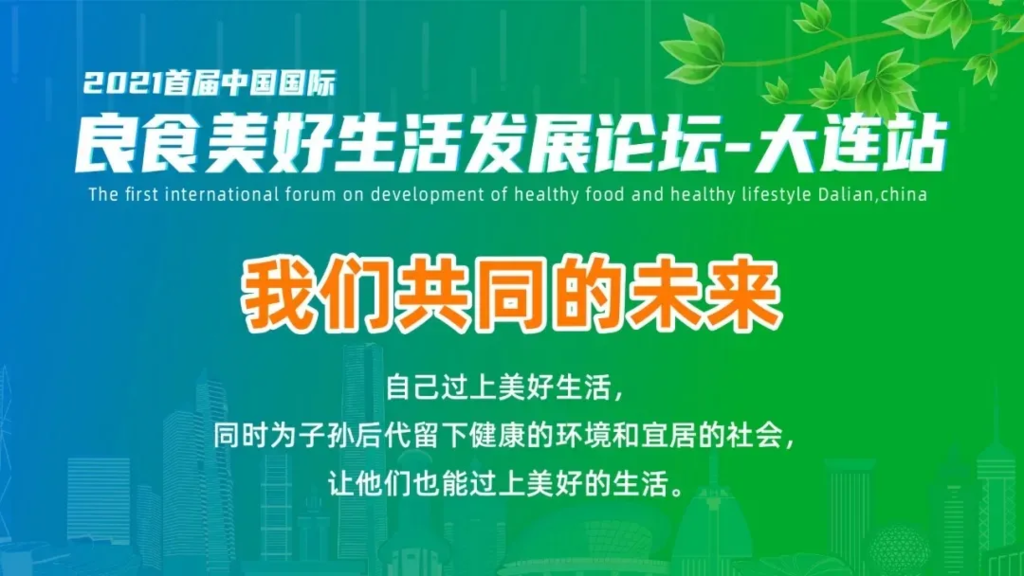 On August 1, the 2021 first China International Good Food Good Life Development Forum was held in Dalian's Nanhai Center. The forum was jointly sponsored by the Good Food Fund, the Dalian Food Industry Association, Dalian Food Culture Association, Dalian Seaweed Industry Association, Asia-Pacific Vegetarian Alliance (AVPU), Elephant Tree Vegan Hotel, Plant Based Industry Federation (PBIF), and Xiaoyi Private Board.
As one of the co-sponsors, GFF sent founder Jian Yi and executive director Melinda Hou to attend the forum, deliver a keynote speech, lead participants to examine food system reform in the post-epidemic era from a global perspective, and popularize the concept of sustainable diets. The forum also discussed how the good food industry chain and ecosystem can empower enterprises and invited food enterprise representatives to share their industry experiences.
Good Food Fund Disaster Relief Kitchen Rushed to Flood-Ravaged Zhengzhou
From July 23 to August 5, 2021, a catastrophic flood occurred in Xinxiang, Henan Province. The GFF's Disaster Relief Kitchen gathered forces Ajun Light Veggie Catering's Shanghai and Nanyang teams, Chuanshan Jijia team, Zhengzhou Xinwang Love social workers, and Zhengzhou Ensi social workers to form a Good Food Disaster Relief Kitchen and travelled to the evacuation shelter at Haoguangtun Primary School in Xinxiang. At the site, the team provided food supply, logistics support, and psychological counseling, played with the children, and helped with various other tasks, serving more than 800 people affected by the disaster.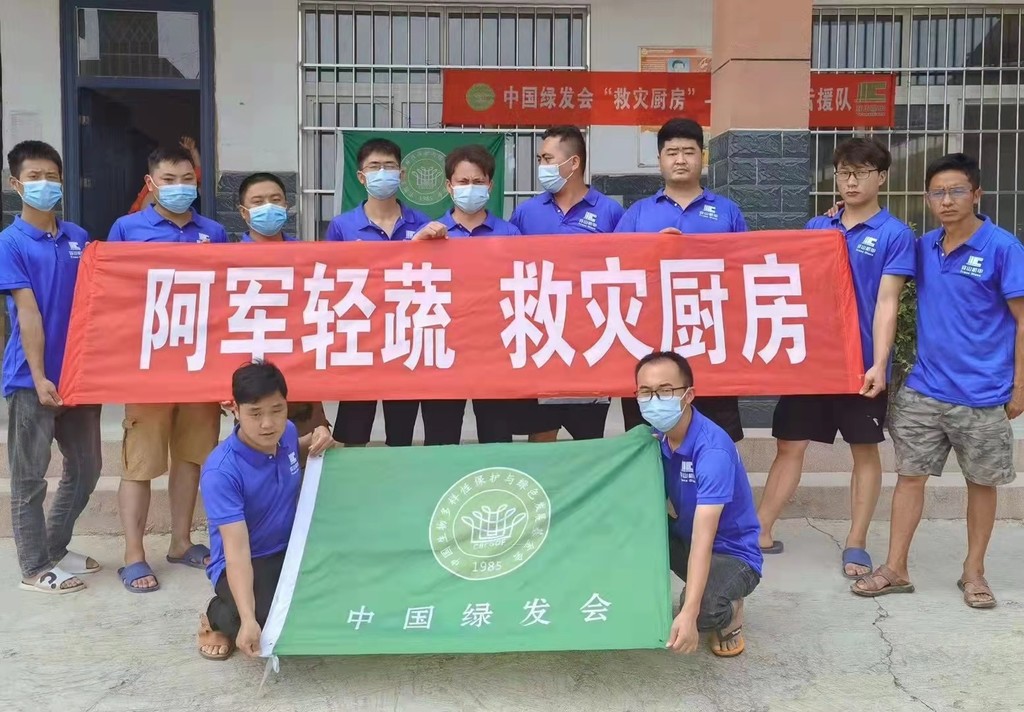 On July 27, A-Jun's team arrived at the resettlement site, and the kitchen team was ready. However, worried about the safety of the team, President Gu arranged the team to go to the safety zone first to assist in relief work there. On July 30, the Chuanshan Jijia team traveled from Yunnan to Xinxiang and brought nearly RMB 200,000 worth of kitchen supplies, food, and seasonings. At the same time, the Zhengzhou Xinwang Love and Zhengzhou Ensi social workers also arrived at the resettlement site. Through cooperation and division of labor, the team carried out professional relief services for residents displaced by the flood.
As of August 5, due to concerns about a COVID outbreak in Zhengzhou, the relief team evacuated. Throughout the disaster relief process, the GFF's Disaster Relief Kitchen fed more than 800 evacuees and helped to store supplies, provide psychological counseling, and coordinate with local resettlement leaders and rescue institutions while implementing the "plant-forward" concept. The initiative was praised by the local government, and also formed an operational blueprint and valuable experience for future disaster relief kitchens, laying the foundation for a network of experienced disaster relief chefs in the future.
The GFF's Mama's Kitchen Film Project Made its International Debut at the Food X Film Festival
On the morning of September 26, 2021, in response to the UN Food Systems Summit, the long-awaited Rockefeller Foundation Food x Film Festival officially opened. The opening ceremony featured the world premiere of three Global Food Top Vision Award-winning promotional videos, including the GFF's Mama's Kitchen. Representatives of the winning agencies, including GFF, were also invited to make presentations.
In these outstanding short films, we can see the highlights of three award-winning projects located in Dali (Yunnan, China), New York, and South Dakota. The films feature interviews with GFF founder Jian Yi, Bistro & Bowl Good Food Restaurant founder and manager Chef Lee, Veggie Ark organic farm and experience center founder Mr. Wu Hongping, Dali children's food education and permaculture practitioner Ruizi, and food innovators such as Dan Barber, founder and head chef of New York's Blue Hill restaurant. Click here to watch the films.
Meatless Monday China X A-Jun Light Veggie Joint Roadshow Lands in Shanghai and Hangzhou

This year, the GFF's Meatless Monday team collaborated with Good Food Chef A-Jun to launch a nation-wide roadshow promoting the GFF's Meatless Monday program. Through the certification of authorized partners and the formation of effective business promotion practices and industry alliances, the road show demonstrated chef leadership in transforming the food system and building a sustainable food system.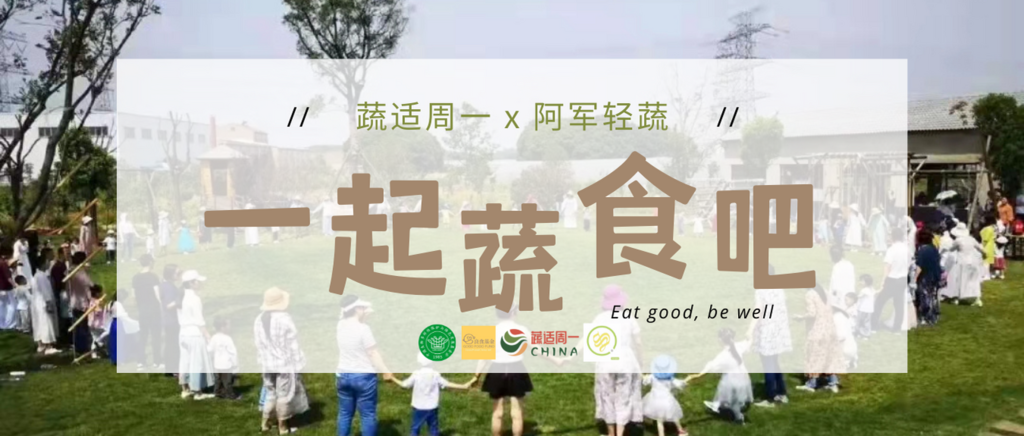 Monday, July 17, the GFF Meatless Monday X A-Jun Light Veggie 30 Year Anniversary Road Show came to Hangzhou to share food and inspiration with more than 80 attendees. Representatives of plant-based brands, local farmers, Chinese traditional medicine practitioners, tea masters, catering industry practitioners, investors, consultants, and fans of healthy eating and living came together at the event to taste A-Jun's vegan dishes and exchange ideas about healthy green living.
September 19th, the tour went to Zhujiajiao Village School Garden, in Shanghai's Qingpu District, where again more than 80 friends attended. Participants included village officials, founders of local vegan restaurants, founders and managers of local farms, plant-based brand representatives, food education practitioners, charity practitioners, and even a vegan rapper. The healthy and delicious vegan catered meal provided by Chef A-Jun opened everyone's eyes to the possibilities of healthy, sustainable living. On October 30th, the road show will land in Changzhou. Please click here to follow the Meatless Monday China official WeChat account and check upcoming road show dates!
All levels of engagement through UNFSS-AT2 China Action Hub
The People's Summit launching bold new actions
In officially opening the UN Food Systems Summit (UNFSS) on 23 September 2021, United Nations Secretary-General António Guterres gave the Statement of Action , summarizing key results of the nearly two-year Summit process,and calling governments around the world and all stakeholders to take bold actions and making food systems work for people, planet, and prosperity. UN Secretary-General António Guterres also emphasized that "the value of food must be understood as far more than a mere commodity. It is a right for people that must be realized."
Overall, 165 Member States – including 78 Heads of State and Government – made statements at the Summit speaking to the importance of food systems in advancing the 2030 Agenda nationally and globally. Of the 148 Member States leading national dialogues, 103 submitted National Pathways for food systems transformation by the time of the Summit. Youth, producers, indigenous peoples, civil society, private sector, gender and women empowerment, Champions Network and many other constituencies have all made promises to take action and continue to advocate in their communities.
Contributing China's best practices to the Summit
In early February 2021, the Good Food Fund launched the UNFSS-AT2 China Action Hub, which is the first national food system action hub in the Summit process. Over the past 6+ months, the Hub has brought China's food systems community to action on many fronts, including policy innovation, business incentivization, youth empowerment and public engagement.
A series of ten Food Systems Summit Independent Dialogues convened, curated or supported by the China Action Hub around key issues, including rural revitalization, food environments, healthy school meals, plant-based diet, food waste reduction, food education, and youth action.
In July, in cooperation with Eurogroup for Animals and World Animal Protection, we held two Dialogues sessions to explore strategies to promote farm animal welfare in China at the levels of policymaking, business practice, and public engagement.
From July 26 to 28, the three-day pre-summit activity laid a solid foundation for September's upcoming Food Systems Summit. On July 27, at the pre-summit affiliated session organized by the China Action Hub and convened by the Good Food Fund, many experts and industry representatives engaged in discussions on achieving the goal of "Healthy Diets from Sustainable Food Systems". In-depth discussions were held on how to establish a long-term cooperation mechanism between multiple stakeholders and contribute China's experience to the world.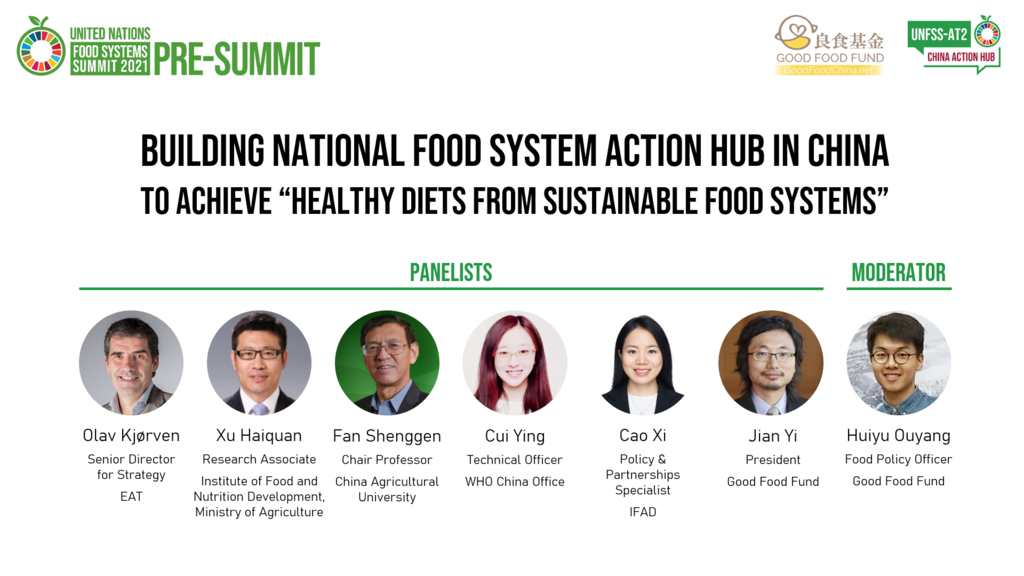 Chinese-speaking SMEs win international awards
At the Pre-Summit event, the "Food for All" Top 50 SMEs (Best 50 Small Business: Good Food For All) finally made the official announcement—Yunnan Qiutu Agriculture Co., Ltd. and You Kuai Group, two Chinese-language enterprises received awards! The Good Food Fund collaborated with Social Responsibility Practitioners and Pumbaa Eco to bring you in-depth interviews with the two companies and their stories of creating a sustainable food future.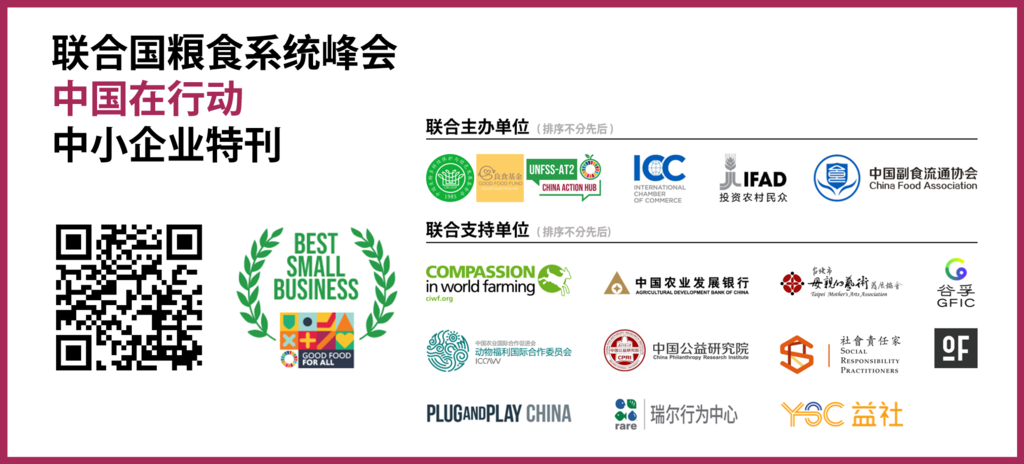 Get to know all the winning companies and download the report summary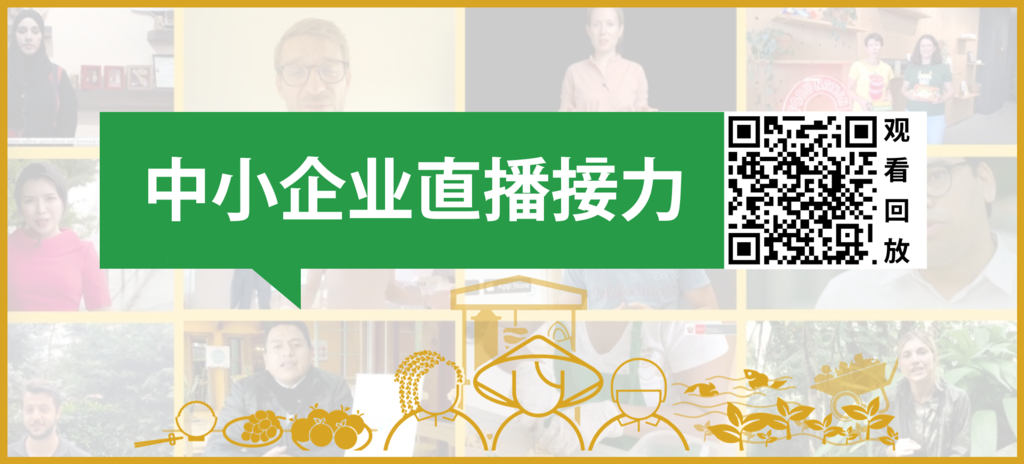 Watch a video recap of the Chinese SMEs
Chinese youth speak out, drive change
In the UNFSS-AT2 China Action Hub, youth participation and contribution not only contributed to the Summit in China and the world, they also injected an indispensable force into food system transformation. In the face of the problematic modern food system, young people who do not want to blindly conform to the status quo are eager to change and are more willing to take action. The value of youth lies not only in their futures, but also in their impact on decisions made on current issues. Click here to read our special issue on International Youth Day, featuring highlights of youth action in China.
Act4Food Act4Change is a Global Campaign within the UNFSS process. One hundred Chinese youth spoke out at the first regional dialogue of the Act4Food Act4Change Youth Initiative.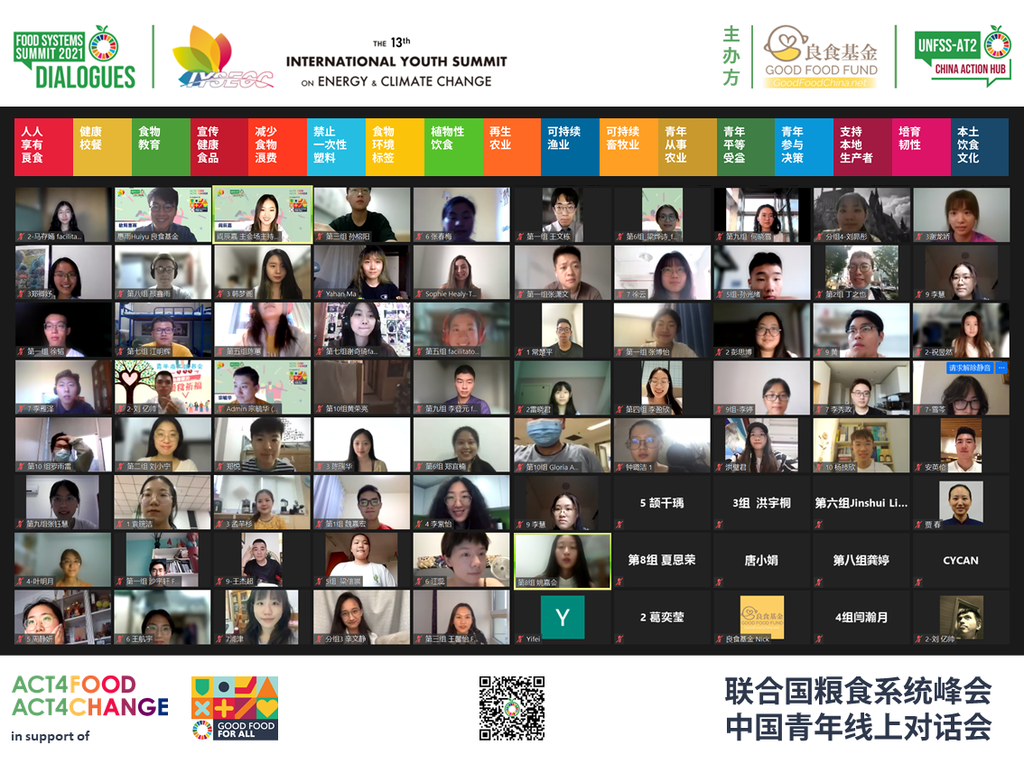 A single spark can start a prairie fire. We have been instrumental in the establishment of the Act4Food Act4Change Youth Advocate Network in China. Youth Advocates with diverse backgrounds have independently initiated a series of dialogues, advocating from their communities on food security, sustainable agriculture, healthy school meals, plastic reduction, climate change, indigenous food and nutrition, and many other topics. We believe that the actions of the Youth Advocates can help many more people to realize the imminent problems with our food system and help to brainstorm solutions.
Through the Food Literacy Challenge, tens of thousands of Chinese university students have gained a deeper and more comprehensive understanding of the food system, and also participated in Act4Food Act4Change's pledge and 17 Actions for Change vote.
Youth leaders Huiyu and Yuhua are organizing a series of projects through the China Action Hub and seeking cooperation and exchanges with international organizations and projects. In the Pre-COP26 Dialogue organized by the Italian Ministry of Ecological Transformation, as well as various activities organized by USDA and UNITLIFE, the youth leaders have gained valuable overseas experience while also making a voice for China on the world stage.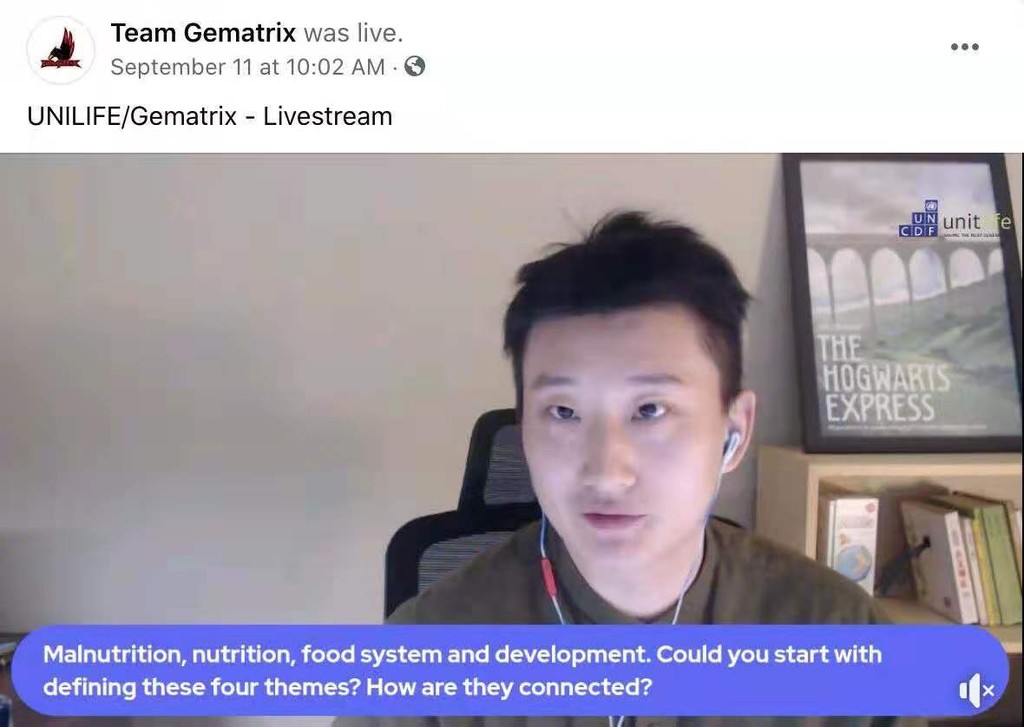 Yuhua participated in UNITLIFE's Gaming For Good event, where he discussed how to harness the influence of the e-sports community to help tackle nutrition issues.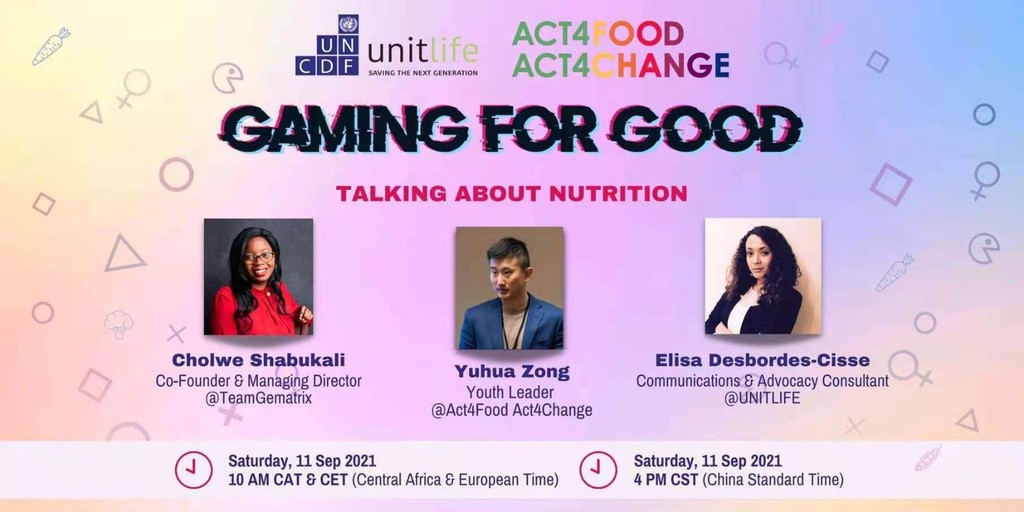 Yuhua takes part in the Gaming for Good event hosted by UNITLIFE to discuss nutrition during live e-sports games
As the Summit looks to 2030 and beyond, the future is in the hands of youth. The day before the official opening of the Summit, we held the Food is the Future event, where the Good Food Youth Leaders engaged in dialogue with the Summit Leaders, speaking out on youth aspirations and interviewing experts who developed game-changing solutions.
During the summit, the GFF and a number of partner agencies convened an independent UNFSS Side Event, which again demonstrated the ability and commitment of young leaders around the world to transform food systems.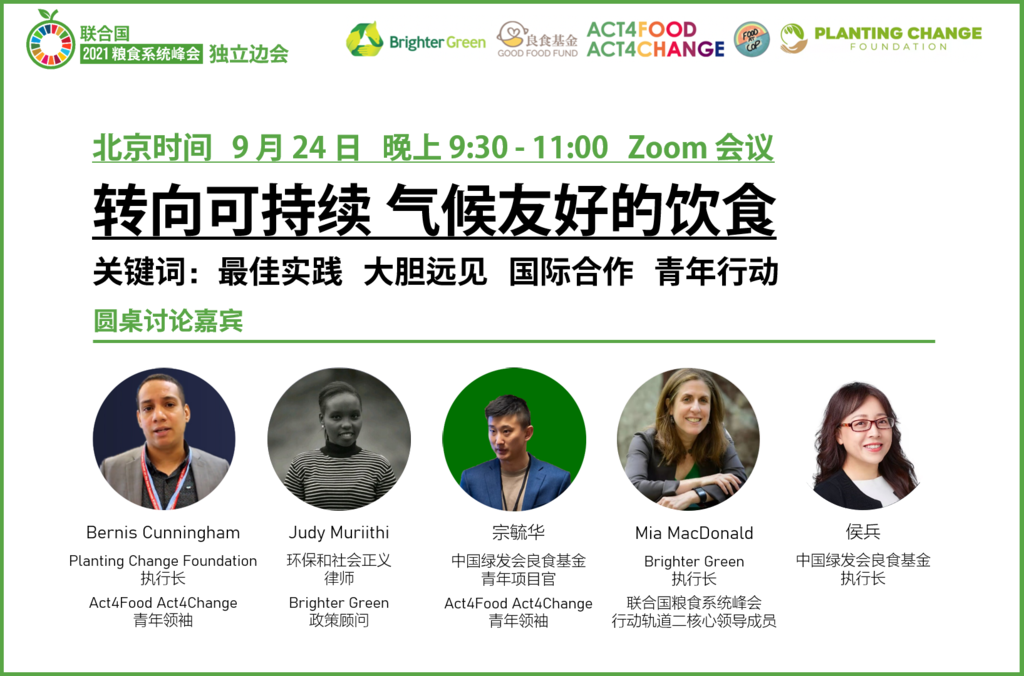 The World Food Forum's flagship event—which is led by global youth and promoted by the FAO Youth Committee—was officially launched in early October. Over the next few years, the youth network will continue to launch many initiatives, building on the momentum accumulated in the lead-up to the UNFSS and empowering young people to transform food systems.
Huiyu and eight other youth leaders from around the world have been invited to become World Food Forum Youth Champions. In this two-year commitment, the Advocates will work closely with the World Food Forum to actively promote its activities around the world in multiple ways.
From the fields to the food system, Youth Power Drives Change - China Daily's English edition published an opinion piece co-authored by Yuhua and Ms. Cathy Cao, Policy & Partnerships Specialist at IFAD).
From July to September, GFF founder Jian Yi appeared as a guest at events

On July 18, the 13th International Youth Summit on Energy and Climate Change (IYSECC) held a conference on "How Do Diners Choose - Sustainable Diets for Beginners", in which Jian Yi was invited to speak. On August 21, Jian Yi was invited by Climate X online seminar to share about China's food practice and the importance of food system transformation in China and globally.
On September 14, Jian Yi was invited to participate in a sub-regional dialogue: Promoting Sustainable Food Consumption in Southeast and Northeast Asia through Farm-to-Fork Concept organized by the EU-funded SWITCH-Asia programme and Asian Institute of Technology, where he introduced the UNFSS Action Track 2's progress to date. On September 24, he was a guest speaker at the main forum of the UNFSS's Food X Film Festival. On September 25, he presented on the GFF's work in The World Goetheanum Forum.
National media coverage
China Daily | Let the Case Studies of China's Sustainable Food Consumption Influence the World - The 5th Good Food Summit Held Successfully
China Daily, October 8 (Reporter Zhang Zhihao) – Aiming to promote the transformation of the food system and continue to meet the people's needs for a better life, the Good Food Summit was successfully held from September 10 to 12, 2021 by the China Biodiversity Conservation and Green Development Foundation's Good Food Fund. With the theme of "Let China's Sustainable Food Consumption Case Studies Influence the World," the Summit adopted global perspective and Chinese perspectives to discuss four topics: urban food environment, animal welfare, eco-chefs, and food education. The Summit aims to raise awareness and promote practices related to sustainable development, helping China to achieve the goals of the "Healthy China 2030" plan and meet carbon reduction targets.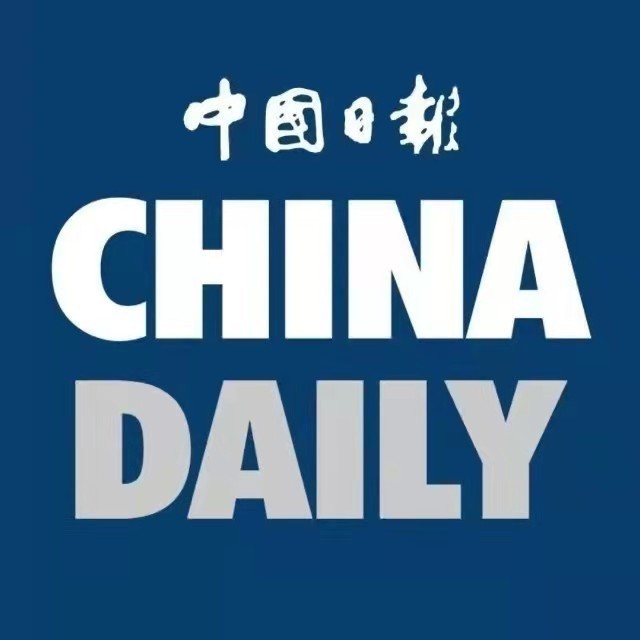 Civil Aviation China magazine publishes special report on China's first "Good Food Restaurant": Bistro & Bowl
Civil Aviation China magazine has a circulation of over 400000 issues, covering 350,000 flights and reaching over 40 million passengers per month. In October, the magazine published an in-depth report on China's first "Good Food Restaurant", Dali's Bistro & Bowl Restaurant. The article details the implications of the Good Food Pledge and the origins of Bistro & Bowl, as well as its Good Food practices.
Since opening its doors in May this year, Bistro & Bowl has attracted a large number of customers who care about sustainable food, earning the restaurant a cult following and internet celebrity status. If you take a domestic flight in China in October, you can find the magazine in the seat pocket. Take a look to read the full story of Bistro & Bowl.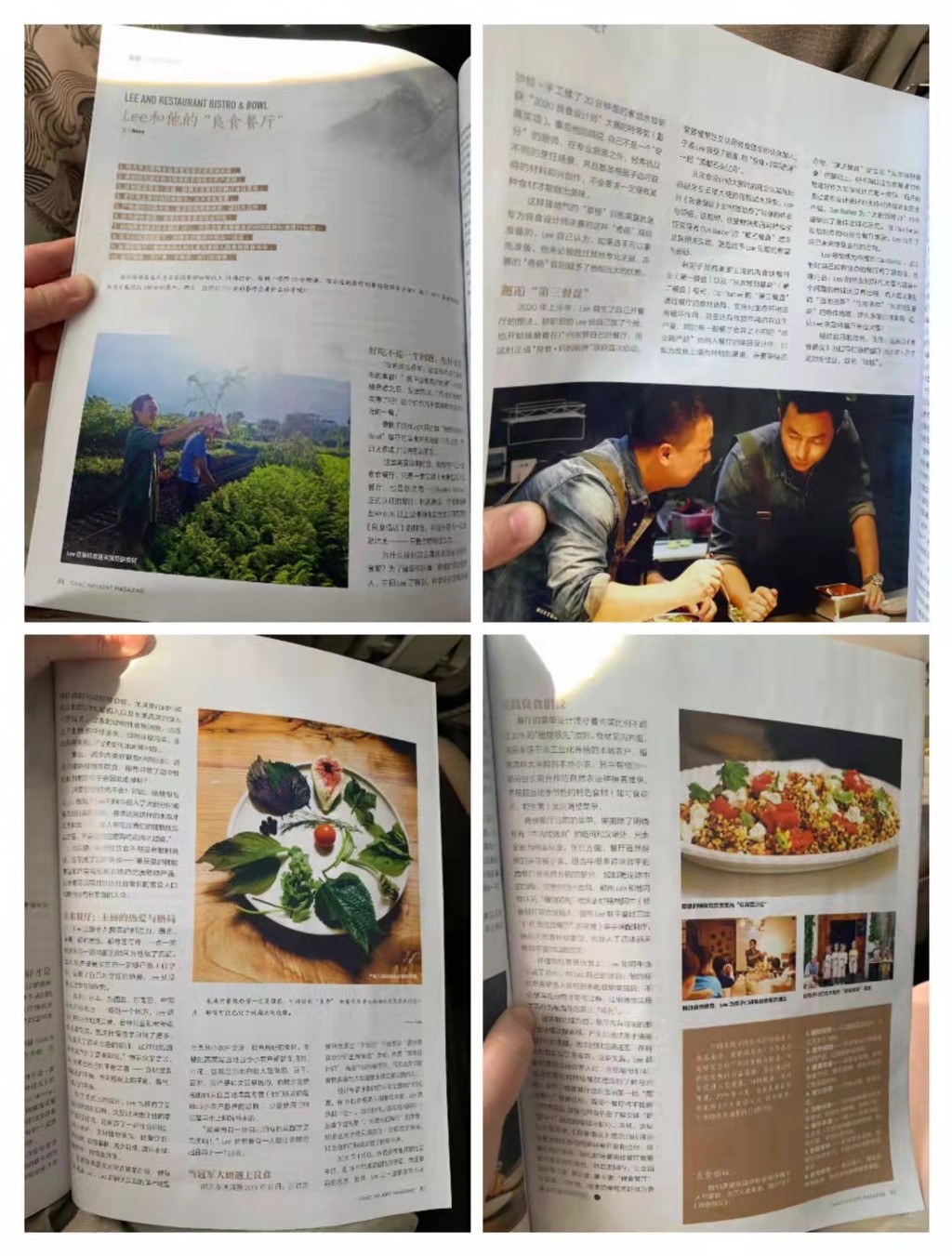 Good Food Updates
Oct 25, Nanjing Peace Forum empowering youth to transform food systems
UNESCO, the Chinese National Commission for UNESCO, the Press and Publicity Office of the Jiangsu Provincial Government, and the Nanjing Municipal Government will co-host the 2021 Nanjing Peace Forum from 24 to 26 October, themed "Harmony and Coexistence: Living in Peace with Nature". Huiyu, Food Policy Officer of the Good Food Fund will give a keynote speech in the Main Forum. On Oct 25, the Good Food Fund and Slow Food Great China will co-convene a roundtable on the topic of "Youth Leading Sustainable Food Production and Consumption" and release the Nanjing Good Food Declaration. The Declaration and the upcoming International Volunteer Center in Nanjing will create an excellent opportunity for Chinese youth to promote food system transformation.
Meatless Monday's Global New Year Dinner to launch at the end of 2021
Following last year's experimental attempt, the GFF will host an online Meatless Monday themed New Year's Eve dinner event from December 31, 2021 to January 1, 2022. The GFF will invite friends and partners from different time zones, countries, and cultures to share on their favorite plant-based meal: "What do we eat on New Year's Eve?", "Why do we choose these foods?", "What's the story behind this table of food?", "What do we think about the relationship between people and food?", etc. We hope that this event will connect all the people around the world who are following and practicing Meatless Monday. If you want to join us, please click here to follow Meatless Monday on WeChat and receive updates about the event!
Good Food Original Publications
How food supplies can be more resilient in an uncertain future
Dumping thousands of gallons of milk, burying a million pounds of onions, tractors driving through green bean and cabbage fields, mashing up perfectly good vegetables and mixing them in the soil…these are unlikely scenarios in the United States amid the COVID-19 pandemic. Big American farms that lost orders from restaurants, hotels and schools struggled to find sales channels because of the complexity of their supply chains. Produce has a limited shelf life, and mass destruction of surplus produce that cannot be sold is a heartbreaking but often unavoidable last resort.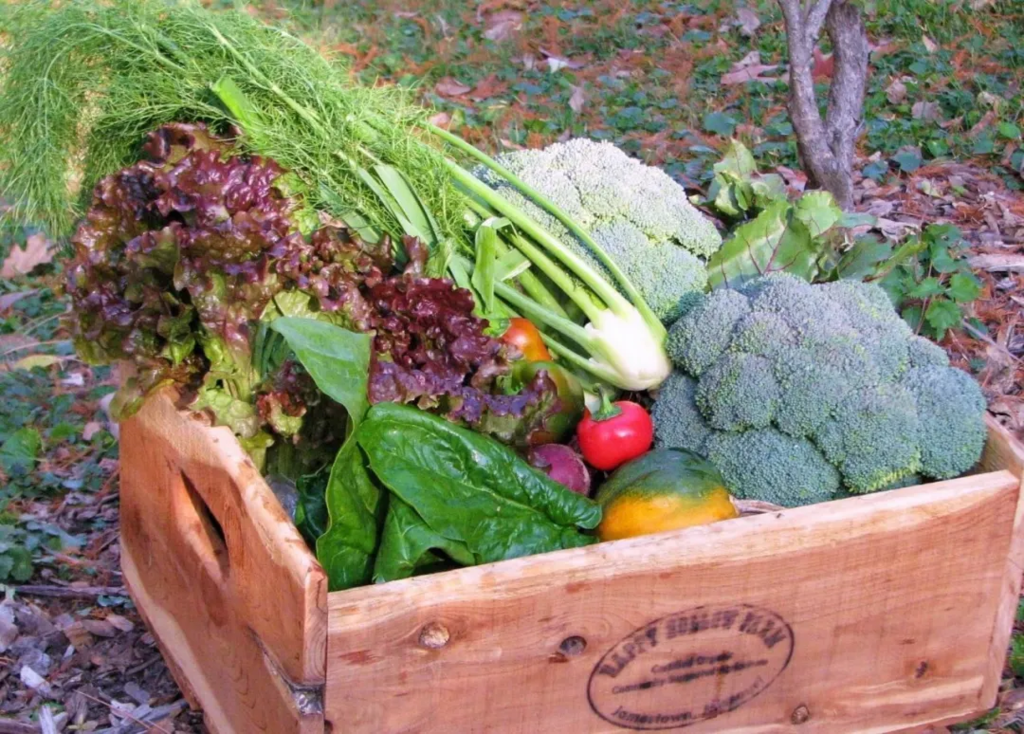 Industrial food supply chains are extremely vulnerable to external emergencies such as epidemics. How can the food supply chain be more efficient and resilient in a future with more extreme weather? Can we imagine a different food system where the bottom line is food security? A food system that not only gives farmers secure income, but also guarantees consumers food safety and quality while also easing the environmental crisis? This article introduces three such cases. Click the title to read.
Eat Sensibly: Tear Open the Vegan Label
In the past decade, food-related entertainment programs have become increasingly popular, including many top-ranking programs. But the makers of these popular shows almost all enter the topic from the perspectives of culture, folklore, or history, lacking awareness of the huge development of the food field over the last decade. The aforementioned aspects are certainly important, but if a society lacks attention to the latter, the records and narratives inevitably evolve into a "cognitive bubble" that would have us believe that eating is only relevant to our past, not our future. This paper attempts to examine the topic of eating in a broader context of time and human civilization, and to reflect on where the food system of the future is going.